Archive for the 'Stocking Family Genealogy' Category
by Sherry Stocking Kline
I'm trying to blog along with the "52 Weeks of Personal History and Genealogy."  As you can see, I'm more than a little behind.

Week 12: Movies. Did (or do you still) see many movies? Describe your favorites. Where did you see these films? Is the theater still there, or is there something else in its place?

This challenge runs from Saturday, March 19, 2011 through Friday, March 25, 2011.
I grew up on a wheat and dairy farm, about 10 miles from the nearest theater, and my folks were not rich, so we didn't attend movies a lot.
They used to show movies on the side of buildings…
I learned after I was grown that many of the small towns in our area used to show movies on the side of a building and folks came to town, sat around in cars and chairs, visited, snacked, and made a Saturday night get-together out of it.
In fact, that used to be one of the ways that the merchants 'lured' people to town to shop, and then they stayed open on Saturday nights.
My husband remembered doing that, and him just a year ahead of/older than me, but I sure don't remember it at all.  I wish I did.  It sounds like a wonderful way for small towns to spend some Saturday night fun together.
I Remember When We Saw Old Yeller…
I was eight years old, which means my brother Gary would have been twenty when "Old Yeller" came to our local historic Regent Theater (now newly renovated re-opened)
My brother asked me if I'd like to go to a movie with him on Saturday night.
And I'm all like "Me and you?"
And he was like 'Yes, me and you!"
I thought he was kidding, I mean he usually went out on a date or out with his friends.
So, he got all Saturday-night-dressed-up, and I did, too, and we met up with one of his friends who had also brought along his little sister.
They bought us popcorn and pop, and sat us two rows in front of them. (Close enough they could watch us along with the movie, but maybe not so close that everyone knew we together, you suppose?)
On the way into town, my brother warned me that the movie had a sad ending, and that "Old Yeller" was going to die at the end.
With all the superior wisdom of an eight-year-old that knew that Disney movies did NOT have sad endings, I told him he was wrong, that it wasn't going to end that way.
And of course, he said "yes, it does."
Life Doesn't Always Have a Happy Ending…
Well, come to the end of the movie, and us little girls are sitting there sniffling about that little boy having to kill his dog, "Old Yeller" because he has rabies, and he's all like "I tried to tell you", and I'm sniffling and saying "they didn't have to kill him…."
I think maybe that was my first introduction to the notion that movies, and life, doesn't always have a happy ending, and that sometimes you simply have to do things you don't want to do.
But when I look back on it, it was a good memory, and a really unselfish thing for a twenty-year-old big brother to do.
I wish he were still here so I could say "thank you…."  one more time.
by Sherry Stocking Kline
March 19, 2011
At first no one knew what the little red,  itchy, dots were. They thought it might be allergies and that being the case, my three nephews were exposed right after I came down with "it", whatever "it" was.
And then they thought it might be measles.
But it was not measles.
It was Chicken Pox.   By the time our parents figured out what I had, the boys, my nephews, 2 1/2, 4 1/2 years, and 6 1/2 years younger than I, were coming down with it, too.
So we were  miserable together.  We didn't have air conditioning in our little farm home. It was summer in Kansas. It was Hot.  How in the world did we ever live without air conditioning, anyhow?
We had what was referred to as a squirrel cage cooler that ran air over water from an outdoor hose. It just barely cooled the air down, and it moved it around fast enough to blow your hair, and you had to talk loud to be heard over it.  It also added humidity to the air, so on hot, humid, muggy, days it was like trying to breath under water with that thing running.
No one wanted four miserable whiny kids in the house…
Anyhow, no one wanted four miserable itchy, whiny, hot kids in the house with them, so our parents set up old green Army cots under the shade tree by the water hydrant in the back yard, just a few feet from the back door in the shade and the south wind.  They probably gave us some books and coloring books,  and then they parked us outside in the breeze.
If we had a television then, and I can't remember if we did or not, there were only three channels and few things that kids would be interested in watching.  I don't remember much more about that time, except that we were sick, itchy, and bored beyond distraction.  We were close to a sand pile and a water source and we didn't feel like playing, so we laid on the cots, scratched, and whined.
Fortunately for me, I got it first, so I got over it first, and so I was able to escape our exile sooner than my nephews could!
by Sherry Stocking Kline
March 17, 2011
Many of my childhood sounds still surround me.
I grew up on a wheat and dairy farm in south central Kansas and I've not moved so very far from where I grew up, so the turtle dove that sings in the evening near my city home reminds me of nightfall on the farm.
When I visit friends or family in the country I hear bobwhite quail calling their mates, cattle lowing as they crop the grass, and occasionally the mournful midnight howl of a  coyote.
We actually have fox, deer, and coyotes that roam in our little  area of our small city at night, especially near the creek that runs through town. Wander around near my neighborhood after midnight, and you may spot a deer family grazing in someone's yard or a fox or coyote hurrying to get out of the headlights of your car.
In the spring, summer, and fall in the country you can hear the sounds of tractors running in the fields, and see the dust they stir up blowing in the wind. It reminds me of when I used to ride on the fender of the tractor with  either Mom or Dad while they worked in the field,  or when I ran barefoot in the furrow behind the plow with our collie dog, Lassie.
In June and July, if you drive by Kansas wheat fields with their golden stalks blowing in the south wind, you can hear the sounds of wheat harvest: combines running and spewing out the spent stalks from the back and trucks traveling in low gear to get out of the field as they hurry to deliver the grain to the nearby elevators.
It reminds me of hot, sweaty, but fun days riding the combines first with my daddy, then with my brothers, and later my husband as they kept an eye on the clouds, worried about the weather, and hurried to get the wheat cut before the rain or hail came.
It brings back memories of the field picnics we had, much like today's tailgate parties, with sandwiches and potato chips on paper plates and trying to catch the potato chips that were blowing off your plate.  Nothing tasted as good as the cold iced tea from the gallon field jug and no picnic was as much fun as eating in the field when the men stopped for a few minutes to eat, talk about the harvest, eye the clouds for rain, and predict the yields before climbing back on the combines and cutting late into the night.
At night, the combine's lights shine on the golden stalks as the reel pulls each one hungrily, whooosh, whooosh, whoossssshhhhhh into the combine's auger and then threshes out the grain and dumps it into the bin behind the driver.
I loved to ride the combines, especially at night, when the heat of the day was gone and the breeze combed your hair with its fingers and cooled your skin with its touch.
And the wheat beards whispered secrets in the wind.
by Sherry Stocking Kline
March 17, 2011
Scrapbooking for the Family Reunion
We are having a family reunion this summer, so I've spent quite a bit more time lately working on my family trees, building digital scrapbook pages, and creating the album covers for the post-bound albums that the pages will fit into.
It has been so much fun that I just wanted to share one of the 12 x 12 post bound album covers and one  of the pages that I created for our family scrapbook!
I just love this photograph of my Mom and Dad, so I'm using it for the cover of the scrapbook album that I will be ordering this week!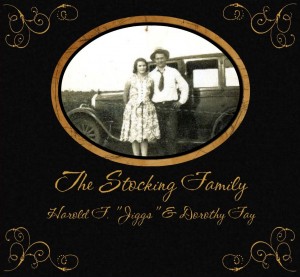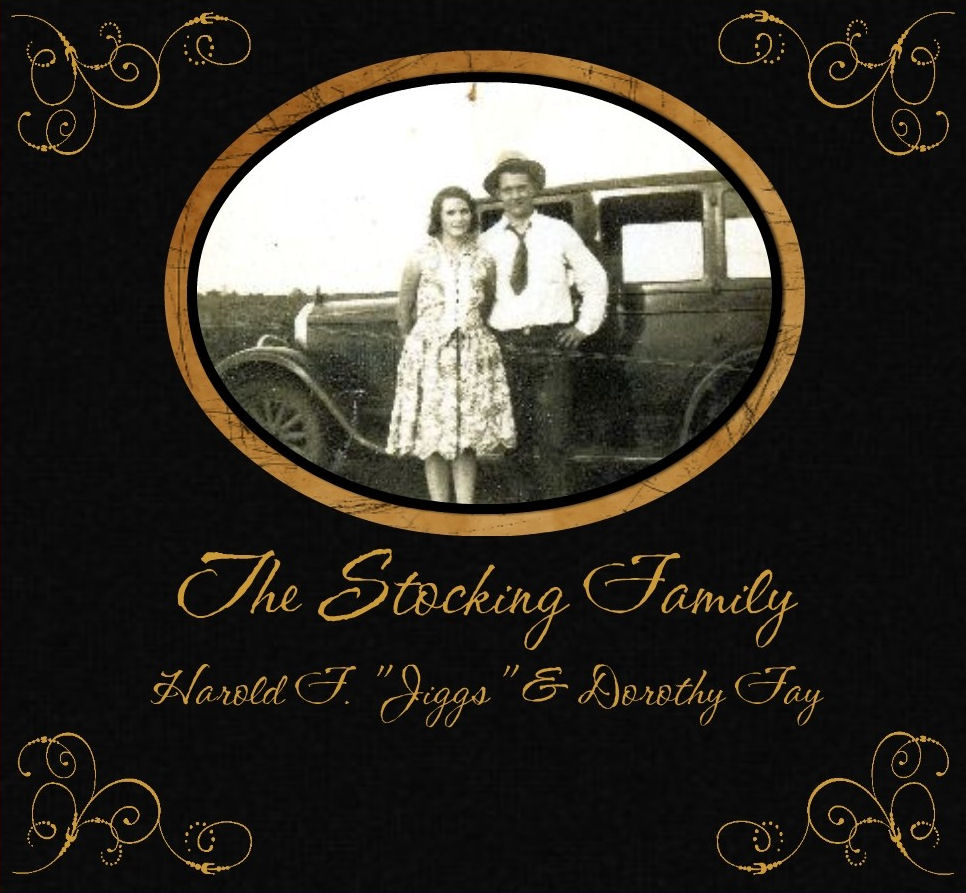 I just love putting digital copies of these treasured old photographs into an album so the whole family can enjoy them.

You Can Personalize the Album Cover…
I also like being able to personalize the covers of my Heritage Maker's scrapbook (affiliate link) to match the photographs inside the album!
I can't wait to show it to this mom!  I think she will really love it!   (It might make an awesome Mother's Day gift, but I don't think I can wait that long to show her!)
Scrapbooking Links:
Make Wanted Posters for Your Scrapbook
Scrapbooking Your Family History
Make Your Own Handwriting Font (no longer free)
The Journal That Began a Lifetime of Journaling
Grandpa – Tell Me 'Bout The Good Old Days…
Make Your Own Heritage Albums with Heritage Makers
by Sherry Stocking Kline
December 1, 2010
It was really hard to decide what to write about, one of our one-of-a-kind family 'characters' or a one-of-a-kind family heirloom.  But sorting through the ever increasing number of digital photographs and scanned pictures on my hard drive, I saw the snapshot that I took of  "THE" family Bible.
On the front, it says "Holy Bible" and then inscribed below that "Mr. & Mrs. J. H. Stocking".
Was it a Wedding Gift?
And until I wrote the words above, I hadn't stopped to wonder at the circumstances that led to the purchase of the Bible.  Was it a wedding gift from one of their parents?  Did they purchase it themselves?  Which Mrs. J. H. Stocking does the inscription pertain to?
Whatever the circumstances were, the Bible was thumbed through, and the births, marriages, and deaths were added, one by one, in different colors ink, in different hands, down through time.
John Hurlburt Stocking was born in Sullivan Twp, Madison Co., N.Y., on 15, July 1821.  He married Betsy Jane Ames, who was born on 10 Jun 1820, in West Chenanco, Chenango Park, N.Y..
Betsy died on 15 Oct 1856 at the age of 36, just ten days after giving birth to her second son, Bishop Ames.  Bishop died not long after his mother, leaving John a young widower with a three-year-old son, my great-grandfather, Roderick Remine Stocking.
J. H. married Caroline Gates in 1860.  J. H. died on 14 Oct 1894, in Illinois, and I was fortunate to locate a small town history that stated that he was visiting friends in Illinois when he fell down the stairs and died so I hope to be able to verify that with a newspaper article or obituary at some future date.
The J. H. Stocking Family Bible was handed down from John Hurlburt to his son, Roderick Remine, and Roderick gave it to his son, John Lester and his wife Velma.  Velma was very interested in family history.  John and Velma had no children, so after John's death, Great-Aunt Velma gave the Bible to my uncle, a son of Elmer L. and Maud (McGinnis) Stocking, and he was kind enough to loan me the Bible so that I might look through it and snap a few photographs, for which I am very grateful.  (The Bible was too frail to put on a photocopy machine, or my scanner.)
Adding One More Thing to My Bucket List…
Looking at the pages in this treasured family heirloom reminds me that I have not filled out the family tree pages in my own Bibles, so that is one more thing I need to add to my "Family History Bucket List,"  and I am well equipped with the acid-free pens that would be safest to use, and that would (should) last the longest with the least fading.
Sherry Stocking Kline
October 20, 2010
I love this old photograph of my parents, my mom Dorothy Stocking on the left, & dad Harold Stocking on the right, with my mom's Aunt May (Breneman) Jones Willey, and Mom's parents, Carrie (Breneman) and Warner Jones sandwiched between them.
After attending the KCGS Conference with Maureen Taylor, I find myself looking for clues in my photographs.
First, the photograph had to be taken before November 1st, 1947, because Grandpa Jones passed away on that date.  (I could look up the car makes, models and years, too!)
Second, either they had been somewhere, or were getting ready to go, because Dad is wearing his 'good' overalls.  In other words, he and Grandpa had on new and clean overalls.  (As opposed to faded by the sun, 'everyday' overalls that Dad worked the fields and fed and milked the cows in!)
It wouldn't have been church or a funeral, because the men would have worn suits for that, so maybe they went to town shopping for the day, to visit someone in the hospital, or to visit family or friends in another town.
And it's in the colder months, as the women all have on heavy wool coats, and scarves to keep their ears warm, and maybe just to 'tie their hair down' to keep it from blowing in the Kansas wind.
And now I need to ask my mom, to see if she remembers the occasion that prompted the photograph sixty-plus years ago!
by Sherry Stocking Kline
October 19, 2009
Randy Seaver of GeneaMusings issued this challenge on Saturday night!  I'm a bit late, but I don't want to miss out on all the fun, so here goes!
Hey geneaphiles – it's Saturday Night, time for more Genealogy Fun for all Genea-Musing readers.

Your mission, should you decide to accept it (and we need more of you to do this, otherwise it may end…), is to:

1)  Read Brenda Joyce Jerome's post Who or What Do You Blame? on the Western Kentucky Genealogy blog.  She asks these questions:

*  Can you identify person or event that started you on this search for family information?

*  Did you pick up researching where a relative had left off?

*  Did your interest stem from your child's school project on genealogy?

*  If you have been researching many years, it may be hard to pinpoint one reason for this journey.

2)  Write your responses on your own blog, in a comment to this blog post, or in a note or comment on Facebook.
Maybe I was always a little interested in family history, but after Hobart Stocking, a professor from Oklahoma researched, wrote, and published the Stocking Ancestry, I became more interested, and shared the information with my husband's family.  And that's when my father-in-law, Melvin Kline, stated that he wished someone would research their family tree.
And He Kind of Hoped They Wouldn't, Too…
And, he said, he kind of hoped maybe they wouldn't, too.  He said that he was afraid of "what we might find."
The story that he had always heard went like this, "three brothers came west, fought along the way, and never corresponded again."
And because there wasn't any correspondence between Pop's family, and his grandfather's family, at least that he knew of, he believed the story to be true, and he was afraid that we'd find out that his grandfather might have been the the person who caused the problem.
But still, he really wanted to know.
Who could possibly resist a puzzle or a challenge like this?
Not me, for sure, so I took up the quest and along the way became  'hooked' on genealogy and preserving family history.
I was woefully ignorant of how to get started, so it was quite a long time before I learned about at least one 'family feud', learned where the family had migrated to Kansas from, and 'met up' with some distant cousins.
Unfortunately, by that time, my father-in-law had passed on, and I really wish he were here so that I could say "Thank you" to him for starting me on such a fun and addictive hobby/pastime/obsession.
But I'd like to think that somehow, he knows.
by Sherry Stocking Kline
01 August 2010
Off and on for several years, I've tried to get started scrapbooking and journaling my photographs.  But it takes a lot of room to gather it all up, and spread it all out.
And I seem to be one of those people who have to change background papers and photographs over and over (and over) till I finally find the combination that I like.  Takes hours. (And usually two more trips to the scrapbook store!)
Then I found digital scrapbooking with a Twitter friend on-line.
So, instead of cutting up my photographs, and then wishing they were a different shape and size, or worse yet, wishing I had never cut them up at all,  now I can digitize photos, crop, re-size, and re-shape to my heart's content, leaving the originals alone.
I love it!
Below are some of the 12 x 12 scrapbook pages for my family history book that I've created.  First, is the page for my great-grandparents, Roderick Remine and Frances "Fanny" (Hitchcock) Stocking and their four sons.
My grandfather is standing on the far right, Elmer Leverett. He passed away before I was born, and I never got to meet him.  (I sooo wish that I had been able to get to know him.)
The photo below here is my great-grandmother, Maggie (Corson) McGinnis and her daughter and son-in-law, Maud and Elmer Stocking.
It looks to me like they are sitting on the east side of  Maud and Elmer's home near Mayfield, Kansas.  Maud and Elmer's home was on their farm on the NW 1/4 of 18-32-2W, where they had a quarter section of land. (160 acres).  Later, my parents bought this farm from Maud and Elmer and I grew up here as well.  The house burned down several years ago.
The photograph below is of my dad's parents and his siblings.  What a great photograph! (I wish I knew when it was taken!!)  I really like the burnt sienna colored paper below with it's hints of other shades, and I added just a few "starbursts" to it to 'gussy' it up a little.
My grandfather is seated on the left and my grandmother is seated on the right. My father, Harold Stocking, Sr., is standing on the back row, third from the left.
While researching and preserving history is very important to me, my scrapbooking is not all about preserving the past, it's also about preserving and enjoying the present, too, and being able to enjoy it again and again for the future.
Below is the cover from "Giggles", an 8 x 8 scrapbook that I created this summer for my two darling little granddaughters.  There are several of my favorite photos and fun times that we've had in the past few years, and the book is a favorite with the girls as well.  I also think it will help them remember all the fun times that we've had!
Below is a photo of the girls reading their very own Storybook Scrapbook!
Currently I am using a Family Photo Tree template at www.TurnMemoriesIntoBooks.com to create a 12 x 12 scrapbook page of our family tree. I am  also working on a Storybook for my mother, who is nearly 99 years old, so I'm working with some really neat old photographs, and preserving some fun stories!
by Sherry Stocking Kline
19 July 2010
Many thanks to my cousin Lynne Bajuk, California, for our great-grandmother Maggie McGinnis' obituary!
This past week, Lynne sent me a wonderful 'genealogy care package' with photographs and this obituary.  Happy Dance!
Fortunately, I was able to find Maggie's husband, Thomas Jefferson McGinnis' obituary and send it to her recently.  It has been sooo wonderful to 'meet' and visit with Lynne and to be able to share information and work together.  Lynne has many wonderful stories that her mother told her that I'd not heard.  Marvelous!
Maggie McGinnis, 101, Succumbed Sunday

Funeral services for Mrs. Margaret (Maggie) McGinnis, 101, were conducted at the Cedar Vale Methodist church Wednesday afternoon at 1:30 o'clock with Rev. W. E. Burdette officiating.

Mrs. McGinnis passed away at the home of her daughter, Mrs. Maud Stocking, Sunday morning at 6:15 o'clock from arterial thrombosis. Although bedfast since the first of February, Mrs. McGinnis had only been seriously ill since 11 o'clock Saturday morning.

Mrs. McGinnis had made her home in Cedar Vale with her daughter for the past nine and one-half years. She was loved and admired by all who knew her. Despite her age, Mrs. McGinnis possessed a keen and alert mind and enjoyed conversing on current topics. She frequently spoke of her childhood and enjoyed telling of her experiences when she with other girls of her community sang for Abraham Lincoln.

A trio composed of Bill House, James E. Humble and Maurice Smith sang "Abide With Me" and "City Four Square." As a solo, Maurice Smith sang "Crossing the Bar."  Mrs. R. D. Oltjen was pianist.

Pallbearers were Marshall Hill of Arkansas City, Herbert Stocking of Elk City, Harold and Fred Stocking of Mayfield, Bob and Jack Yearout of Wellington.

Burial was made in the cemetery at Mayfield, Kansas.

Obituary

Margaret (Maggie) E. Corson McGinnis was born January 19, 1849, in Saugamon County, Illinois (Sangamon?) and died March 26, 1950-, in Cedar Vale, Kansas at the age of 101 years, two months, and seven days.

Maggie Corson was educated in a rural school near her home and in Springfield, Illinois. In 1860 she was one of a group of children trained to sing campaign songs in support of Abraham Lincoln's candidacy for president. The group on one occasion sang for Lincoln and received his thanks.

At the age of fifteen she united with the Methodist church of which she remained a loyal member throughout her life.

After teaching for three years in Illinois rural and village schools, she was married in 1872 to Thomas J. McGinnis, who was teaching and farming in eastern Illinois.

In 1886 they moved to Kansas, eventually living in several communities in this state.

After the death of her husband at Emporia in 1911, Mrs. McGinnis lived in Missouri, Wisconsin, Connecticut, Maryland, and California, eventually returning to Kansas, where the has been residing with her daughter, Mrs. Maud Stocking, in Cedar Vale.

Mrs. McGinnis is survived by three sons – Charles E. of Los Angeles; Eugene E. of Wichita; and Virgil H. of Denver; two daughters – Mrs. Maud Stocking of Cedar Vale and Myrta E. (Ethel) McGinnis of New Wilmington, Pennsylvania; twelve grandchildren and twenty-one great-grandchildren.
More info:
Margaret "Maggie" Corson McGinnis, daughter of Richard S. and Mary (Corson) Corson, is buried in the Osborne Cemetery, Sumner County, Kansas, near the small town of Mayfield, Kansas, with four generations of descendants.
Maggie McGinnis Sang For Abraham Lincoln
A Photo of Maggie Corson McGinnis (and me) on her 100th Birthday
by Sherry Stocking Kline
June 22, 2010
Because Dottie and her family lived hours from here we didn't see Dottie often while she was growing up. But we've watched her 'grow up' from a distance thanks to e-mail, Christmas newsletters, and now Facebook.
And the one thing that has been a thread throughout her growing up years, grade school, high school, college, and her teaching career, is that when Dottie does something, she chooses to do it well, chooses to excel at it, and chooses to work hard to be the best at it, and reach her goals.
What an inspiration!  And while many graduation messages include the "Dream Big" they don't always include the "work hard" part that is a key part of anyone's success.
To read the article in "The Columbian" that inspired this blog post, click here.