Archive for the 'Wordless Wednesday' Category
by Sherry Stocking Kline
14 April 2010
I love this wonderful old photograph of the family, and am so glad that someone snapped a photo of their get-together.
And like many photographs, I wonder, was this just an ordinary family gathering?  A funeral?  Someone's wedding?
I may never know, but the question itself reminds me to make an extra note on the back of my photos or in my scrapbooks!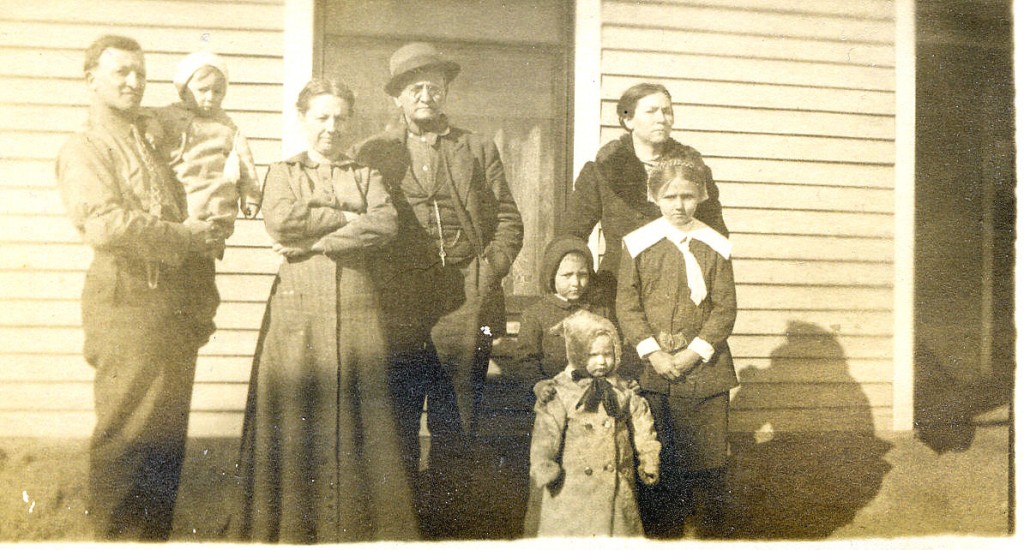 L – R: Ira, baby Paul, & Dee (Hoover) Breneman, Constantine Breneman, Carrie (Breneman) Jones & Children, Rose, Daryl, and toddler Dorothy.
by Sherry Stocking Kline
07 April 2010
I love this cool photograph of one of my mother's favorite cousins, Kenneth Jones, fishing!   It looks like he is fishing on a fairly large lake, perhaps even Lake Superior itself.
He also fished and hunted for agates (he was an avid and knowledgeable rock hound!) on many of the lakes in Minnesota near their home in the outskirts of Duluth, Minnesota.
Thanks to Kenneth, and those fun vacation days of hunting agates along the shores of Lake Superior and another beautiful Minnesota lake, I'm still a bit of a rock hound!
We've lost touch with Kenneth and Lois's children, and would love to re-connect with them, so if by chance one of them (or their children) find this blog, I hope you will stop and say 'hello' and leave your e-mail address!
Other Related Posts:
Kenneth's Mother – May Breneman Jones
Kenneth Jones Toddler photo taken in Wichita, Kansas.
Kenneth Jones in front of his Kingman Kansas High School.
Kenneth's Grandfather, Constantine "Tom" Breneman and his buggy horse photograph.
Kenneth's Grandmother, Salinda E. (Rose) Breneman, photo and tombstone photo.
by Sherry Stocking Kline
24 March 2010
I enjoy finding and looking at these old photographs, especially when they have names on the backs so we know who they are, and can figure out how they 'fit' in!
Abraham Dorsey "Doss" Rose is my great-grandmother, Salinda Rose Breneman's brother, and she and "Doss" are the children of Eden and Elsie (Ames) Rose.
1900 United States Federal Census
Roll T623_941; Page 2B; Enumeration District 182
Home in 1900: Omaha, Thurston, Nebraska
Abraham Rose – 51
Alfreda Rose – 42
Abraham Rose – 26
Carrie Rose – 18
Bessie Rose – 14
Richard Rose – 4
Myrtle E. Rose – 6 – photograph here.
Silas Rose – 3
Ira – Breneman – 26 (his sister Salinda's Son)
1860 United States Federal Census
Doss's Parents & Family
Roll M653_31; Page 1002;
Home in 1860: Grandview, Louisa, Iowa
Edan Rose – 38
Eley (Elsie) Rose – 32
Abram Rose – 13
Salinda Rose – 7
Absolam Rose – 3
Civil War Info:
11th Iowa Infantry
Union
Company A
Soldier's Rank In: Pvt.
Soldier's Rank Out: Pvt.
Alternate Name: Dorsey/Rose
Film Number: M541 Roll 23
http://www.itd.nps.gov/swss.soldiers.cfm
Other Related Posts:
Photograph of Myrtle Rose, daughter of A. D. Rose,  and her McBride cousin.
Photograph of Salinda E. Rose Breneman, sister of A. D. Rose.

Click here to see the photograph of Salinda E. Rose and Constantine Breneman's children on my Tombstone Tuesday post about Albert Breneman.
And as always, when I post family information I hope to connect with my not-yet-met cousins and share information and photographs.
If that's you, then please leave your name and contact info in the comments!
by Sherry Stocking Kline
March 19th, 2010
My mom and I have been going through old, really old photographs recently, and we've found some wonderful gems, such as these two lovely young ladies.
One is my cousin, (and until I put her into my computerized family tree) I won't try to tell you how closely related. The only downside with this photograph is that I'm not sure which one is cousin Myrtle Rose, and which one is her McBride cousin.
The back of the photograph says "Myrtle Rose and cousin McBride" then "Doss Rose's daughter." Through my research and visiting with Mom, we know that Doss is the nickname of Abraham Dorsey Rose.
So, if one of you who visits this site are a descendant of Doss, Alfreda Jane, or Myrtle Rose, please share with me which beautiful young lady is which!
Abraham Dorsey Rose is my great-grandmother, Salinda Rose Breneman's brother, and they are the children of Eden/Edan  and Elsie/Elcy Rose.
According to the 1900 Census, Myrtle was six years old at that time, was born in Nebraska, and the family was living in the Omaha, Nebraska area.
by Sherry Stocking Kline
March 12th, 2010
Here is my almost Wordless Wednesday, a photograph of my Great-Aunt May Breneman Jones Willey in front of her son's family's home in Minnesota.
May's parents were Constantine "Tom" and Salinda (Rose) Breneman. May's first husband was Evan Jones, son of Willis W. and Martha Ellen (Smith) Jones. Willis W. and Martha Ellen originally came from Kentucky, and moved to the Midwest, living in Kansas, Missouri, and Oklahoma.
Evan and May's son's name was Kenneth Jones. Kenneth and his wife Lois had five children: Lawrence, Lynn, Patty, Charlie, and Kenny, and I hope one of the children, or even their children find this post, and will leave a message.
I have many happy memories of visiting Aunt May and their family in Minnesota, and we would love to re-connect with them.
by Sherry Stocking Kline
February 17, 2010
Here is a photograph of my mom's cousin, Kenneth Jones, son of Evan and May Breneman Jones, in front of the high school at Kingman, Kansas.
Kenneth and his wife Lois had five children and lived in Duluth, Minnesota on Morris Thomas Road.
Kenneth's mother, May Breneman Jones Willey lived with them for awhile, and then went into a nursing home called Nopemming (sp?).
Kenneth, Lois, and my great-aunt May have all passed away, and sad to say, we have lost touch with their children, and though I've tried to locate them, the last name of Jones is making that difficult.
We visited them several times when I was growing up, and I have very fond memories of horse-back riding at the neighbors, picking wild strawberries, and going agate hunting along one of the many lakes with Kenneth and his family.
Kenneth's father, Evan Jones, is buried in the Osborne Cemetery, Sumner County, Kansas, near Mayfield.
Sherry Stocking Kline
February 10, 2010
I just love this photo of my Uncle Daryl Jones, Sr, my mom's older brother.
Here he is, all dressed up to go somewhere and he and his friend, whoever he (or she!)  might have been, stopped to take pictures.  I'm so glad that he had his camera with him that day.
I imagine his grandchildren and great-grandchildren don't think about their grandfather as a dashing young man riding a beautiful and feisty horse.  My mother says that Golden River was a very spirited and beautiful horse, and that her parents didn't want her to ride her.
So, of course she did.
Related posts:
Daryl Jones, Sr (friend of Sherman Rerick) Tombstone
Daryl Jones – Photograph with his Parents & some siblings
by Sherry Stocking Kline
February 3rd, 2010
Several last week asked me to post the close-up of Great-Grandpa Constantine 'Tom' Breneman's horse (I meant to do that last week along with last week's photo!) so here is my follow-up post!
Like many of you, I love horses, and this is a fine looking horse.  I'm guessing he was a dapple gray with darker mane and tail, but I suppose he might have been more of a cream color with dark mane and tale, like Dale Evans Rogers' horse "Buttermilk".
So many questions that I have with last week's photo and this.  First and most important:

What was his name?   (the horse's I mean)

What breed(s) was/were he?  In last week's photo he looks to be a fairly tall horse.   Any horse lovers want to hazard a guess?

Did Great-Grandpa ride him, or was he strictly a buggy horse?

What year were these pictures taken?  I wonder?  I know with some detective work, I can narrow this down considerably.

Where was Great-Grandpa headed looking so spiffy?  Or was he just out for a drive?  Nearly all pictures we have of him, he is dressed in a suit, but in last week's photo, he looks particularly spiffy.
I asked mom again this week "Was Grandpa a farmer?"
I knew that he lived on at least two different farms here, and she said that he did farm, but he really was more of a blacksmith, and did blacksmith work, rather than doing much farming.
His son, Otto or "Ott" as he was called, followed in his footsteps and had a blacksmith shop in Mayfield, Kansas. Those pictures are in a different box, but I will locate them and share here.
Neat!  I just love old photos, especially with horses!
Great-Grandpa Breneman was a Civil War veteran, but I've never seen a photograph of him in uniform.  I hope someday we run across one.
Related Posts:
Constantine Breneman and His Buggy Horse
Salinda E. (Rose) Breneman – Photograph Constantine's wife,  Salinda, and her tombstone. Salinda and he divorced in later life.
Too Young to Die – Photo of Constantine's son Albert Breneman,  his siblings, and another photo of Albert's tombstone. Albert was killed in a Motorcycle Accident.
by Sherry Stocking Kline
January 27th, 2010
My almost Wordless Wednesday!
Here is a favorite photo of mine, my great-grandfather, Constantine "Tom" Breneman and his horse and buggy. Tom was a Civil War veteran and then later farmed in Sumner County, Kansas, near Mayfield and Milan. My mother, his grandaughter remembers that he "had high stepping horses".
Constantine "Tom" was married to Salinda E. (Rose) Breneman, but they divorced later in life. Constantine and Salinda had five children, Ira, Albert, Harvey, Otto, Carrie, and May and you can see their photographs here.
Other Breneman Posts:
Tombstone Tuesday – Salinda E. (Rose) Breneman

Tombstone Tuesday – Albert Breneman – Too Young to Die

Music Monday – "Baby It's Cold Outside" – this post includes a saying that Carrie Breneman Jones used to tell her children about cold weather.
Sherry Stocking Kline
January 20, 2010
This is going to be an almost wordless Wednesday.  My mom was going through old photos this week, and found this gem of my dad, Harold F. Stocking, Sr. (mostly known by his childhood nickname of "Jiggs" all his life)  and his favorite registered Ayrshire cow, "Dimples".  This was, I believe, before I came along, as I don't remember her at all.
My folks were wheat and dairy farmers in south central Kansas (a.k.a. tornado alley) and they raised and milked registered Ayrshire cattle.
Mom said that Dimples was his favorite, and that he was very proud of her, but she developed some health issues and was sold.
If my dad were still alive, today, January 20th,  would be his 99th birthday.
Happy Birthday, Dad!
More Stocking family memories & genealogy here…