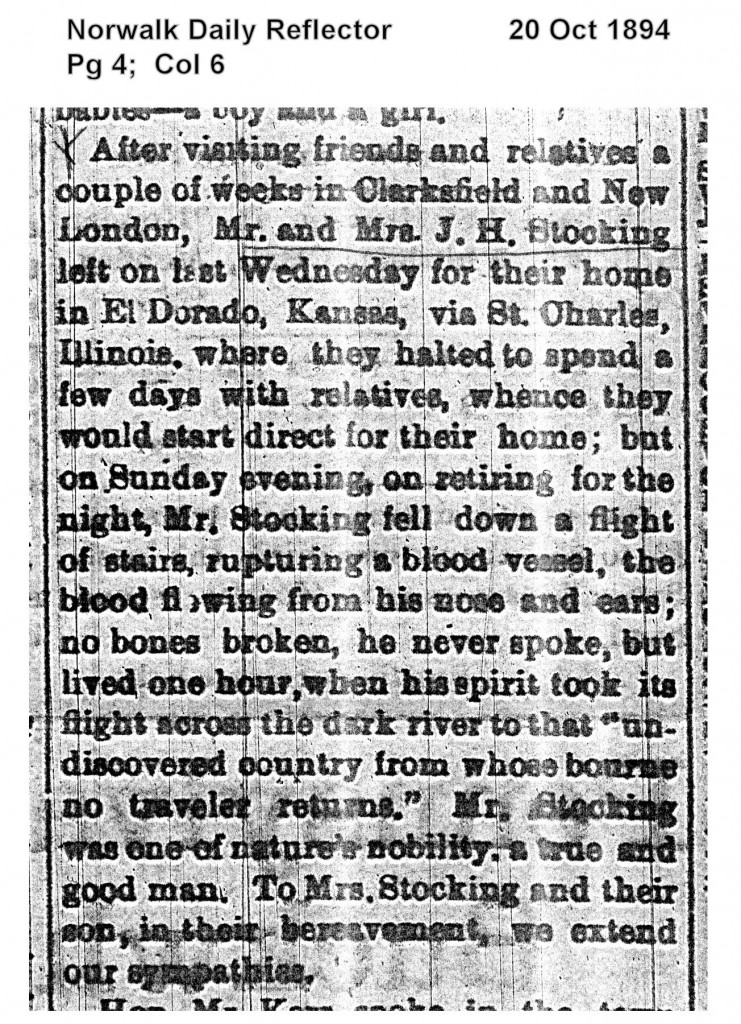 Norwalk Daily Register
Norwalk, Ohio
20 Oct 1894
Pg 4 Col 6
After visiting friends and relatives a couple of weeks in Clarksfield and New London, Mr. and Mrs. J. H. Stocking left on last Wednesday for their home in El Dorado, Kansas, via St. Charles, Illinois, where they halted to spend a few days with relatives, whence they would start direct for their home; but on Sunday evening, on retiring for the night, Mr. Stocking fell down a flight of stairs, rupturing a blood vessel, the blood flowing from his nose and ears; no bones broken, he never spoke, but lived one hour, when his spirit took its flight across the dark river to that "undiscovered country from whose bourne no traveler returns."  Mr. Stocking was one of nature's nobility, a true and good man.  To Mrs. Stocking and their son, in their bereavement, we extend our sympathies.
John Hurlburt Stocking's son, Roderick Remine Stocking, was my great-grandfather, and you can find a photograph of him here, as well as more information about him.
Roderick's mother, Betsey Jane Ames, died in Oct 1856 shortly after Roderick's little brother Bishop was born.  After Betsey's death, John Hurlburt married Caroline Gates in April 1860.
In 1894, my great-grandfather, Roderick was living on the farm that he homesteaded in Sumner County, Kansas with his wife, Frances "Fannie" Hitchcock.
More Links:
Roderick Remine Stocking Photograph 
http://www.familytreewriter.com/2011/05/wordless-wednesday-roderick-remine-stocking-photo/
The J. H. Stocking Bible
Carnival of Genealogy – the J. H. Stocking Bible
Several years ago, my mom lost a large box full of photographs to water damage.  If I'd known then what I know now, we might have been able to save some of them, but they were damp quite awhile before the damage was discovered.
The lesson that we learned?
Never store photographs in a cardboard box next to a bathroom, where a small, undiscovered water leak may damage or destroy your photographs.
With that knowledge still fresh in mind, plus watching the destruction of homes and loss of family photographs each year from flood, fire, and yes here in Kansas, tornadoes, I'm scanning every photograph that I can, as fast as I can, and adding it to my genealogy programs as if it was maybe the most important thing genealogically speaking that I can do for my family.
And – maybe it is.
Good Advice from the Library of Congress…
I'm also watching for information that can help me do a better job scanning, organizing, preserving, and backing up my rapidly growing digital collection, so what started this whole blog post was following a link to the "Preserving Digital Memories" information at the Library of Congress website.
You can check out the many pages of advice there by clicking on this link: http://www.digitalpreservation.gov/personalarchiving/.
Back up by Sharing…
And because lugging a flat bed scanner to family reunions or your Great Aunt Ethel's home isn't always handy, (or even do-able), I recently added a Flip-Pal scanner  to my scanning arsenal.
My, how I wish I had had one of these last fall when I scanned photos that were glued down in a cousin's photograph albums!  There were several photos I simply could not scan using a flat bed scanner, but with the Flip-Pal I certainly could have.
And because one of the best ways to back up these digital photograph collections is to share it with other family members, (besides just being a really cool thing to do) I'm doing that, too.
My first thought when I read the  Carnival of Genealogy Challenge for August was "we didn't have a family business, we had a farm…"
And then I re-thought, realizing that a farm always was (and still is, no matter the size) a business also, though some might say that  farming is more of a calling than a career, and for those of us who grew up on a farm, it's more a part of our hearts than most brick or mortar businesses could ever be.
One of the sayings that I grew up hearing was "You can take the boy off the farm but you can't take the farm out of the boy." (Same goes for many of us farm girls, too!)
When my oldest brother was just a toddler, our folks bought the farm where dad grew up with his seven (living) brothers and sisters, and dad's parent's, Elmer and Maud (McGinnis) Stocking.  My grandparents moved to the nearby town of Mayfield, Kansas with their youngest children and my grandfather Elmer continued his work as a mail carrier until his untimely early death from a heart attack.
Mom, Dad, and my brother Fred moved back to the Mayfield area from Arkansas City ("Ark City") after they purchased the farm.  All of this happened before I was born, or as my brother Harold, Jr. "Fred" would say "before you were even a twinkle in Dad's eye."
Farmers then, and farmers now, wear many hats.  They must be amateur weathermen/women, watching the weather with an eye to scheduling their work.  Their planning, planting, fertilizing, field work, harvesting, and even praying for rain circles around what the farm land needs and when it needs it.
Farmers also need to be bookkeepers, grain marketers, have the ability to supervise their family as workers, as well hired hands if they have some, and during the summer, they often have to put in 60 to 80 hour weeks as well.  It wasn't just sun up till sun down at our farm, it was before the sun came up till the job got done, especially during harvest.
I have always felt that I was one of the luckiest kids in the world, growing up on my folk's wheat and dairy farm, with 160 acres running room for a back yard!  I grew up collecting tadpoles from the buffalo wallows in the pasture (yes, I said buffalo wallows!), chasing crawdads along the creek, roping calves I wasn't supposed to, and dodging cow pies in the pasture while playing cowboys and Indians, or Yankees and Confederate soldiers with my nephews, who were not much younger than I was.
I also learned to drive a tractor, an old blue Chevy farm truck with a stick shift that my mom nicknamed "WobbleKnees," and milk a cow by hand as well as with a milking machine.
I was responsible for watering the chickens, gathering the eggs, spoiling our purebred collie puppies and making sure the cats and dogs had food and water.
I loved helping feed the baby calves, and always, always fell in love with one or two each year, wishing they could be my very own pet.  I learned to back up straight (after I learned to drive a stick) by backing several hundred feet along a lane, and dumping a half-full milk can of water (about 70 pounds if they were full!) into the calves' water tank to make sure they had enough water.
I helped hoe the garden, and helped preserve its bounty, enjoying the fresh tasting frozen sweet corn and the better than store-bought canned green beans all winter.
And, lucky me, with my work-at-home folks, I usually either had both my parents home with me, or I was in the field where they were working!
I loved growing up on the farm!
Just this week I clicked on a Facebook link that took me to Tami Koenig's  "Your Story Coach" blog and the "7 Photo Memories to Capture Now" and I had an "Aha, I should be doing this moment!"
Actually, to be honest, I had an "Aha, I should have already been doing this moment."
Quite some time back, I attended a scrapbooking workshop, and the instructor advised us to take photos of the inside of our home.
Take photos, she suggested, of each part of each room, including the wall hangings, the way the furniture is arranged, and, well, just everything, including one thing I never would have dreamed of doing, the views out each window, because as Tami Koenig reminds us in her blog post above, things change.
And sometimes, things change unexpectedly, such as when an earthquake occurs, a tornado hits, a flood damages, or a fire destroys.
So, the best time, as Tami says, to take those photos, is now, today.
And many years ago, when I first heard that instructor's advice to take a photo of the view out each window, it was already too late.  A house fire had destroyed the home that I grew up in, and that window of opportunity was already gone!
For more ideas on other photos you might want to capture now, tuck a camera in your purse, read Tami's  "7 Photo Memories to Capture Now" blog post, and head out the door.
I love this photograph of my Grandma and Grandpa Jones.  Although this was taken before I was born (as my grandfather was in it) this is how I remember my grandmother looking.  Round-faced and smiling, and just a bit plump. Comfortable to snuggle up against. (Grandma's are supposed to be plump, right?  I hope so, because I'm working on being a good Gramma.)
I wish that my grandfather had lived long enough for me to meet (and remember him), but this Carnival of Genealogy post is about my Grandma Carrie Breneman Jones, who died when I was eight years old.
When I was just a little bitty girl, my mama told me that her mama was really unhappy that they had named me "Sherry".  She said that Sherry is also the name of an alcoholic beverage, and her mama just wasn't happy with her for giving me that name.
So I guess it's no wonder when I went to grade school and I really didn't know what my Grandma's last name was, that when the teacher began talking about Kansas' Carrie Nation going into bars with an axe to fight for temperance I kind of wondered for a short time if that was my Grandma Carrie that did that.  I don't know why I didn't run home and ask my mom about it, but I didn't, but I did figure out, after awhile, that my Grandma Carrie wasn't the infamous axe wielding Carrie in my history book.  (The above doesn't look like the picture of an axe-wielding Grandma, does it?)
My Grandma Carrie was a very crafty lady.  Her hands were always busy making something.  She loved to crochet, from the very tiny delicate flower shaped earrings to the beautiful heirloom bedspread that she made for my mother, and that my mother later gave to me.
She crocheted doll clothes for my dolls and when my new favorite plastic horse needed a rider and there were none to be bought in the correct size, she created one.  My Grandma Carrie created an Indian, excuse me, a Native American brave complete with tiny leather fringed breeches and shirt, and bendable legs so he could sit a horse.  I still have him, tucked away (somewhere) and when I find him, I'll try to add the picture here.
And as I write this, I just realized that she may have fashioned the brave after the Native Americans that came to their cabin in Nebraska asking for food when she was just a very small girl, and they lived on the Nebraska prairie where my Grandma herded cattle on horseback by herself on the prairie during the day.
When she was older, Grandma Carrie taught herself to paint and she loved the National Geographic magazine for its beautiful photographs that often inspired her painting.  She also painted a picture of my brother's 4-H Dairy Cow "Jenny," too, for him, and "Jenny" hung on our kitchen wall while I was growing up.
I wish my Grandma had lived long enough for me to get to know her as an adult, because I think I inherited many of my interests and talents from her.  Like my Grandma, I'm crafty, though I've not had much time to do it lately, and if I can see something, particularly a fabric something, I can often make a pattern for it or create it from one I find.  Also like my Grandma and my mom, I painted for several years till I learned I was sensitive to the oil and turpentine smells, and like my Grandma and my mother I love a good book!
And, I wish she had lived long enough to ask her all those many genealogy questions that I now wish I had the answers to!
Other Links:
 Wordless Wednesday: Stocking & Jones Family
http://www.familytreewriter.com/2010/10/wordless-wednesday-stocking-jones-family/
Wordless Wednesday: Constantine Breneman & Carrie Breneman Jones & family
http://www.familytreewriter.com/2010/04/wordless-wednesday-constantine-breneman-carrie-breneman-jones-families/
This past four days have been "Happy Dance" Days!  Thanks to a flu bug, I sat with my laptop and searched the 'net for family history.
I hit a jackpot with the Southern Kentucky genealogy website at: http://www.so-ky.com/ when I found my Gr-Gr-Grandmother Elizabeth Laird Jones Crabb's brother Willis's death certificate and a photograph of his tombstone.
I started to post his tombstone photograph here, but didn't feel quite right about doing so, as I didn't take the photograph, and so here is the link to the tombstone, and below is the transcription.
Jesse W. Laird tombstone photograph
http://www.so-ky.com/cem/hartcem/n/newhope/IMG_9290.jpg

Transcription:

Jesse W. Laird
Co D 2 KY Cavalry
May 7, 1835
February 15, 1916
More Laird links:
Jesse Willis Laird Death Certificate
http://www.familytreewriter.com/2012/03/amanuensis-monday-willis-laird-death-certificate/
Saturday Night Genealogy Fun – Including Elizabeth Laird Jones Crabb
http://www.familytreewriter.com/2010/04/saturday-night-genealogy-fun/
Willis' Aunt – Bettie Crabb's Tombstone in Glasgow Cemetery, Glasgow, Kentucky Cemetery
http://www.familytreewriter.com/2010/04/tombstone-tuesday-bettie-crabb-barren-county-kentucky/
Willis' brother-in-law – J. R. U. Crabb, Glasgow Cemetery, Glasgow, Kentucky
http://www.familytreewriter.com/2009/11/tombstone-tuesday-j-r-u-crabb-barren-county-kentucky/
Willis' sister, Elizabeth Laird Jones Crabb, buried in the Milan Cemetery, Milan, Sumner County, Kansas
http://www.familytreewriter.com/2009/09/tombstone-tuesday-elizabeth-laird-crabb/
I had a flu bug this weekend, and it is that flu bug that I have to thank for having a "Happy Dance" weekend!
A little virus had me sitting more than usual, and to combat boredom, I started 'hunting' on the Internet for ancestors and their siblings!  Thanks to the virus, I don't remember exactly how I arrived at this wonderful Kentucky website, but I'm not sure I had ever been to this one before, and if I had, it has a lot of new 'stuff' on it, including my Gr-gr-grandmother's brother, Willis Laird's death certificate!
As a volunteer here in my own county, I am doubly appreciate of those who find and share family history information, and I want to say "Many thanks to the volunteers of this Southern Kentucky website at http://www.so-ky.com!  I am so very grateful to find out for certain now, that Willis is my Gr-Gr-Grandmother Elizabeth Laird Jones Crabb's brother"
You can see a scanned image of Willis Laird's death certificate here: http://www.so-ky.com/dth/14/Jesse%20W.%20Laird.jpg
According to the website, Willis' first name is actually Jesse, and though his death certificate doesn't state that, his tombstone does.  Comparing the dates on tombstone and death certificate help verify that they are one and the same.
Information on the death Certificate:
Commonwealth of Kentucky
State Board of Health
Bureau of Vital Statistics

Place of death:
County: Hart KY
Vet.Fot. Northtown

Registration District No. 6174
File No: 4772
Registered No. 51

3. Sex  Male
4. Color or Race: White
5. S/M/W/D:  Married
6. Date of Birth: May 7 1835
7. Age: 80 yrs  8 mos  8 da
8. Occupation:  Farmer
9. Birthplace: KY
10.  Name of Father: Hesikiah Laird
11.   Birthplace of father: Unknown
12.   Maiden name of Mother: Patsy Carter
13.   Birthplace of Mother:  Unknown
14.   Informant:  V. J. Eggsdon/Iggsdon (?) Address:  Cave City
15. Filed:  Feb 17, 1916 Informant:   J. M. Isenberg
16. Date of Death:  2-15-1916
17: I here certify, that I attended deceased from February 4th, 1916 to February 14th, 1916, that I last saw him alive on February 14th, 1916, and that death occurred on the date stated above at 8:00 a.m. (I think, hard for me to read).  the
Cause of Death was as follows:

Lagrippe – Duration 15 daays
Contributery: Pneumonia
Secondary: (illegible, at least to me)

Duration  5 Days

Signed: J. T. Godby, M. D.
2-16-1916 Address:  Cave City, KY

18. Length of residence – not filled out
19. Place of Burial:  New Hope Date of Burial: February 17, 1916
20. Undertaker: J. W. Oster Address:  Cave City, KY
What a lot of information is contained in this death certificate!  I know that Willis was living in the Cave City area, and that he died 4 years after his sister Elizabeth Laird Jones Crabb did.
I know what cemetery Willis is buried in, and luckily enough (and thanks to the Southern Kentucky volunteers) also have a photograph of the tombstone as well as photographs of the cemetery and church there, and will be sharing links to that soon!
Thank you Kentucky volunteers!  I'm still doing a Happy Dance!
More Laird info:
http://www.familytreewriter.com/category/sherrys-family-tree/lard-laird-genealogy/
I love this blog post by Billy Coffey.  He says he's not a genealogist, but in this post, he's captured the essence of why many of us do this, search for this person, and then that one, hunt for this fact, or that, and try to find out who these ancestors of our truly are, and if we can, what they were like.
Billy Coffey captures most of the reasons why I do genealogy, and he says it better than I ever could.
Like Billy, I'm not looking for the rich and famous.  (I would enjoy finding just one, but I don't think I will.)
Most of my recent ancestors were farmers, and my distant ancestors, on two sides, were people who left their home country in search of a place where they had the freedom of worship.  It is these everyday people, these people who climbed on a ship in search of freedom, these homesteaders, and farmers and farm wives, who bravely faced everyday hardships that I search for!
I don't think anyone could say it better than Billy said in his blog post at BillyCoffey.com:
"Because I am the result of many moments and many decisions that mattered to people with whom I share a common bond. And those who come after me, my children and their children and theirs, will be the results of my own moments and decisions."
I appreciated Billy putting into words at how I feel about my ancestors.
It reminded me that we're all a part of the tapestry of history, the tapestry that living our everyday 'nobody' lives weaves each and every day.
Thank you, Billy.
I just loved this week's episode of "Who Do You Think You Are?" with Reba McEntire!  Since she was raised in our next-door state of Oklahoma, it's like she's almost a neighbor!
According to Thomas MacEntee of GeneaBloggers, I'm not the only one who loved this episode!  According to MacEntee the number of viewers went up by 1/3rd and it came in second in its time slot!  Sounds pretty good to me, though I think it ought to be Number 1 in its time slot!
Check out the rest of the stats for the Reba McEntire episode here at the GeneaBlogger's website!
I have to say that I've loved every one of the WDYTYA episodes, but being a big Reba fan made this one special to me!  My hubby, son and I saw her sing in Wichita several years back and she put on an awesome show!
The things that the researcher's uncovered about Blair's ancestors, and then this week that they shared with Reba sure was a revelation on the times and the area they all lived in, and reminded me to turn over all the stones in my searches.
I can't wait till next week rolls around to see what interesting things the researchers share with the guest!
by Sherry Stocking Kline
February 19, 2012
It's Saturday Night!  (well, an hour ago it was!)  Time to play the Saturday Night Genealogy Fun Game with Randy Seaver at GeneaMusings.com
It's 

Saturday Night

again – time for some more 

Genealogy Fun!!

Here is your assignment if you choose to play along (cue the Mission Impossible music, please!):

1) What year was your paternal grandfather born?  Divide this number by 100 and round the number off to a whole number. This is your "roulette number."

2) Use your pedigree charts or your family tree genealogy software program to find the person with that number in your ancestral name list (some people call it an "ahnentafel"). Who is that person?

3) Tell us three facts about that person in your ancestral name list with the "roulette number."

4) Write about it in a blog post on your own blog, in a Facebook status or a Google Stream post, or as a comment on this blog post.

5) If you do not have a person's name for your "roulette number" then spin the wheel again – pick a grandmother, or yourself, a parent, a favorite aunt or cousin, or even your children!
My paternal grandfather, Elmer Leverett Stocking, was born in 1879.  Divide that by 100, and you get 18.79, rounded up to 19.
So, I went to my family tree program, used the Ahnentafel program, and there she was, my #19.
19. Hannah "Juline" BROOKS: born 29 May 1839 in Williamstown, MA; died 4 Jan 1899 in 6712 Wabash, Chicago, Cook Co., Il..
Hannah "Juline" Brooks married Edward Hitchcock 18 Sept 1856 in Davenport, Scott County, IA, and died in Chicago while visiting her son.  Juline was my Great-grandmother, Frances "Fanny" Hitchcock's mother.
Fanny married my great-grandfather, Roderick Remine Stocking in Crescent City, Iroquois County, Illinois,  on 3 May 1876, and they moved to Kansas shortly afterwards where they homesteaded in Sumner County, Kansas.  My paternal grandfather, Elmer Leverett, was Fanny and Roderick's first born.  Frances, Roderick, and Elmer are all buried in the Osborne Cemetery near Mayfield, Sumner County, Kansas.