Mrs.Fannie I. Breneman Obituary
Oakland Tribune
22 April 1947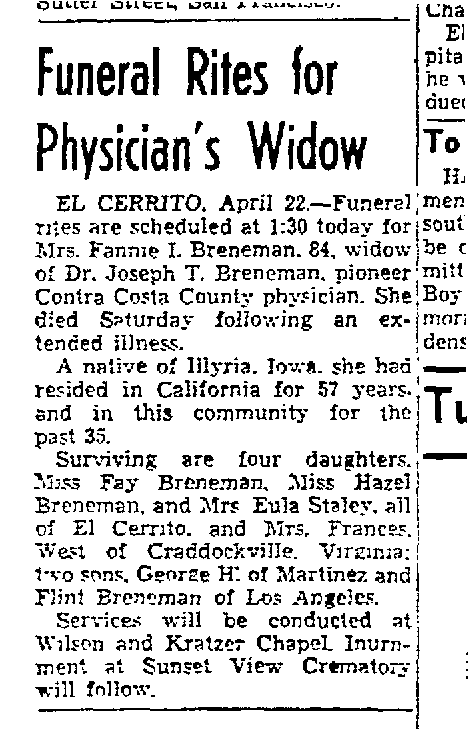 Fannie Breneman Obituary Transcription
Funeral Rites for Physician's Widow

El Cerrito, April 22 – Funeral rtes are scheduled at 1:30 today for Mrs. Fannie I. Breneman, 84, widow of Dr. Joseph T. Breneman, pioneer Contra Costa County physician. She died Saturday following an extended illness.

A native of Illyria, Iowa, she had resided in Califonia for 57 years, and in this community for the past 35.

Surviving are four daughters, Miss Fay Breneman, Miss Hazel Breneman, and Mrs. Eula Staley, all of El Cerrito, and Mrs. Frances West of Craddockville, Virginia, two sons, George H. of Martinez and Flint Breneman of Los Angeles.

Services will be conducted at Wilson and Kratzer Chapel. Inurnment at Sunset View Crematory will follow.
I love it when I can add another piece to the family genealogy puzzle, and finding this obituary was the work of a snowy winter day when I had a flu bug, so finding an obituary that had been evading me made the day a lot better.
Now, if I could just find her husband's obituary, that would be awesome!