Amanuensis Monday – Willis Washington Jones Death Certificate
After years of hunting, gathering, and collecting family information, and many attempts at getting it organized, I'm going back through it with an eye to getting it done right this time.  Some of these files were entered, several years ago, into a FamilyTreeMaker database file that all disappeared when I updated my program, so it took me awhile to decide to start over and enter all my data into another program!!
Willis Washington Jones Death Certificate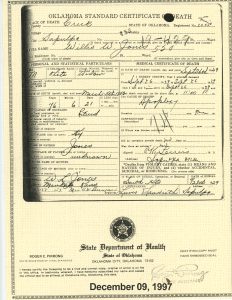 OKLAHOMA STANDARD CERTIFICATE OF DEATH
PLACE OF DEATH (County):  Creek                       STATE OF OKLAHOMA.  Registered No: 2055 (Lewis)
Village:            (blank)                                                 (453 stamped in crossways here)
Township: (blank)
City: Sapulpa                          No. (handwritten numbers – 19 – 429)
FULL NAME:  Willis W. Jones (handwritten – 520)
(a) Residence No. (blank)                   St. (blank)                    Ward (blank)
PERSONAL AND STATISTICAL PARTICULARS
SEX: Male
4. COLOR OR RACE: White
5. SINGLE: Widow
IF MARRIED, wife or husband
7. DATE OF BIRTH: March 5th, 1853
AGE: 76 Years, 6 Months, 21 Days
OCCUPATION OF DECEASED: Retired
BIRTHPLACE: KY
BIRTHPLACE OF FFATHER: UNKNOWN
MAIDEN NAME OF MOTHER: (BLANK)
BIRTHPLACE OF MOTHER: (BLANK)
INFORMANT: W. L. JONES
ADDRESS: Mankato, Kansas
FILED: 10-17-29 Mrs. C. W. Duncan (Registrar)
MEDICAL CERTIFICATE OF DEATH
DATE OF DEATH: Sept 26th, 1929
I hereby certify that I attended deceased From Sept 26, 1929 to Sept 26, 1929.
that I last haw him alive on Sept 26, 1929 and that death occurred on the above
date, at 11:00 P.M.
The CAUSE OF DEATH:  Apoplexy    Duration:  One day
Where was disease contracted: (blank)
did an operation precede death:  NO
Was there an autopsy:  NO
Signed:  R. K. Lewis
Address:  Sapulpa, Okla
PLACE OF BURIAL: South Heights DATE of BURIAL: 9/28TH 1929
UNDERTAKER: Lewis Landrith ADDRESS: Sapulpa
State Department of Health
State of Oklahoma
Oklahoma City, Oklahoma 73152
December 09 1997
Willis Second Wife Eliza Clark Jones Death Certificate:
http://www.familytreewriter.com/2018/01/amanuensis-monday-eliza-clark-jones-arkansas-death-certificate/
Willis daughter, Myrtle, buried in Osborne Township Cemetery, Mayfield, Kansas
Willis' half-sister, Bettie Crabb, buried in Glasgow, Kentucky
http://www.familytreewriter.com/2010/04/tombstone-tuesday-bettie-crabb-barren-county-kentucky/
Willis' step-father, J. R. U. Crabb, buried next to Bettie Crabb in Glasgow, Kentucky.
http://www.familytreewriter.com/2009/11/tombstone-tuesday-j-r-u-crabb-barren-county-kentucky/
Willis' mother, Elizabeth Laird Jones Crabb
http://www.familytreewriter.com/2009/09/tombstone-tuesday-elizabeth-laird-crabb/