Archive for the 'genealogy' Category
Some time back, shortly after my Aunt Frances (Stocking) Hill passed away, her daughter Phyllis brought me a suitcase of her mother's photographs, papers,  and other memorabilia.
I  looked through it several times, even scanned a a few of the pictures and shared some with family, but I'm ashamed to say that I'm just now getting the rest of them sorted.
It's a big suitcase.
It's going to take awhile to sort, scan, and add the  information and photos to my family tree program.
Once the sorting and scanning is done, I'm sending the photos to the different branches of our family by sending them to the folks that are in them, or the children of those in them.
One such treasure, a postcard from my Uncle Frank (a.k.a. "Pike") to his sister, my Aunt Frances, was postmarked 19 September 1945, U. S. Navy, U. S. S. Ticonderoga.
Transcription of the Postcard:

Lt. (JG) Frank Stocking
USS Ticonderoga (CV14)
c/o FPO
San Francisco, Calif

Postcard – Postmarked U. S. Navy – Sep 19 1945
Addressed to: Mrs. Marshall W. Hill
Hill General Electric
Arkansas City,
Kansas

Well, I'm ready to start home for discharge. Probably be sometime before I get home but I leave Tokyo Bay soon.

I got this card from a Jap lady on the streets of Tokyo who speaks English about like I speak Japanese, anyway you can read all about it on the other side.

Love,
Pike
I loved finding this post card and if I can get the rest of his daughter's family's photographs packed up this will be on its way home to my Uncle Frank's daughters.
Eliza Clark Jones – Arkansas Death Certificate – Transcription
The following is the Transcription of my Step-Great-Grandmother, Eliza Clark Jones, second wife of Willis Washington Jones.
They were living in rural Arkansas when Eliza died. We were told by some of our family that Willis had a strawberry farm in Arkansas. Willis is buried in Oklahoma. (see below for a link.)
STATE OF ARKANSAS
State Board of Health
Bureau of Vital Statistics
Certificate of Death for Eliza Clark Jones
1.         Place of Death: Sevier
Township:  Red Colony
Registration District No.  597
Primary Registration District No.  6841
File No.  705
1916
2.         Full Name:  Eliza Clark Jones
3.         Sex: Female
4.         Color or Race: White
5.         Married
6.         Date of Birth: 1869
7.         Age:  47 years
8.         Occupation:  House-wife
9.         Birthplace: Kentucky
10.       Name of Father: Jim Jones
11.       Birthplace:  Kentucky
12.       Maiden Name of Mother: Maria Peden
13.       Birthplace of Mother: Kentucky
14.       Informant: W. W. Jones
Address: Lockesburg, Arkansas
15.       Filed:  Oct 5, 1916; J. P. Norwood, Registrar
16.       Date of Death: Oct 2, 1916
17.       I hereby certify that I attended the deceased from Feb 5, 1916 to August 14, 1916, that I last saw her alive on Aug 14, 1916, and that death occurred on the date stated above, at 2 a.m.
The Cause of Death was as follows: Cancer of Uterus;  Duration:  7 months  28 days
Signed: M. L. Navarro, M. D.,   Address: Lockesburg, Arkansas
18.       Length of Residence: not filled out
19.       Place of Burial or Removal: Union
Date of Removal: Oct. 2, 1916
20.       Undertaker: L? H?      Address: Lockesburg
Eliza is buried in Old Union Cemetery in Lockesburg, Sevier County, Arkansas, USA.  Her Find A Grave Memorial Number is:  66128657
Her husband, Willis, is buried in South Heights Cemetery, Sapulpa, Creek County, Oklahoma, USA.  His Find A Grave Memorial Number is: 16726547
Their children's names were:
Richard Jones
Veachel Jones
William Jones
Eliza had a daughter, Bessie Jones, before she married Willis.
Here is a digital copy of her death certificate: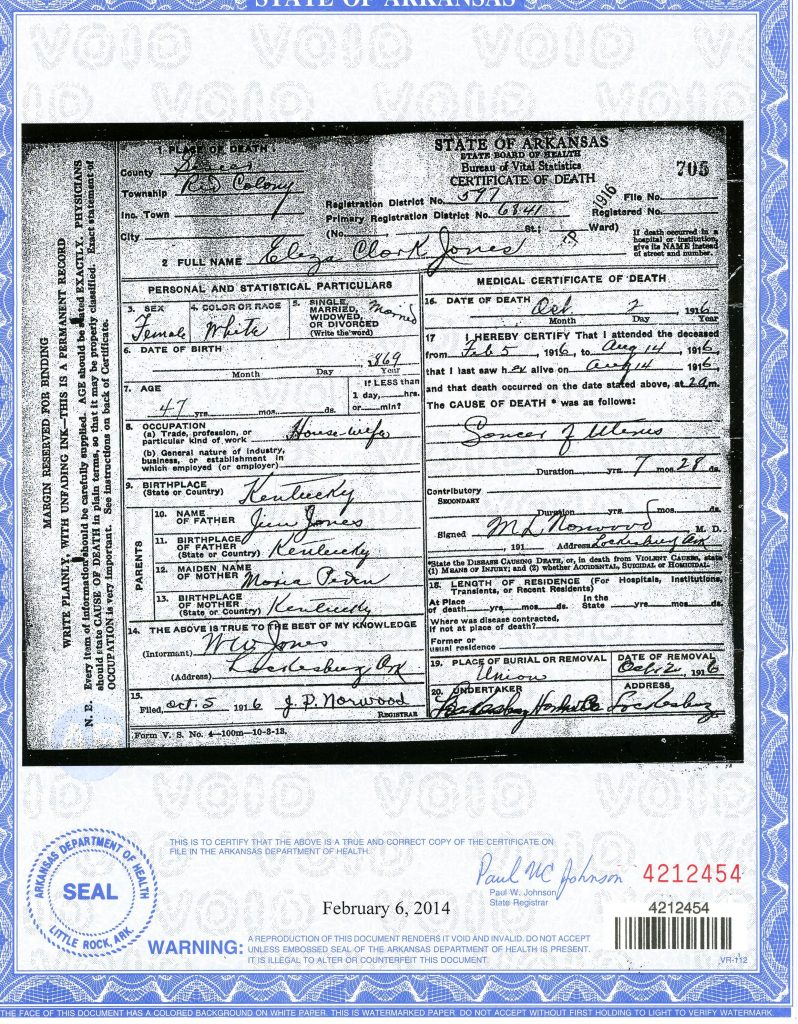 I love researching in old newspapers!
Just like Forrest Gump said in the movie, "You never know what you might find!"
You can get a glimpse into your ancestor's lives, learn who their friends were, what they did on vacation, and sometimes, when the local doctor buys a new car, it makes the news!!
Dr. Joseph T. Breneman lived and practiced in Wellington, Kansas.  His parents, Christian and Mary Breneman, lived in Wellington near him.
His brother, Constantine, a Civil War veteran, lived in the Mayfield and Milan area, and worked with his son, Otto, as a blacksmith in Mayfield.
Check out other Breneman Links:
Fannie Breneman, Wife of Dr. Joseph T. Breneman's Obituary
SAMPSON WHITLEY – DEATH CERTIFICATE
TEXAS DEPARTMENT OF HEALTH
BUREAU OF VITAL STATISTICS
CERTIFICATE OF DEATH
Place of Death – County – Hill
Usual Residence:    State –

Texas

 County –

Hill

 City

– Itasca, Texas

Name of Deceased:    

Sampson Whitley

Date of Death:   

5/8/54

Sex:   

Male

 Color or Race: 

Colored

Marital Status: 

Married

Date of Birth:   

Nov 8, 1890
Age:  64
10a. Occupation: 

Labor
10b. Kind of business:  None
Birthplace: 

Texas

Father's Name: 

John Whitley

        Birthplace: 

Texas

Mother's Maiden Name: 

Unknown

          Birthplace: 

Unknown

Not filled in
Not filled in
Not filled in
Social Security No:  Not filled in
Informant: 

Ida Whitley

Cause of Death: 

Malignancy (Lung) type unknown

       Interval between onset and death: 

1 – 2 years

Not filled in
I hereby certify that I attended the deceased from

Jan 1, 1954 to May 7, 1954

, that I last saw the deceased on

May 7, 1954

, and that death occurred at

11 a.m.

from the causes and on the date stated above.
Signature –

Charles C Allen

          Address: 

Box 67, Itasca, Texas

                 Date signed: 

May 10, 1954

Burial, Cremation, Removal: 

Burial

   23b.  Date: 

5/11/54

    Name of Cemetery or Crematory: 

Itasca Cemetery

Location:

  Itasca, Texas  

Funeral  Directors Signature:

Kentard Funeral Home – Richard Hemphill

Registrar's File No. 

226

Date Rec'd by Local Registrar: 

May 10, 1954

Physician's Signature: 

G. Warnour

(? – this was difficult to read.)
A three-day bout with a virus sent me to Ancestry.com to see what I could find to fill in the blanks in my family's tree, and suddenly I was 'on a roll' finding my son-in-law's and granddaughter's ancestors!
Lucky me!  My oldest granddaughter likes genealogy!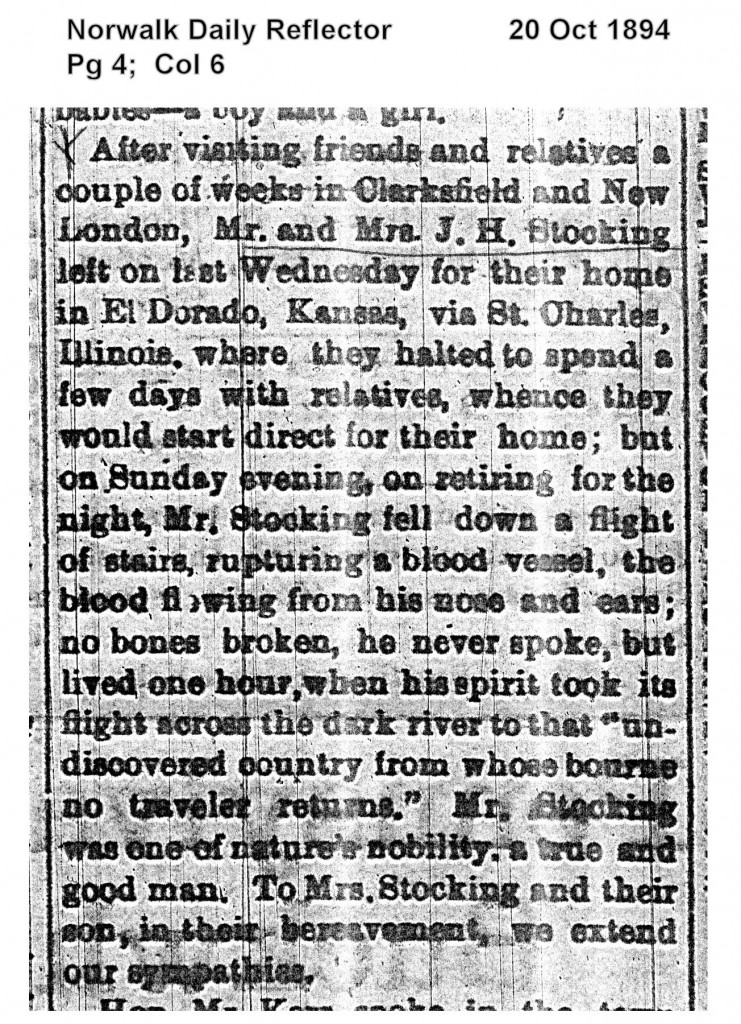 Norwalk Daily Register
Norwalk, Ohio
20 Oct 1894
Pg 4 Col 6
After visiting friends and relatives a couple of weeks in Clarksfield and New London, Mr. and Mrs. J. H. Stocking left on last Wednesday for their home in El Dorado, Kansas, via St. Charles, Illinois, where they halted to spend a few days with relatives, whence they would start direct for their home; but on Sunday evening, on retiring for the night, Mr. Stocking fell down a flight of stairs, rupturing a blood vessel, the blood flowing from his nose and ears; no bones broken, he never spoke, but lived one hour, when his spirit took its flight across the dark river to that "undiscovered country from whose bourne no traveler returns."  Mr. Stocking was one of nature's nobility, a true and good man.  To Mrs. Stocking and their son, in their bereavement, we extend our sympathies.
John Hurlburt Stocking's son, Roderick Remine Stocking, was my great-grandfather, and you can find a photograph of him here, as well as more information about him.
Roderick's mother, Betsey Jane Ames, died in Oct 1856 shortly after Roderick's little brother Bishop was born.  After Betsey's death, John Hurlburt married Caroline Gates in April 1860.
In 1894, my great-grandfather, Roderick was living on the farm that he homesteaded in Sumner County, Kansas with his wife, Frances "Fannie" Hitchcock.
More Links:
Roderick Remine Stocking Photograph 
http://www.familytreewriter.com/2011/05/wordless-wednesday-roderick-remine-stocking-photo/
The J. H. Stocking Bible
Carnival of Genealogy – the J. H. Stocking Bible
by Sherry Stocking Kline
15 May 2011
Nearly every day, at least one person stumbles across my website looking for software to create their dog a family tree, and so finding this blog post at Legacy Family Tree  gave me a way to share the "how-to" with folks who want to get started using Legacy to track their dog's Family Tree.
Not only are there links to downloading the great Legacy software, there are tips, and links to more tips on how to fill in the blanks, plus comments from other Puppy Pedigree builders!
My dog is a "Rescue" dog, and her pedigree probably includes a German Shepherd, maybe a coon hound, perhaps a bit of husky, and I think she has a Beagle smiley face and pretty brown eyes!  
 O.K., so that doesn't sound pretty, but she really is, and she loves to sit on her dog house, and survey the world she guards! 
Related links:
by Sherry Stocking Kline
2 May 2011
Milt Stocking, 86, local music teacher
Palo Alto Daily News – Nov 28, 2001
R. Milton "Milt" Stocking, a retired Palo Alto music teacher, has died.  He was 86.
Stocking died Saturday (Nov 24th) from complications of Parkinson's disease at the Manor Care Nursing Home in Sunnyvale.
He was born Aug 10, 1915, in Topeka, Kansas. He earned a degree from Southwestern College in Winfield, Kansas, then a master's degree in music education from the University of Colorado, in Boulder, and took doctorate courses at Columbia University in New York City.
During World War II, Stocking served in the Air Force in Europe. He continued to serve in the Air Force Reserve and worked for the Veterans Administration in Wichita, Kansas.  He retired as a lieutenant colonel in 1975.
He taught music in Kansas, Sacramento and in Palo Alto Unified School District schools. He also taught jazz at Foothill College after he moved to Palo Alto in 1956.  He retired after teaching for 23 years.
He was a member of the First United Methodist Church of Palo Alto and a member of BPO Elk's Lodge No. 1471 of Palo Alto for 27 years.
He was also a past charter member of the Schola Cantorum Community Choir and director of church choirs in Kansas and in Los Altos.
He is survived by his wife, Martha; former wife, Lea; daughters Raina Glazener of Seattle and Annie Stocking of San Francisco; and many nieces and nephews and other relatives.
Friends are invited to attend a memorial service to be held at 1 p.m., Monday, Dec. 3rd, at the Alta Mesa Memorial Park chapel, located at 695 Arastradero Road in Palo Alto.
Contributions may be made in Milt's memory to the Parkinson's Institute, 1170 Morse Ave., Sunnyvale, CA. 94089, First United Methodist Church, organ fund, 625 Hamilton, Palo Alto, CA 94301 or the American Red Cross of Palo Alto, CA.
Great-Grandma McGinnis Sang for Abraham Lincoln…
This photograph has been in the family for some time and my Great-Grandma Margaret "Maggie" (Corson) McGinnis, (my grandma Maud Stocking's mother) told her children, grandchildren, and great-grandchildren that she was a child in this photograph in the wagon on the lower right hand side of the photograph with the sign that reads "Let Me In – Kansas."
Great-Grandma McGinnis said that she and other children sang for then candidate Abraham Lincoln on this day.
According to my Uncle Herb, and my brother Harold (a.k.a Fred), (both of whom were old enough to remember the story well) Great-Grandma Maggie said that Mr. Lincoln stopped, bent down, and spoke to her about "letting Kansas in" to the Union as a state.
There she was, just a little girl, at a Turning Point in History…
Wow!  There she was, just a little girl, being spoken to by a man who was then a candidate for president.  Can you just imagine?  Did they have any idea that they were at a point in history that would lead to such historically memorable events as the Civil War, the ending of slavery, the assassination of a President, and other major turning points in our country's history?
In light of what was to come just a few years later, it is no wonder that Great-Grandma shared this story with her children and grandchildren.
I've seen this photograph on-line in several places, so I know it must have been a popular photograph in that time and era and I'm glad that Great-grandma Maggie had a copy of this photograph and shared this story with her family.
Other Related Posts:
Corson Family Info:
Wordless Wednesday – Margaret Corson McGinnis' 100th Birthday
You can learn more about the Corson Family, Book and Association Website Here.
My Corson Family Website and Happy Dance Post is Here.
Three Hundred Years With the Corson Family in America.
McGinnis Family Info:
My Maggie Corson/McGinnis Happy Dance!
Carnival of Genealogy – My Poem to My Ancestors
Maggie's Husband:
Amanuensis Monday – Thomas J. McGinnis Obituary
by Sherry Stocking Kline
February 17, 2010
Here is a photograph of my mom's cousin, Kenneth Jones, son of Evan and May Breneman Jones, in front of the high school at Kingman, Kansas.
Kenneth and his wife Lois had five children and lived in Duluth, Minnesota on Morris Thomas Road.
Kenneth's mother, May Breneman Jones Willey lived with them for awhile, and then went into a nursing home called Nopemming (sp?).
Kenneth, Lois, and my great-aunt May have all passed away, and sad to say, we have lost touch with their children, and though I've tried to locate them, the last name of Jones is making that difficult.
We visited them several times when I was growing up, and I have very fond memories of horse-back riding at the neighbors, picking wild strawberries, and going agate hunting along one of the many lakes with Kenneth and his family.
Kenneth's father, Evan Jones, is buried in the Osborne Cemetery, Sumner County, Kansas, near Mayfield.
by Sherry Stocking Kline
February 9, 2010
I 'stumbled across' this tombstone when I was taking photographs of stones at the Milan Cemetery, Sumner County, Milan, Kansas, on Highway 160, about 15 miles (give or take a bit) west of Wellington.
On the Stone:

HAWLEY
Willshier S. Hawley
Oct 3, 1826
June 7, 1922
Co. A. 52nd Ind.  Vol. Inf.
I just knew he had to be 'family.'
Never mind the fact that it said that he was in the Indiana Volunteer Infantry, I was so excited, I just knew he had to be some of my Kentucky family.
After all, my Jones great-grandmother had been a Smith, and her mother had been a Hawley.  Families often migrate together, and I just knew this man was going to be some of my Kentucky born and bred kinfolk.  All I had to do was prove it.
So, I hopped on-line to do census research, and found that 'my' Willshier/Willshire had moved around some.  And also that most likely, some of the Willshier's that I found weren't 'mine.'
Before heading off to the census, I checked out the National Park Websites Civil War Soldier's info.  No surprise there, what was on the tombstone was the same as the National Park info.
Next I went to Ancestry.com to find Willshier on the census. Ancestry turned up a family tree, and after doing some checking, this is 'my' Willshier Hawley, and it checks out fairly good with the Census record.
Family Tree:

Willshier Sanford Hawley

married Catherine Thornburg on 19 Apr 1849 in Wabash County, Indiana
Children:
Melissa C Hawley
Rebecca Hawley
Seraphina Mabel Hawley
Francis Marion Hawley
Mary L Hawley
Annie L Hawley

Censuses:

1860 Census
1860 Census, Place: Pleasant, Wabash, Indiana; Roll M653_304; Page 36; Image 36
W. S. Hawley  age 33
Catharine Hawley  age 26
Malisa C Hawley  age 10
Rebecca Hawley  age 4
Francis M Hawley  age 1

1900 Census
1900 Census, Place: Clay, Hendricks, Indiana; Roll T623_376; Page: 17A
Willshier Hawley  age 73
Mary L Hawley  age 32
Bessie Hinkle  age 8

1910 Census
1900 Census, Place: Parsons, Alfalfa, Oklahoma; Roll T624_1242; Page: 9B
Silas J. Rerick  age 59
Mallisa C. Rarick  age 60
Martha E. Rarick  age 19
Willshier Hawley  age 83
Mary L Hawley  age 43

(When I wondered why Willshier was living with the Rericks, I referred back to the family tree, which said that Melissa/Mallisa had married Silas J. Rarick/Rerick.   Aha moment.)

1915 Kansas State Census

E.V. Rerick  age 38
Precilla Rerick  age 34
Marie Rerick  age 8
Sherman Rerick  age 6
Ruth Terick  age 2
M C Rerick  age 64
Vergil Dumieg  age 33
Now we're getting to names that I recognize. Sherman Rerick, just a child in 1915, was a good friend and went horse-back riding with my Uncle Daryl Jones, Sr.
To do just a little more checking on Willshier's family, I went to the online Milan Cemetery list of burials/tombstones, and found the following:
Silas J. Rerick died         8 Nov 1912
Malissie C Rerick died  20 Mar 1927
Ernest Vernon Rerick    Died in 1949

And according to the website, Willshier Hawley's lot owner is a Rerick.
There are several other Rericks, and most likely, they are related to Silas and Mallisa, perhaps even their children and grandchildren.  ( A little before this point, I knew that Willshier wasn't my family, so I've not pursued more census to learn what Silas and Malissa's children's names were.)
Is Willshier Sanford Hawley one of "my" Hawley's?
No.   I won't be doing a "happy dance" today, because going back through my own Hawley tree info, and comparing it with the on-line tree, there aren't any links to tie them together for well past my own great-grandmother.
Perhaps, several generations past my great-grandmother, there is a link, but at this point, I'm switching my focus elsewhere and concluding that Willshier didn't follow my family members here, but rather his own children, particulary his daughter Mallisa and her husband.
Another 'dead end' but an interesting one.  I'm going to put together the information that I've found the past couple of days, and donate it to the Sumner County Genealogy and History Center for the Hawley's and the Rericks should they come searching!
Related Posts:
Daryl Jones, Sr (friend of Sherman Rerick) Tombstone
Daryl Jones – Photograph with his Parents & some siblings