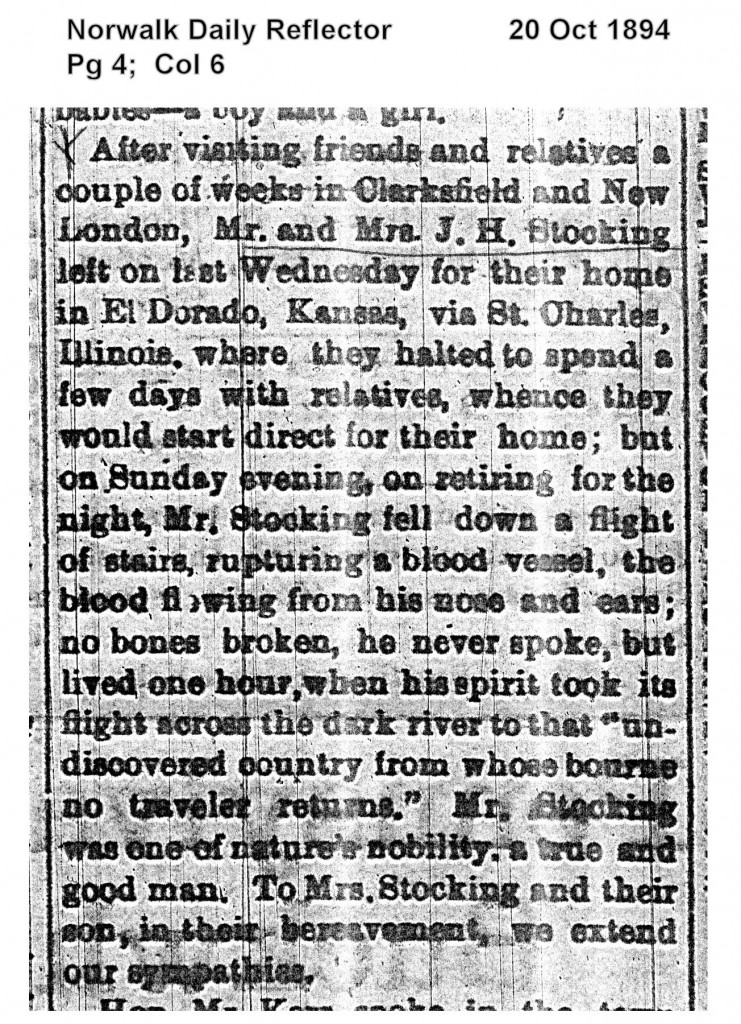 Norwalk Daily Register
Norwalk, Ohio
20 Oct 1894
Pg 4 Col 6
After visiting friends and relatives a couple of weeks in Clarksfield and New London, Mr. and Mrs. J. H. Stocking left on last Wednesday for their home in El Dorado, Kansas, via St. Charles, Illinois, where they halted to spend a few days with relatives, whence they would start direct for their home; but on Sunday evening, on retiring for the night, Mr. Stocking fell down a flight of stairs, rupturing a blood vessel, the blood flowing from his nose and ears; no bones broken, he never spoke, but lived one hour, when his spirit took its flight across the dark river to that "undiscovered country from whose bourne no traveler returns."  Mr. Stocking was one of nature's nobility, a true and good man.  To Mrs. Stocking and their son, in their bereavement, we extend our sympathies.
John Hurlburt Stocking's son, Roderick Remine Stocking, was my great-grandfather, and you can find a photograph of him here, as well as more information about him.
Roderick's mother, Betsey Jane Ames, died in Oct 1856 shortly after Roderick's little brother Bishop was born.  After Betsey's death, John Hurlburt married Caroline Gates in April 1860.
In 1894, my great-grandfather, Roderick was living on the farm that he homesteaded in Sumner County, Kansas with his wife, Frances "Fannie" Hitchcock.
More Links:
Roderick Remine Stocking Photograph 
http://www.familytreewriter.com/2011/05/wordless-wednesday-roderick-remine-stocking-photo/
The J. H. Stocking Bible
Carnival of Genealogy – the J. H. Stocking Bible