Archive for the 'Sherry's Family Tree' Category
Amanuensis Monday – Willis Washington Jones Death Certificate
After years of hunting, gathering, and collecting family information, and many attempts at getting it organized, I'm going back through it with an eye to getting it done right this time.  Some of these files were entered, several years ago, into a FamilyTreeMaker database file that all disappeared when I updated my program, so it took me awhile to decide to start over and enter all my data into another program!!
Willis Washington Jones Death Certificate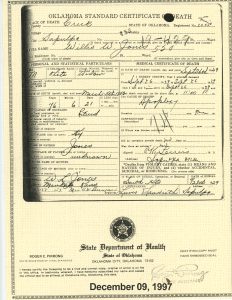 OKLAHOMA STANDARD CERTIFICATE OF DEATH
PLACE OF DEATH (County):  Creek                       STATE OF OKLAHOMA.  Registered No: 2055 (Lewis)
Village:            (blank)                                                 (453 stamped in crossways here)
Township: (blank)
City: Sapulpa                          No. (handwritten numbers – 19 – 429)
FULL NAME:  Willis W. Jones (handwritten – 520)
(a) Residence No. (blank)                   St. (blank)                    Ward (blank)
PERSONAL AND STATISTICAL PARTICULARS
SEX: Male
4. COLOR OR RACE: White
5. SINGLE: Widow
IF MARRIED, wife or husband
7. DATE OF BIRTH: March 5th, 1853
AGE: 76 Years, 6 Months, 21 Days
OCCUPATION OF DECEASED: Retired
BIRTHPLACE: KY
BIRTHPLACE OF FFATHER: UNKNOWN
MAIDEN NAME OF MOTHER: (BLANK)
BIRTHPLACE OF MOTHER: (BLANK)
INFORMANT: W. L. JONES
ADDRESS: Mankato, Kansas
FILED: 10-17-29 Mrs. C. W. Duncan (Registrar)
MEDICAL CERTIFICATE OF DEATH
DATE OF DEATH: Sept 26th, 1929
I hereby certify that I attended deceased From Sept 26, 1929 to Sept 26, 1929.
that I last haw him alive on Sept 26, 1929 and that death occurred on the above
date, at 11:00 P.M.
The CAUSE OF DEATH:  Apoplexy    Duration:  One day
Where was disease contracted: (blank)
did an operation precede death:  NO
Was there an autopsy:  NO
Signed:  R. K. Lewis
Address:  Sapulpa, Okla
PLACE OF BURIAL: South Heights DATE of BURIAL: 9/28TH 1929
UNDERTAKER: Lewis Landrith ADDRESS: Sapulpa
State Department of Health
State of Oklahoma
Oklahoma City, Oklahoma 73152
December 09 1997
Willis Second Wife Eliza Clark Jones Death Certificate:
http://www.familytreewriter.com/2018/01/amanuensis-monday-eliza-clark-jones-arkansas-death-certificate/
Willis daughter, Myrtle, buried in Osborne Township Cemetery, Mayfield, Kansas
Willis' half-sister, Bettie Crabb, buried in Glasgow, Kentucky
http://www.familytreewriter.com/2010/04/tombstone-tuesday-bettie-crabb-barren-county-kentucky/
Willis' step-father, J. R. U. Crabb, buried next to Bettie Crabb in Glasgow, Kentucky.
http://www.familytreewriter.com/2009/11/tombstone-tuesday-j-r-u-crabb-barren-county-kentucky/
Willis' mother, Elizabeth Laird Jones Crabb
http://www.familytreewriter.com/2009/09/tombstone-tuesday-elizabeth-laird-crabb/
Ralph Stocking Obituary
Wellington Daily News
28 January 1963; page 1

Transcription:
Former county commissioner succumbs today
Ralph Stocking, 80, of 1309 North Blaine, a former Sumner County commissioner, died early today in a local hospital where he had been only a short time.
He was born May 17, 1882 at Mayfield. A number of years ago he operated the Merchant's Delivery Service in Wellington. He was engaged in farming for many years, living just west of Wellington on Highway 160 before moving to Wellington about 10 years ago. He served as a county commissioner of the first district. He was also engaged in the insurance business. He was a member of the First Methodist church.
Survivors include his wife, Dora M., of the home; two sons, Edwin Stocking, Palo Alto, Calf., a brother, John L. Stocking, Kansas City, Mo., and six grandchildren.
Funeral services will be held at the First Methodist Church with burial in Prairie Lawn cemetery. Arrangements were incomplete today and will be announced later by the Fisher Mortuary where friends may call.
Some time back, shortly after my Aunt Frances (Stocking) Hill passed away, her daughter Phyllis brought me a suitcase of her mother's photographs, papers,  and other memorabilia.
I  looked through it several times, even scanned a a few of the pictures and shared some with family, but I'm ashamed to say that I'm just now getting the rest of them sorted.
It's a big suitcase.
It's going to take awhile to sort, scan, and add the  information and photos to my family tree program.
Once the sorting and scanning is done, I'm sending the photos to the different branches of our family by sending them to the folks that are in them, or the children of those in them.
One such treasure, a postcard from my Uncle Frank (a.k.a. "Pike") to his sister, my Aunt Frances, was postmarked 19 September 1945, U. S. Navy, U. S. S. Ticonderoga.
Transcription of the Postcard:

Lt. (JG) Frank Stocking
USS Ticonderoga (CV14)
c/o FPO
San Francisco, Calif

Postcard – Postmarked U. S. Navy – Sep 19 1945
Addressed to: Mrs. Marshall W. Hill
Hill General Electric
Arkansas City,
Kansas

Well, I'm ready to start home for discharge. Probably be sometime before I get home but I leave Tokyo Bay soon.

I got this card from a Jap lady on the streets of Tokyo who speaks English about like I speak Japanese, anyway you can read all about it on the other side.

Love,
Pike
I loved finding this post card and if I can get the rest of his daughter's family's photographs packed up this will be on its way home to my Uncle Frank's daughters.
Myrtle Nyberg Stocking Obituary
Wellington Daily News
7 August 1962
Myrtle Augusta Nyberg Stocking Obituary Transcription
Myrtle Nyberg Stocking, 76, resident of Mayfield, Kansas died at 11:06 p.m. Monday, July 30, 1962 at Hatcher Hospital, Wellington, Kansas.
The deceased whose maiden name was Myrtle Augusta Nyberg was born August 17, 1885 near Mayfield, Kansas of Mary Alice Marguart Nyberg and Ande Fredrik Nyberg.
On December 30, 1908 she was married to Roderick Porter Stocking of Mayfield, Kansas who preceded her in death 38 years ago.
Three children were born to them who survive: Mr. Wilmer G. Stocking, North Hollywood, Calif.; Mrs. F. E. Heasty, Mayfield, Kansas; Mr. Max Orville Stocking, Fort Worth, Tex. There are five grandchildren.
She was preceded in death by her brother, Dr. M. O. Nyberg, sister Mabel who died in infancy, and two half brothers, Ralph and Raymond Gardner.
She was a dedicated member of the Mayfield Federated Church.
Myrtle Stocking's cheerful disposition with her gentle love and devotion to family and friends will long be remembered
Elmer Leverett Stocking – Death Certificate Transcription
State of Kansas
State Board of Health – Division of Vital Statistics
Standard Certificate of Death – No. 96  5415
 Place of Death

:  Sumner   –   city


Township                                                            Registered No.  10
or City  

Mayfield

Full Name:    

Elmer L. Stocking


(a) Residence. No. 

Mayfield, KS


Length of residence in city or town where death occurred   

58

 yrs
PERSONAL AND STATISTICAL PARTICULARS
Sex:  

Male

Color or Race: 

White

Single, Married, Widowed or Divorced:   

Married
5a. Spouse:  Maud Stocking
 Date of Birth:

Nov. 29, 1879

Age:  

58 years  1 month  24 Days

Trade, Profession or particular kind of work done: 

Farmer

Industry or business in which work was done: 

And Stockman

Date deceased last worked at this occupation

:  Not filled in

Total time (years) spent   inn this occupation: 

Not filled in

Birthplace: 

Mayfield, KS

Father's Name:  

Roderick R. Stocking

Father's Birthplace: 

Michigan

Mother's Maiden Name:

Francis Hitchcock

Mother's Birthplace: 

Crescent City, Illinois

Informant:  

Maud Stocking

     Address:  

Mayfield, KS

Burial:    

Mayfield, KS

        Burial Date: 

January 25, 1938

Undertaker: 

A. J. Frank, Wellington, KS

Filed:    

January 24, 1938

      Registrar:

Bernice S. Lindberg
MEDICAL CERTIFICATE OF DEATH
Date of Death:   

January 22, 1938

I attended deceased from

April 21, 1937 to January 22, 1938

. I last saw him alive on January 15th, 1938.  Death is said to have occurred on the date stated above at

11:30 a.m

.
The principal cause of death and related causes of importance in order of onset were as follows:
Cancer of Rt Adrenal gland    Date of onset:    1935
Artherosclerosis
No Accident or injury

Was disease or injury in any way related to occupation of the deceased:    

No
Signed:  A. L. Ashmore  M. D.     Address:  601 Orpheum (?)
Day 6 – 365 Days of Memories – My Earliest Childhood Memory
Today's Question is;  What is Your Earliest Childhood Memory?
It was my intent to post a new question to write about every day for 2018.
Now, I'm writing the Memory for Day 6, and today is already January 13th.  I'm 7 days short already! So Sorry!  Maybe I should have tried for 52 weeks of memories!
One of my earliest memories was one between my oldest brother and I.  We were in the pasture, in the back of the old Chevy grain truck that Mom would later nickname "Wobble Knees." It was cold.  We both had our heavy coats on, and we could see our breath, and the breath of the cattle that we were (well, he) was feeding, as he pitched ensilage over the side of the truck to our dairy cattle.
For some reason, he must have agreed to let me tag along. (Or maybe Mom begged him to take me.)  I had to be somewhere between two and three years old, so it was really nice that he let me go.
Dad usually fed the cattle. But that evening, my brother was the one pitching the silage down to them.  Maybe Dad was ill, but my brother was always good to help Dad, especially after Dad's heart attack.
The reason that this sticks in my mind is because the question that I kept asking my brother was one that he didn't answer, and couldn't answer, to my toddler satisfaction.
I must have just been to Sunday School, and we must have studied how God made the world and everything in it, because the question that I continued to ask him was: "Who made God?"
His reply was that God was, and always had been, and always would be, and that no one made God.
My next question, and the next many questions, was: "But. Who. Made. God?"
I know that I asked him that question many times, and I remember that he was patient, if a little exasperated, by the time the cattle were fed.
I don't remember how he got me sidetracked, nor if he ever convinced me that God was, and always had been, and always would be, and was the Creator, not the created.
In fact, it's just that that little scene that has replayed in my memory throughout my life, and I've wondered if that exchange has played a part in my faith today.  And I've also wondered if my question might have helped trigger my brother's desire to become a minister.
That last is a question that I can no longer ask him, as he went home to be with the Lord in December of 2012.
Day Three – 365 Days of Memories – What's in a Name – Part Three
This will be my last post (for awhile) on names!
I promise!
It just seems only right to add the meaning and/or origin of my husband's family, and the last name that I've shared with his family since we said our "I do's" in 1968.
The KLINE name…
According to Ancestry.com, Kline is an American spelling of the name Klein, Kleine, Kleyn or Klehn, and can have German, Dutch, and even Jewish origins.
It is probably a nickname or topographic name, and could be derived from 'wedge' or 'wooden peg.'
My husband's family came from Germany.  Their name was Klein when they arrived in America, and was spelled "Klein" for a few generations in Pennsylvania.
Just why it changed to the "Kline" spelling, nor who decided that it should change, I am not certain.
I'm also not certain if all branches of the family, or siblings in the family, changed their name at the same time.
According to www.surnamedb.com/Surname/Kline, the word Klein meant "small" and was a descriptive nickname originally given to someone who was small or short.  It could also have been used to describe someone in the family who was younger.
Interesting, because my husband was about 5'6" tall, and his father was about the same height.   Makes me wonder, as I write this, how many generations of my husband's Kline family were short in stature.