Posts Tagged 'Photographs'
Several years ago, my mom lost a large box full of photographs to water damage.  If I'd known then what I know now, we might have been able to save some of them, but they were damp quite awhile before the damage was discovered.
The lesson that we learned?
Never store photographs in a cardboard box next to a bathroom, where a small, undiscovered water leak may damage or destroy your photographs.
With that knowledge still fresh in mind, plus watching the destruction of homes and loss of family photographs each year from flood, fire, and yes here in Kansas, tornadoes, I'm scanning every photograph that I can, as fast as I can, and adding it to my genealogy programs as if it was maybe the most important thing genealogically speaking that I can do for my family.
And – maybe it is.
Good Advice from the Library of Congress…
I'm also watching for information that can help me do a better job scanning, organizing, preserving, and backing up my rapidly growing digital collection, so what started this whole blog post was following a link to the "Preserving Digital Memories" information at the Library of Congress website.
You can check out the many pages of advice there by clicking on this link: http://www.digitalpreservation.gov/personalarchiving/.
Back up by Sharing…
And because lugging a flat bed scanner to family reunions or your Great Aunt Ethel's home isn't always handy, (or even do-able), I recently added a Flip-Pal scanner  to my scanning arsenal.
My, how I wish I had had one of these last fall when I scanned photos that were glued down in a cousin's photograph albums!  There were several photos I simply could not scan using a flat bed scanner, but with the Flip-Pal I certainly could have.
And because one of the best ways to back up these digital photograph collections is to share it with other family members, (besides just being a really cool thing to do) I'm doing that, too.
Just this week I clicked on a Facebook link that took me to Tami Koenig's  "Your Story Coach" blog and the "7 Photo Memories to Capture Now" and I had an "Aha, I should be doing this moment!"
Actually, to be honest, I had an "Aha, I should have already been doing this moment."
Quite some time back, I attended a scrapbooking workshop, and the instructor advised us to take photos of the inside of our home.
Take photos, she suggested, of each part of each room, including the wall hangings, the way the furniture is arranged, and, well, just everything, including one thing I never would have dreamed of doing, the views out each window, because as Tami Koenig reminds us in her blog post above, things change.
And sometimes, things change unexpectedly, such as when an earthquake occurs, a tornado hits, a flood damages, or a fire destroys.
So, the best time, as Tami says, to take those photos, is now, today.
And many years ago, when I first heard that instructor's advice to take a photo of the view out each window, it was already too late.  A house fire had destroyed the home that I grew up in, and that window of opportunity was already gone!
For more ideas on other photos you might want to capture now, tuck a camera in your purse, read Tami's  "7 Photo Memories to Capture Now" blog post, and head out the door.
by Sherry Stocking Kline
19 October 2011

Shown below is a copy of a photograph that my cousin, Larry, shared with me from their family's collection.  It shows my great-aunt, Myrtle (Nyberg) Stocking (Larry's grandmother), with her mother, Mary, her father-in-law Roderick Remine Stocking, and her children, Wilmer, and the twins Max and Maxine.
 I can't begin to tell my cousin Larry how grateful I am that he shared these photographs with me, and allowed me to add numerous photos of our shared ancestry into my own family tree!
Roderick Porter and Myrtle Nyberg Wedding Photograph
Roderick Remine Stocking Photograph
by Sherry Stocking Kline
Saturday, May 14th, 2011
Recently, bloggers using Blogger found themselves unable to blog, and also found some of their blog posts had disappeared, and this blogging challenge from Randy Seaver comes from that 20 hour stint of not being able to blog!
Hey genea-philes – it's Saturday Night – time for lots more Genealogy Fun!!

Your mission, should you decide to accept it, is to:

1)  We all know that Blogger (www.blogspot.com) was down for 20 hours from Thursday afternoon to Friday morning.  What did you do with yourself during that time period?

2)  If we lost our blogging platforms for awhile (but not the Internet as a whole), what would you do with your genealogy time?  What projects would you start, continue working on, or try to finish instead of blogging?

3)  Tell us in a blog post of your own, in a comment on this post, or in a status thread on Facebook.
I don't blog on the Sumner County Historical & Genealogical Society blogsite at http://www.ks-schgs.blogspot.com everyday, so I didn't know that Blogger was 'down' for 20 hours and created lots of problems for Blogger bloggers and giving everyone serious blogging withdrawal!
So, what would I do if my self-hosted WordPress went down for 20 hours? 
Panic.
  Then spend time trying to find out what went wrong and what I needed to do to fix it. 
 Then once I learned that the glitch wasn't up to me and was out of my control, I'd 'play hookey.' 
Which is what I did today!   I played 'hookey'. 
I had 'stuff' that needed doing, but the little 'bug' that landed in our house this week wasn't helping me feel like getting things done around the house, and so for a few hours I played hookey.
I went to the Illinois State Genealogical Society, and began searching for the two surnames that I knew came from Illinois to Kansas, McGinnis and Corson. 
And Voila! 
There they were, my great-great grandparents, Richard S. Corson and Mary Corson, buried in the Bethel Cemetery in Sangamon County, Illinois.  I knew it to be them, because I had some of their information already, but I did not know where they were buried. 
And now, I do.
And that reminded me that I might just be lucky enough that some kind soul had posted their tombstone photo on Find-A-Grave.com.  
Once again, luck was with me and Richard's and Mary's tombstone photo was online and may be found right here.   The contributor was listed as "anonymous," and I just want to say "thank you" to the anonymous contributor who put their tombstone photo on the website. 
I've Done Very Little Research on the Corson's…
I have done very little research on the Corson line as I've been focusing in other areas, but as I said, I was playing 'hookey' today, and simply out searching to see what fun thing I might find, so I headed on over to Ancestry.com  and then to FamilySearch.org  to try to find them on as many census and other records as were possible.
I was able to locate the Corson family on three different census records, and have to admit that I now have a new puzzle.  On three different census records 1870, 1880, and 1900, there is a person with a different name with the same birth year.
In 1870, there is a 13 yr old male, Francis E, born it appears in 1857.
In 1880, there is a 23 yr old female named Emma, born it appears in 1857.
In 1900, there is a 43 year old female daughter named Fannie and a granddaughter named Fannie (they have different initials).  Fannie would have been born in 1857. 
So, was Francis and Fannie twins?  If so, where was she in 1870? 
My guess is, and it is nothing but a guess, that the Francis E listed in 1870 should have been Frances Emma or Emmaline, and listed as a female. Then it would be sensible for her to be there at the age of 23 listed as Emma, and back home at 43 listed as Fannie, and with a daughter named Fannie also, who was born in California.
I'm Done Playing Hookey for Today…
But, without further research I won't know the answer to those questions, and since I'm done playing hookey for today, those questions will have to wait.  But the cool thing is, I now know the names of a few of my Great-grandmother Margaret Corson McGinnis' siblings!
And maybe, just maybe, I will be very, very lucky, and one of my great-grandmother Maggie's siblings will find this blog, and write me a note that explains this mystery!!
Related Links:
Margaret "Maggie" (Corson) McGinnis Dies at Age 101
Margaret "Maggie" (Corson) McGinnis Sang for Abraham Lincoln
Gr-Grandmother Maggie (Corson) McGinnis & Maud McGinnis Stocking Scrapbook page
Book: "Three Hundred Years with the Corson Family" by Orville Corson
by Sherry Stocking Kline
April 1, 2011
Cars were an important part of our lives on the farm. They took me to school, helped herd dairy cows, took us to town for groceries, to the elevator for supplies and nickel pepsi's, and  made 'blood runs' (high speed trips) to the parts store when the combine or tractors broke down.
Nancy Jane…
Our cars had personalities (some more 'congenial' than others) and Mom always, always,  named them "Nancy Jane."
"Nancy Jane, you start now, we need to get to church," she might say as we hurried off to church on a cold morning.
"Nancy Jane, don't you dare get stuck," she'd say as we slid sideways down slippery, muddy unpaved roads to and from our home.
It always seemed to me, growing up, that after Mom called the car Nancy Jane in a firm, encouraging, and sometimes scolding voice that the car made an extra effort to do exactly what Mom asked.
After she spoke to it,  'Nancy Jane' nearly always came through for us.
Do I talk to my vehicles?
Surely you jest!  Of course I do!  How else are they going to know what's expected of them!
"Come on, Baby,  we gotta go pick up the granddaughters from school…."
Sherry Stocking Kline
28 Aug 2010
It's Saturday night, and due to sniffly little girl noses, our family plans to get together fell through.  With a couple of hours free, I decided to check on Randy Seaver's Geneamusing's Saturday Night Genealogy Fun Challenge! It was fun!
Your mission, should you decide to accept it (and I hope that you do… this one is really cool!) is to cue up the mission impossible music now, and go have some fun!
1) Go to the www.ImageChef.com website and explore their FREE offerings. Click on the "Create" button, or choose to make a slideshow or posters from their main page (there are more than one screen of poster backgrounds).

2) Make one or more posters or other creation – perhaps they relate to genealogy or your own family history. Save them to your computer (right click, Save as Picture for Windows users).

3) Show your creations to us… in your own blog post, on a Facebook post, etc. If you make a really neat one and want to show it to the world but don't have a way to do it, send it to me (rjseaver@cox.net) and I'll show it off for you in a blog post.
I've always wondered what my face would look like on a Wanted poster, so here goes!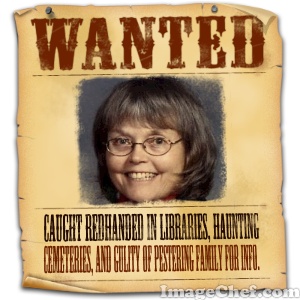 I guess I put too much text on it, 'cuz you can hardly read that it says:
"Caught red-handed in libraries, haunting cemeteries, and guilty of pestering family for info."
Next,  I did this one of my two youngsters, when they were just about two and a half, and 3 months:
Awe, it makes me wish I did have a big locket just like that with their photograph in it/on it.  I'm going to be keeping an eye out for something like that.
So then I used the sidewalk chalk template with a photograph of my oldest granddaughter kissing a baby lamb when she was just a wee little thing herself: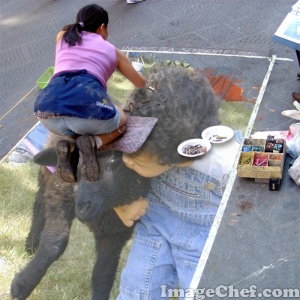 And my brother's flight in a vintage airplane lent itself well to the "Breaking News" template: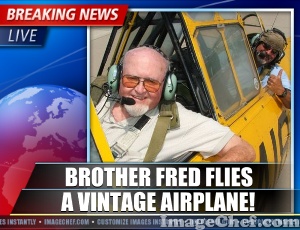 But I'm kind of partial to that Wanted Poster Image, so I did another Wanted poster that I think will look really cool on next year's Family Reunion invitations that I'm getting ready to send out!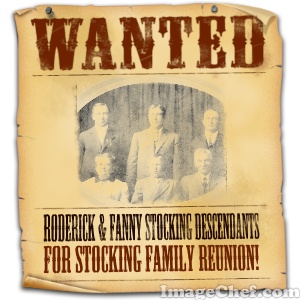 I'm still trying to decide whether to use this family photograph of them all, or just use one that has just Roderick and Fanny in it, but I'm beginning to lean towards using this one. (Wouldn't it just look cool on a t-shirt, too?)
I spent a little more time doing some fun and funny stuff with the granddaughter's photographs, and will probably pay the $10 to be able to size and re-size, and get rid of the watermark and use them in some fun scrapbook collages down the road!
Thanks, Randy!
Now, go have some fun and make your own wanted poster at http://www.imagechef.com!
by Sherry Stocking Kline
01 August 2010
Off and on for several years, I've tried to get started scrapbooking and journaling my photographs.  But it takes a lot of room to gather it all up, and spread it all out.
And I seem to be one of those people who have to change background papers and photographs over and over (and over) till I finally find the combination that I like.  Takes hours. (And usually two more trips to the scrapbook store!)
Then I found digital scrapbooking with a Twitter friend on-line.
So, instead of cutting up my photographs, and then wishing they were a different shape and size, or worse yet, wishing I had never cut them up at all,  now I can digitize photos, crop, re-size, and re-shape to my heart's content, leaving the originals alone.
I love it!
Below are some of the 12 x 12 scrapbook pages for my family history book that I've created.  First, is the page for my great-grandparents, Roderick Remine and Frances "Fanny" (Hitchcock) Stocking and their four sons.
My grandfather is standing on the far right, Elmer Leverett. He passed away before I was born, and I never got to meet him.  (I sooo wish that I had been able to get to know him.)
The photo below here is my great-grandmother, Maggie (Corson) McGinnis and her daughter and son-in-law, Maud and Elmer Stocking.
It looks to me like they are sitting on the east side of  Maud and Elmer's home near Mayfield, Kansas.  Maud and Elmer's home was on their farm on the NW 1/4 of 18-32-2W, where they had a quarter section of land. (160 acres).  Later, my parents bought this farm from Maud and Elmer and I grew up here as well.  The house burned down several years ago.
The photograph below is of my dad's parents and his siblings.  What a great photograph! (I wish I knew when it was taken!!)  I really like the burnt sienna colored paper below with it's hints of other shades, and I added just a few "starbursts" to it to 'gussy' it up a little.
My grandfather is seated on the left and my grandmother is seated on the right. My father, Harold Stocking, Sr., is standing on the back row, third from the left.
While researching and preserving history is very important to me, my scrapbooking is not all about preserving the past, it's also about preserving and enjoying the present, too, and being able to enjoy it again and again for the future.
Below is the cover from "Giggles", an 8 x 8 scrapbook that I created this summer for my two darling little granddaughters.  There are several of my favorite photos and fun times that we've had in the past few years, and the book is a favorite with the girls as well.  I also think it will help them remember all the fun times that we've had!
Below is a photo of the girls reading their very own Storybook Scrapbook!
Currently I am using a Family Photo Tree template at www.TurnMemoriesIntoBooks.com to create a 12 x 12 scrapbook page of our family tree. I am  also working on a Storybook for my mother, who is nearly 99 years old, so I'm working with some really neat old photographs, and preserving some fun stories!
by Sherry Stocking Kline
19 May 2010
Some time back I posted a Tombstone Tuesday photograph of Cora Pauline Walter's tombstone.
Always curious, I did a little preliminary research at the Sumner County History and Genealogy Center, and when I didn't find something easily, stopped, because she isn't family.
But recently I was at the Osborne Cemetery, near Mayfield, Kansas in Sumner County, and another Walter's tombstone caught my eye and my imagination.  I wonder if they are related?  Married?  Siblings?
On the Stone:

Donovan L. Walters, Sr.
Oklahoma
S Sgt Army Air Forces
World War II
March 16, 1910   (cross)    Sept 24, 1972
This tombstone is located just a few feet from Cora Pauline's stone.  There is just one stone in between the two, which leads me to believe that research will show that there is some relationship between the two.
by Sherry Stocking Kline
29 April 2010
I missed out on the first few weeks of 52 Weeks To Better Genealogy (check out this week's challenge on www.geneabloggers.com)  began by Amy Coffin of We Tree, but there are such great weekly challenges there that I'm trying to join in all the fun!

I have to confess to something.  I've not really researched online library catalogs very much before.  I know that's terrible,  because I could be missing so many great sources.  (I do check library catalogs IN the libraries). So,  it seemed like a great idea to use this blog challenge to 'get my feet wet' so to speak.
I began with the online catalog of the library at Kansas State University, my alma mater.  I thought that I might find histories, genealogies, and diaries.  So remember that I'm not real knowledgeable about searching the online catalogs, but anyhow, I didn't find anything under the "Genealogy" search there.
I did find a link to a magazine database that I would absolutely LOVE to have access to. ProQuest.  ProQuest not only owns the Heritage Quest database that we all love to search, they also have copies of all types of magazine articles.  Type in Vitamin D, and you've got beau coup articles to read about the new discoveries science has made that Vitamin D plays in our health.
But I digress.  Anyhow, ProQuest magazines isn't available to non-students.  So I pick up the phone, call the librarian, and ask if I can get a library card that will let me access ProQuest through the university website.  Alumni should have privileges, right?
Too expensive, the librarian said…
Apparently not. ProQuest is not available to non-students.  Too expensive, the librarian said.  But the very nice librarian sends me to the State of Kansas library website, goes there on her own computer and points out a free database that is similar to the ProQuest, called the Expanded Academic, and that shows promise for some of the non-genealogy research that I want to do.
Going on down the list of fun research tools available on State of Kansas library website, I find the Heritage Quest link!  Woo Hoo!  And I don't have to in-put my library card number or pin number.  Better and better.
I Put in My Great-Grandmother's Name…
I go to Heritage Quest and in the census, put in my great-grandmother's maiden name, Martha Ellen Jones for 1910.  And got nothing.  Must have done something wrong. Usually there are hundreds if not thousands of Martha Ellen Joneses.  I'm just trying to figure out, if I can, what happened to her after the 1880 census.
All along I've been running under the assumption that she died, and that I just didn't know where she died and was buried, but that may not be true.  She and great-grandfather may have 'split the blanket' and gone their separate ways.  Anyhow, I'm not finding her this morning.
So, on to the PERSI index at Heritage Quest, where I check out the name Stocking in the Revolutionary War database.  None of my ancestors are listed in this database.  But some other Stocking's are, including Lemuel and his wife Ruth. Lemuel fought in the Continental Army from Massachusetts, and then there was Moses and his wife Elizabeth.  Moses was in the Navy.  While these folks are not my ancestors, there is a nearly 100% chance they are relatives, as so far, I've not connected with anyone with the Stocking name who is not related to me.
I Found the Original Stocking Ancestry…
Next, I search for books with the Stocking name, and find "The family of George Stocking", Boston::  D. Clapp & Son, printers, 1896, 8 pgs.  How cool is that. This man is my first American ancestor.  A few years after he arrived, he was with Thomas Hooker's party and helped found Hartford, Connecticut.   The information here is included, perhaps in its entirety, in the Stocking Ancestry updated and compiled by Hobart Stocking, but it was awesome to see an old copy of the original book.
I am Deacon Samuel's descendant.
On the last page of this book, Page 8, that is on-line, it lists the Revolutionary War soldiers in the family, and there are more than were listed on the PERSI Revolutionary War database.  Hmm, maybe the George listed is one of my ancestors.
So here is another clue for future research!  And if this George is 'my' George, then I can join the DAR (Daughters of the American Revolution) in two different lines.
While searching, I also found three other books located in Kansas that may be available by library inter-loan.  Awesome!  Thank you Amy and Thomas for the inspiration!
by Sherry Stocking Kline
28 Apr 2010
A while back I posted photographs of my Great-Grandpa Constantine Breneman and his beautiful buggy horse.  Being a horse crazy girl growing up, oh how I wanted to know that horse's name.
It was evident that Great-grandpa was proud of her.
Yes, her!  This past weekend we had a small family gathering on the Breneman side complete with stacks of photographs, family trees, and research books.  We had a great time exchanging information and stories and then lo and behold my cousin had the above photograph with the caption, "Constantine Breneman and Dolly.   Isn't she a beauty?!
And as I write this, I think "Oh, dear, do you suppose Dolly is the dog underneath the horse??"
I hope not.  And surely, if the dog was the focus of the photograph, Great-Grandpa Breneman would have been shown seated with it instead!
Related Links:
Constantine Breneman & His Buggy Horse "Dolly"
Constantine Breneman's Horse "Dolly" Pulling a Buggy
Constantine Breneman & Family Members
Constantine Breneman's Son, Albert Breneman's tombstone & a photograph of Constantine's Children