Archive for the 'My Memories' Category
When you're hunting for information about your family, and especially if you are trying to find glimpses into their lives and create a word picture for your family, you want to look every place you can think of, so checking old atlases can add more information to your family tree.
The 1883 Historical Atlas of Sumner County, Kansas shared information about my Great-grandfather, Roderick Remine Stocking.
Some of it was information that I might not have found otherwise.
According to this Atlas (and not all have this information), my great-grandparents came from Michigan, and settled on their farm in 1878 where they farmed and raised livestock.
They lived near Mayfield, Kansas, in the NE 1/4 Section 13-32-3W.  From other sources, I know that they homesteaded that quarter section and raised their family there.
Their son, Roderick Porter, raised their family there until he was killed in a farm accident, and then the family moved to the small town of Mayfield.
See excerpts from the atlas below:
Historical Atlas of Sumner County, Kansas,
Compiled – Drawn – Published from Personal Examinations and Surveys;
John P Edwards,
No 31 South 6th Street, Philadelphia, and Quincy, Illinois, 1883,
Engraved by A. H. Mueller, 530 Locust St., Philadelphia, PA, Printed by F. Bourquin,
31 S. 6th St.,
Philadelphia, PA
List of Patrons – p. 14
Name: Stocking, R. R.
Post Office: Mayfield, KS
Section: 13-32-3W
Business: Farmer and Stock Raiser
Nativity: Michigan
Settlement in County: 1878
p. 67
R. R. Stocking
Township 32 South Range 3 West
NE 1/4 13-32-3W
R. R.Stocking
Oh, and don't forget to add this information into your family tree program (if you use one) and be sure and cite your sources so you know where you found it!
Elizabeth Shown Mills has written the definitive source for citing your resources, and the following links to her book and "Cheat Sheet" can help you cite your sources correctly :
"Evidence Explained: History Sources from Artifacts to Cyberspace 3rd Edition Revised"  by Elizabeth Shown Mills
"QuickSheet: Citing Ancestry Databases & Images Evidence Style 2nd Edition" by Elizabeth Shown Mills
Disclosure: Some of the links included in this blog post may be affiliate links. This means that I receive a small commission for recommending this product.
This does not increase the price that you pay, and it helps support this genealogy blog.
I do not promote products that I do not use or do not believe in. However, it is always best to do your own research on products to make certain that they are a good fit for you and your family.
I hope you all have a Very Merry Christmas!
Thanks to Footnote Maven of  http://www.footnotemaven.com/, Facebook page: https://www.facebook.com/footnoteMaven?fref=photo for her Christmas Carol blogging challenge!  I have many, many favorite Christmas carols, and listening to all of them is a favorite part of Christmas for me.  Most all of the time, I love the old favorites by the original artists, but I add new favorites as they come along.
Two years ago, I added "Baby, It's Cold Outside" by Kansas girl Martina McBride and Dean Martin to a favorite's list on my iPod!  (And just so you know, my hubby got to meet her when she was still singing with her parents in different gigs around Kansas!)
He had truck trouble, and Martina's folks were on their way to a gig and they picked him up and took him into town!  She was a beautiful young lady (still is), and he came home with stars in his eyes!
Here are photos and their version of this Christmas classic
And last year, I added a new couple, Missy and Jase Robertson, singing "Baby, It's Cold Outside" to my iPod's favorites' list.  Missy has a lovely voice, and together they do such a cute job of singing this Christmas favorite.
And as for WHY is it one of my Christmas favorites.  Here my "why."
My Mom and Dad got up at five a.m. every morning, EVERY morning, cold, rain, snow, sleet,  ice, didn't matter, to milk the dairy cows.  After they finished milking, Dad  went out in the pasture to feed the cows, and Mom came in the house to start breakfast. (And wake me up if I wasn't already.)
I have this wonderful memory of my dad coming in from a cold, snowy, early winter morning after feeding the cattle, all bundled up in overalls and a heavy flannel-lined coat, his face red from the cold, and that twinkle in his eye that was always there when he looked at my Mom, and he would sing "Baby, it's Cold Outside" as he snuggled up to her, nuzzled her neck and gave her a chilly hug and kiss.  And there was always laughter between them when he did that, and usually a few more kisses.
My dad died when I was not quite 13, and I am thankful for such a special memory, and the love that my parents had for each other and for me, and  that still brings a smile to my face.
And as I sit here, playing these two songs, my mom, age nearly 103, has a big smile on her face, and she is singing along!
Thank God for the memories!
My first thought when I read the  Carnival of Genealogy Challenge for August was "we didn't have a family business, we had a farm…"
And then I re-thought, realizing that a farm always was (and still is, no matter the size) a business also, though some might say that  farming is more of a calling than a career, and for those of us who grew up on a farm, it's more a part of our hearts than most brick or mortar businesses could ever be.
One of the sayings that I grew up hearing was "You can take the boy off the farm but you can't take the farm out of the boy." (Same goes for many of us farm girls, too!)
When my oldest brother was just a toddler, our folks bought the farm where dad grew up with his seven (living) brothers and sisters, and dad's parent's, Elmer and Maud (McGinnis) Stocking.  My grandparents moved to the nearby town of Mayfield, Kansas with their youngest children and my grandfather Elmer continued his work as a mail carrier until his untimely early death from a heart attack.
Mom, Dad, and my brother Fred moved back to the Mayfield area from Arkansas City ("Ark City") after they purchased the farm.  All of this happened before I was born, or as my brother Harold, Jr. "Fred" would say "before you were even a twinkle in Dad's eye."
Farmers then, and farmers now, wear many hats.  They must be amateur weathermen/women, watching the weather with an eye to scheduling their work.  Their planning, planting, fertilizing, field work, harvesting, and even praying for rain circles around what the farm land needs and when it needs it.
Farmers also need to be bookkeepers, grain marketers, have the ability to supervise their family as workers, as well hired hands if they have some, and during the summer, they often have to put in 60 to 80 hour weeks as well.  It wasn't just sun up till sun down at our farm, it was before the sun came up till the job got done, especially during harvest.
I have always felt that I was one of the luckiest kids in the world, growing up on my folk's wheat and dairy farm, with 160 acres running room for a back yard!  I grew up collecting tadpoles from the buffalo wallows in the pasture (yes, I said buffalo wallows!), chasing crawdads along the creek, roping calves I wasn't supposed to, and dodging cow pies in the pasture while playing cowboys and Indians, or Yankees and Confederate soldiers with my nephews, who were not much younger than I was.
I also learned to drive a tractor, an old blue Chevy farm truck with a stick shift that my mom nicknamed "WobbleKnees," and milk a cow by hand as well as with a milking machine.
I was responsible for watering the chickens, gathering the eggs, spoiling our purebred collie puppies and making sure the cats and dogs had food and water.
I loved helping feed the baby calves, and always, always fell in love with one or two each year, wishing they could be my very own pet.  I learned to back up straight (after I learned to drive a stick) by backing several hundred feet along a lane, and dumping a half-full milk can of water (about 70 pounds if they were full!) into the calves' water tank to make sure they had enough water.
I helped hoe the garden, and helped preserve its bounty, enjoying the fresh tasting frozen sweet corn and the better than store-bought canned green beans all winter.
And, lucky me, with my work-at-home folks, I usually either had both my parents home with me, or I was in the field where they were working!
I loved growing up on the farm!
Just this week I clicked on a Facebook link that took me to Tami Koenig's  "Your Story Coach" blog and the "7 Photo Memories to Capture Now" and I had an "Aha, I should be doing this moment!"
Actually, to be honest, I had an "Aha, I should have already been doing this moment."
Quite some time back, I attended a scrapbooking workshop, and the instructor advised us to take photos of the inside of our home.
Take photos, she suggested, of each part of each room, including the wall hangings, the way the furniture is arranged, and, well, just everything, including one thing I never would have dreamed of doing, the views out each window, because as Tami Koenig reminds us in her blog post above, things change.
And sometimes, things change unexpectedly, such as when an earthquake occurs, a tornado hits, a flood damages, or a fire destroys.
So, the best time, as Tami says, to take those photos, is now, today.
And many years ago, when I first heard that instructor's advice to take a photo of the view out each window, it was already too late.  A house fire had destroyed the home that I grew up in, and that window of opportunity was already gone!
For more ideas on other photos you might want to capture now, tuck a camera in your purse, read Tami's  "7 Photo Memories to Capture Now" blog post, and head out the door.
by Sherry Stocking Kline
February 4, 2012
Many thanks to Lorine McGinnis Schultz for her "Sharing Memories" 52 Week Challenge!
And this is the Week 2 Challenge so now I'm only two (2) posts behind!
I went for my first airplane ride when I was just twenty years old.
I was terrified.  Terrified of heights, terrified of airplane crashes, terrified of flying through the air in something that felt no more substantial and not much bigger than a flying beer can with four people in it.
It all began during wheat harvest of 1969.  Bill, my husband Norman's cousin, was just home from Vietnam and came to Kansas to help my in-laws with wheat harvest.
Bill was also still very much in the middle of Post Traumatic Stress syndrome, though no one knew it by that name then, and that's how we ended up in a pint-sized plane after harvest flying over the Kansas wheat fields.
Bill was a medic in Vietnam. He had just come back from hopping in and out of helicopters to go to the battlefront to pick up and treat wounded and he told us one story, or maybe it's the only one that sticks with me to this day, about going out to pick up and treat some wounded soldiers.
Bill climbed down the rope ladder on a mountain top in Vietnam to help treat and pick up wounded soldiers.  While he was climbing back up the ladder to the chopper the enemy fired on them, and the chopper took off, with Bill hanging on for dear life, dangling off the rope ladder.
Bill said that one minute he was just a few feet off the ground, then the chopper took off and suddenly he was dangling thousands of feet off the ground. Bill said that was scary enough, but even scarier than that was the knowledge that if they continued to receive enemy fire the men on the chopper would cut the ladder and let him drop to his death, sacrificing him to save the people on board.
That experience haunted him.  Retelling it haunts me.  I can see him hanging there, and I know that he's terrified and praying they won't cut the line and let him go.  There were many other experiences he wouldn't even talk about.
Bill wanted to see if he could handle just going for an ordinary plane ride.  So when harvest was over, Bill rented a small plane, I'm pretty sure it was a Cessna 172 or 182, just big enough for four people to ride in, invited us along, and my husband and I found ourselves in the back seat watching the runway fly past and then suddenly watching the ground drop away.
Yikes!  I wanted to shout "I've changed my mind!  Stop! I want to get out!"
But by the time all those thoughts raced through my mind, the ground was far below us and I was trying to look ahead, look up, look to the side, look anywhere but down!
We flew around the county looking down at the farm fields multi-colored patchwork quilts of golden harvested and unharvested wheat, dark green milo, and the lighter green of pastures, all bordered by tan dusty roads and cut into crazy quilt patterns by creeks and rivers.
We flew over the small town we lived in, saw a birds-eye view of our home, and got close enough to Wichita, Kansas to see the planes going up and going down at the airport.
It was fun! It was scary!  I don't know, or don't remember, if the flight helped Bill to heal any of the bad memories or not, but I know that he seemed to enjoy the flight as much or even more than we did.
To date, I have taken three small plane flights and one helicopter flight and have yet to board a big jet to go anywhere!
by Sherry Stocking Kline
February 2, 2012
Many thanks to Lorine McGinnis Schultz for her "Sharing Memories" 52 Week Challenge!
Yes, I know that this is the Week 1 Challenge and yes, I know that makes me four (4) weeks behind!  Situation Normal for me!
I have four memories that have to be age 2 1/2 or prior.  While I'm not sure which one is the earliest, I think it is this one, as it 'feels' earlier than the other three. It's certainly a  funny memory, though I was kind of scared at the time!
Memory #1.
I'm standing outside, just about 10 feet south of our farm home, barefoot, with my toes curling in the soft grass. I'm about 15 feet north of the outdoor water hydrant, and about forty feet north of the sand pile!
And honestly, I'm just a bit scared.  I'm watching my two (much) older teen age brothers who are chasing each other around and around the yard. (They are 14 1/2 and 16 1/2 years older than I, you see.)
In one hand, they hold water guns, each one shooting a steady and deadly stream of water! In the other hand they carry gallon cans (maybe coffee cans) of water for fast refills.   They are shouting and laughing and calling threats to one another as they shoot, dodge and refill their weapons of water annihilation.  They are loud, they are rambunctious, and they running around the yard and around me as they jump around to try to miss the other shooter's stream of water.
I remember being terrified that they might 'shoot' me, too,  and yet I remember wishing that I had a water gun so that I could join in the fun.  I don't remember any more than that tiny little vignette.  Our mom is not in my mind picture at all, so I don't know if she was in the house or watching nearby, and I don't remember how it began, or when it ended, or what any of us did next.  I wish I did.
2.  Another early memory I have is my mother and I stopping at my great-uncle's home near Wellington and visiting with my great-grandfather, Roderick Remine Stocking, who passed away shortly before I turned three.  He was the only grandfather still alive when I was born.
Great-Grandpa Roderick was very tall, white haired, and very distinguished looking.  I think it was this combination that put this memory into my mind and also the reason it 'stuck' there.  I recall that we visited him twice, and then I remember going to his funeral, or perhaps the funeral home shortly before I turned three and seeing him there in the casket.  My parent's had great respect for him and my mother was very fond of him and perhaps that is another reason that his memory has remained with me to this day.
3. One of my favorite early memories is going to the hospital to see my brand-new little nephew, Daryl,  my oldest brother's son!  He was born in February, when I was 2 1/2 years old and he soon became my best bud and partner in crime!  His little brother came along two years later, and by that time they had decided that children of our age were a danger for contagious illnesses and we were no longer allowed to visit hospitals and so we were not allowed to go see his little brother Brad, or his little brother Marlon, nor either of his little sisters, Tammy & Kris.
4.  Looking back over these memories, I remember one more that had to be when I was in the two-year-old range when Gary, the youngest of my two brothers had surgery on his hip in a Wichita hospital and Mama took me along to visit him in the hospital with her.  To bribe me, and to convince me to sit still, be quiet, and be good and patient, (not qualities I was long on as a two-year-old toddler) she bought tiny little toys for him to give me to play with while we were there.
Even so, I remember being bored quickly with the 'be quiet' and 'sit still' required in hospitals and I remember asking Mama "Can we go now?"
by Sherry Stocking Kline
October 12, 2011
My Mama was a really, really good cook. So when I asked myself what favorite food should I write about, it was a challenge to pick between her home-made ice cream, cinnamon twists, snow white divinity, or many other yummy foods.
But sitting here on a Sunday afternoon, I remembered that Sunday was my favorite meal of the week because we always, always had roast beef for Sunday dinners, usually along with home-made pies or cakes.  And I loved our own raised-on-the-farm, cooked till it was juicy and tender roast beef.
We almost always went to Sunday School and church at the Mayfield Federated Church (Methodist & Presbyterian combined) in the nearby little town of Mayfield and we weren't home in the morning to cook Sunday dinners, so Mom used her trusty electric skillet, set on low, to make the best, lightly browned, tastiest roast beef dinners cooked with potatoes and carrots.
She started out with our own farm-raised beef and added in potatoes and carrots (sometimes from the garden, though by the time I came along, the potatoes and carrots were almost always store-bought ones) and then all we had to do was come home and cook some fresh corn on the cob or home-canned green beans, slice up a few tomatoes (all usually from our garden), stir up some gravy, pop in some brown and serve rolls (or home-made rolls) for a fast, tasty Sunday dinner that was my hands-down favorite meal of the week!
Mom always had room at her table for more, and food enough for an army if one showed up.   If company came home with us we weren't expecting, we just added more veggies, an extra quart of green beans, a few more ears of corn, and a few extra tomatoes to make enough.  And if Mom was expecting company, there was room in the skillet for an extra roast and more potatoes and carrots.
It may sound like a simple meal now, no duck a l'orange for us, but my mom had a special touch with everything she made, and it was just one more thing that made Sundays special for me.
My mother is still alive, (Praise the Lord) but with just three months to go before she turns 100, it's me in the kitchen doing the cooking now, and I have to confess that I don't have my mother's love of cooking, nor her magic touch, but we do still enjoy lots of garden fresh veggies, though usually not from our own garden!
by Sherry Stocking Kline
18 May 2011
My cousin Maxine and her son Larry loaned me a HUGE box of photographs.  It's so heavy that I can't lift it!  I've spent the past 2 – 3 weeks scanning off and on, and some time this week to re-organize and locate the ones that I have questions about. 
But just one of the treasures that they've loaned me is here below, a photograph of my great-grandfather, (and my cousin Larry's as well) Roderick Remine Stocking. 
I was between 2 and 3 when Great-Grandpa died, and I remember him as a very tall, white-haired gentleman.  My mother, his granddaughter-in-law, dearly loved and respected him.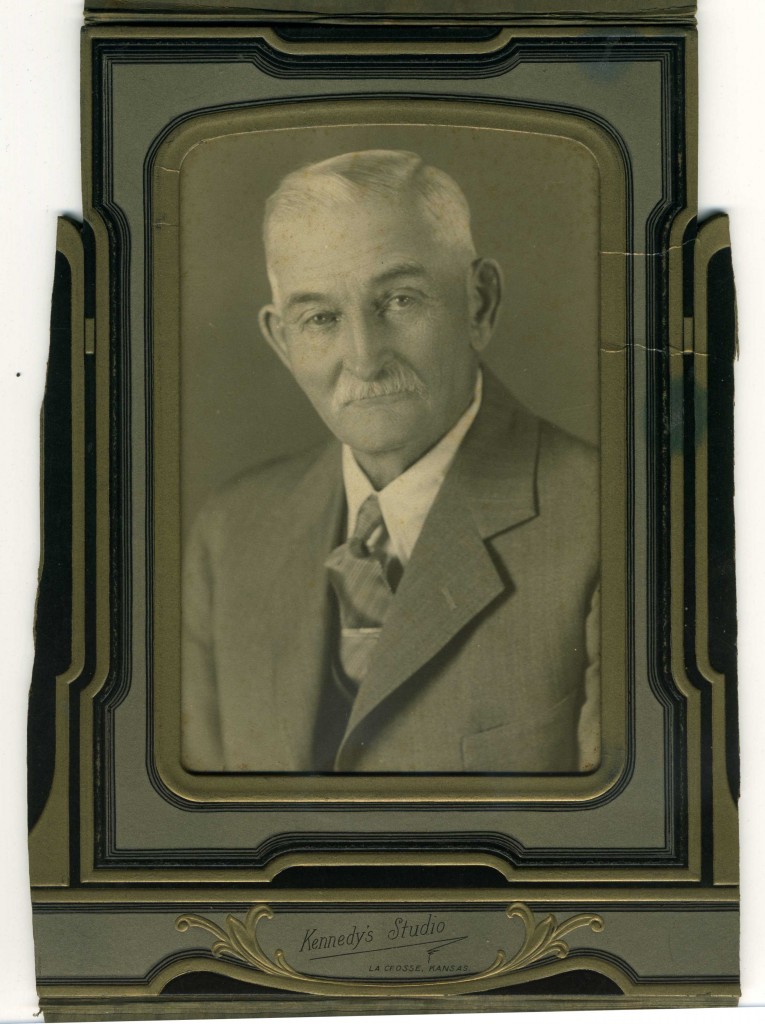 He and his wife, Frances Hitchcock Stocking homesteaded in Sumner County, Kansas, just west of Mayfield and the Chisholm Trail. 
 Their first home was 10 X 12 and they had to put the table out at night to put their bed down, and their oldest child, my Grandfather Elmer Leverett Stocking was born while they still lived in that home.
 I think he is a very handsome and distinguished looking gentleman.  And I sure wish I had had the opportunity to get to know him better.
And to ask him all the questions that I now have about family history!
Related Posts:
Where Were My Ancestors during the 1930 Census!
Carnival of Genealogy – the J. H. Stocking Bible
Carnival of Genealogy – Scrapbooking My Family History – One Page at a Time
How Many Descendants Does Roderick R. Stocking Have? 
Roderick & Frances Stocking's Tombstone – Osborne Cemetery, Mayfield, Sumner County, Kansas
by Sherry Stocking Kline
April 1, 2011
Week #13 – Sweets Week 13: Sweets. What was your favorite childhood candy or dessert?   
Have your tastes changed since then? What satisfies your sweet tooth today? This challenge runs from Saturday, March 26, 2011 through Friday, April 1, 2011

Deciding what my favorite Sweet Stuff was when I was growing up wasn't easy!   Several things vie for first, but the most special sweet that I enjoyed eating at Christmas when Mom made pounds and pounds of it,was divinity! 

White, airy, sweet, melt-in-your-mouth divinity!

Mom knew just when to stop cooking the corn-syrup-rich mixture, when to pour it over the whipped egg whites, and just how long to beat it.  Mess up, and it will become a sticky caramel-like substance that tastes good, but you need a spoon to eat it.

Get it right, and it's the food of angels.

Mom usually got it right.

A favorite with many, it was a 'best-seller' at the Mayfield Federated Church Lord's Acre sale, often bringing high dollar bids.  It was also a huge favorite of my nephew's as well.  For many years while he served in the Navy, Mom sent him a large box of divinity at Christmas time.  Once he confessed to opening the box, hiding it from everyone, and eating the entire three pound box all by himself! 

Can't blame him for that!
by Sherry Stocking Kline
I'm trying to blog along with the "52 Weeks of Personal History and Genealogy."  As you can see, I'm more than a little behind.

Week 12: Movies. Did (or do you still) see many movies? Describe your favorites. Where did you see these films? Is the theater still there, or is there something else in its place?

This challenge runs from Saturday, March 19, 2011 through Friday, March 25, 2011.
I grew up on a wheat and dairy farm, about 10 miles from the nearest theater, and my folks were not rich, so we didn't attend movies a lot.
They used to show movies on the side of buildings…
I learned after I was grown that many of the small towns in our area used to show movies on the side of a building and folks came to town, sat around in cars and chairs, visited, snacked, and made a Saturday night get-together out of it.
In fact, that used to be one of the ways that the merchants 'lured' people to town to shop, and then they stayed open on Saturday nights.
My husband remembered doing that, and him just a year ahead of/older than me, but I sure don't remember it at all.  I wish I did.  It sounds like a wonderful way for small towns to spend some Saturday night fun together.
I Remember When We Saw Old Yeller…
I was eight years old, which means my brother Gary would have been twenty when "Old Yeller" came to our local historic Regent Theater (now newly renovated re-opened)
My brother asked me if I'd like to go to a movie with him on Saturday night.
And I'm all like "Me and you?"
And he was like 'Yes, me and you!"
I thought he was kidding, I mean he usually went out on a date or out with his friends.
So, he got all Saturday-night-dressed-up, and I did, too, and we met up with one of his friends who had also brought along his little sister.
They bought us popcorn and pop, and sat us two rows in front of them. (Close enough they could watch us along with the movie, but maybe not so close that everyone knew we together, you suppose?)
On the way into town, my brother warned me that the movie had a sad ending, and that "Old Yeller" was going to die at the end.
With all the superior wisdom of an eight-year-old that knew that Disney movies did NOT have sad endings, I told him he was wrong, that it wasn't going to end that way.
And of course, he said "yes, it does."
Life Doesn't Always Have a Happy Ending…
Well, come to the end of the movie, and us little girls are sitting there sniffling about that little boy having to kill his dog, "Old Yeller" because he has rabies, and he's all like "I tried to tell you", and I'm sniffling and saying "they didn't have to kill him…."
I think maybe that was my first introduction to the notion that movies, and life, doesn't always have a happy ending, and that sometimes you simply have to do things you don't want to do.
But when I look back on it, it was a good memory, and a really unselfish thing for a twenty-year-old big brother to do.
I wish he were still here so I could say "thank you…."  one more time.