This winter was one for the records books for nasty little flu 'bugs' going around!  But whenever I found myself  down and out, I logged onto the digital newspaper site at KSHS.org and began typing in family surnames as keywords!
Below is just one of the many fun little family tidbits that I found:
Wellington Daily News
21 May 1913
Pg 1, Col. 2
Family Reunion
The home of Ralph Stocking, 612 North F, is the scene of a happy party being a family reunion.  The guests are Mr. and Mrs. Roderick Stocking, Mr. and Mrs. Elmer Stocking and children, Mr. and Mrs. Porter Stocking and son, John Stocking all of Mayfield, Mr. and Mrs. Charles Hitchcock, of Chicago.
I re-did my membership with the Rutherford B Hayes library, www.rbhayes.org, recently, as I had found some interesting 'stuff' on their website, and I really like having access to the www.newspaperarchive.com site and also Heritage Quest, and that is included with the membership I have at that level.
Today, I was searching NewspaperArchive.com website for my uncle, Frank Stocking, and found a copy of my Aunt Peggy's from the Hutchinson News digitized on the NewspaperArchive.com website.  And it never would have occurred to me to look at the Hutchinson News microfilms!!  Eureka!  I wasn't doing genealogy when my lovely Aunt Peggy passed away, and so I had not saved it!
It was such a shock when Aunt Peggy died.  We knew she had a heart condition, but still, it was a shock.  My daughter had been born three weeks before, and we were all looking forward to visiting with Peggy's brother and his wife when they came to visit in a few weeks, but that wasn't to be.
I was still off work on maternity leave when we traveled to the funeral, and I took my 2 1/2 year old son and three-week-old daughter with Mom and I to her service.
Aunt Peggy was a 'hoot.'  She also had a beautiful smile, a heart of gold, and an infectious laugh!  She was always cracking jokes, and I miss her.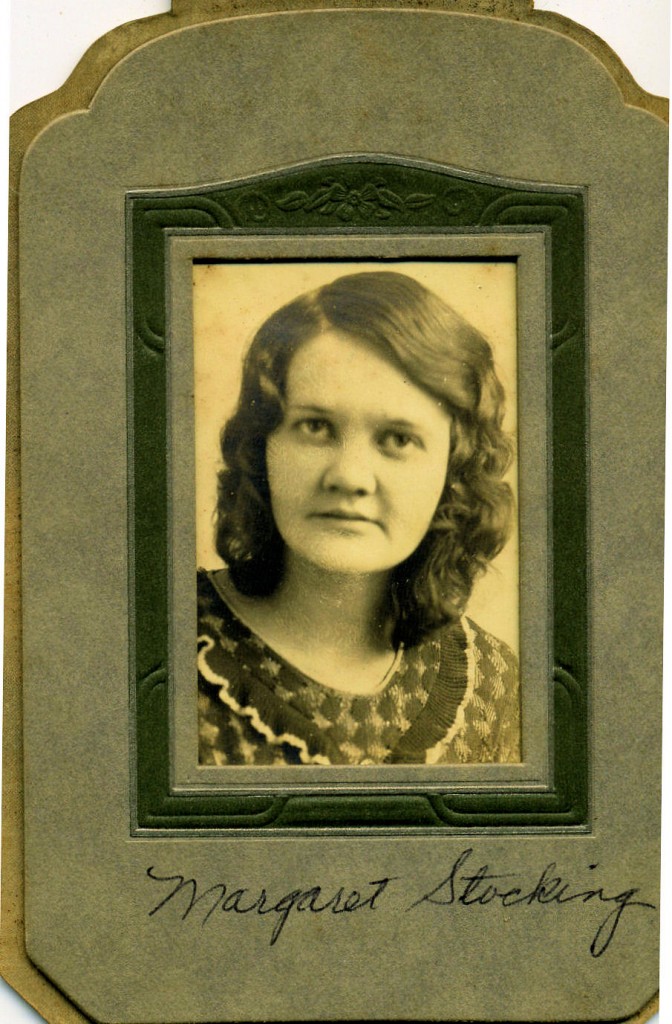 Margaret E. (Peggy) Glaze Obituary
Hutchinson News
July 28, 1977
Column 1; Page 6
MEADE – Margaret E. (Peggy) Glaze, 62, died Tuesday at Meade Hospital.  Born Margaret E. Stocking, May 23, 1915 at Mayfield, she was a retired postal employee and lived here since 1945.
She was a member of United Methodist Church, Rebekah Lodge, OES, all of Meade.
Survivors include brothers: Carl L. Stocking, San Jose, California, Frank A. Stocking, Castro Valley, California, Herbert L. Stocking, Downeyville, California; sisters: Mrs. Frances Hill, Arkansas City, Mrs. Mary E. Metcalf, Colorado Springs.
Funeral will be 10 a.m. Saturday at the church; Reverend Dale Ellenberg.  Graveside services will be 3:30 p.m. Saturday in Mayfield Cemetery.  Friends may call 11 a.m.  Thursday until 9 a.m. Saturday at Fidler-Orme Mortuary, Meade.
Here is Peggy's Find a Grave Memorial.
by Sherry Stocking Kline
19 October 2011

Shown below is a copy of a photograph that my cousin, Larry, shared with me from their family's collection.  It shows my great-aunt, Myrtle (Nyberg) Stocking (Larry's grandmother), with her mother, Mary, her father-in-law Roderick Remine Stocking, and her children, Wilmer, and the twins Max and Maxine.
 I can't begin to tell my cousin Larry how grateful I am that he shared these photographs with me, and allowed me to add numerous photos of our shared ancestry into my own family tree!
Roderick Porter and Myrtle Nyberg Wedding Photograph
Roderick Remine Stocking Photograph
by Sherry Stocking Kline
06 June 2011
It's a couple of days past Randy Seaver's June 4th Saturday night challenge, but this challenge really resonated with me!  If only I could turn back the clock or jump into a time machine and re-do a few things!
Greetings, genea-philes. it's SATURDAY NIGHT – time for more GENEALOGY FUN!

Your mission, should you decide to accept it, is to:

1)  On GeneaBloggers Radio last night (www.blogtalkradio.com/geneabloggers/) the discussion turned to regrets that we all have about our genealogy and family history experiences.  Someone said "If I knew then, what I know now, I would have…" I thought that it would make a good SNGF topic, and it may be a general topic on a future GeneaBloggers Radio show.

2)  Tell us about your "If I knew then what I know now, I would have…" regret in a blog post of your own, in a comment to this blog post, or in a Facebook status or note.
High on my list of wish I could re-do is the opportunity to document my sources better from the very beginning, so if you are in the same boat, check out Randy Seaver's June 4th Saturday Night Genealogy Challenge at www.geneamusings.com!  When I first started, I had so few family 'lines' going, and I really, truly believed I would remember where each piece of information came from.  And, frankly, I just wasn't thinking.
But it isn't the citations and sources I most wish I could re-do.  It's the missed opportunities to ask the people who would (or might) actually KNOW the answers to questions that I now want to ask them.  Oh, if only.
1.  I wasn't into genealogy when I was eight years old (that's how old I was when my Grandmother Jones died), but if I could ask her now, I would ask her what she knew about her father-in-law's father (he's a huge Jones brick wall!).  Did she know his name?  Did he even know his own father's name?  What was herding cattle all day on horseback in Nebraska like when you were barely old enough to attend school?  How scared were you when the Indians stopped by your home to get food?  Did they ever come back?  Which one of the two young ladies in the neat photo you left behind is your niece, and which is her friend?
2.  And oh, if only I could hear my Grandmother Stocking re-tell her stories of my father's childhood?  Why didn't I write them down?  I was only ten, eleven, or maybe twelve, but how I wish I had taken the time to write them down.  Now, it is only bits and pieces that I remember.  I know the horses spooked, and my dad got hurt.  His teeth poked a pretty good hole in his lip.  But what spooked the horses?  I don't remember.  And if only I could ask her where the farm was where she grew up in Illinois?  What was it like? What schools did she attend?  Now, I will spend hours, and days, and still never have all the answers.  And the one question I really wanted to know when I was in grade school, who was our Native American ancestor?  What was his/her name?  Were they actually Cherokee?  Where did they live/come from?
3.  And why didn't I think to ask my Great-Aunt Dr. M. Ethel McGinnis more questions about her fascinating life as a teacher, professor, and gifted student?  And her life with my grandmother Stocking when they were children? 
I have many more 'if only's'  but they all involve asking my much older relatives questions that I wasn't interested in knowing the answers to for many, many more years.   
If.  Only.
by Sherry Stocking Kline
Saturday, May 14th, 2011
Recently, bloggers using Blogger found themselves unable to blog, and also found some of their blog posts had disappeared, and this blogging challenge from Randy Seaver comes from that 20 hour stint of not being able to blog!
Hey genea-philes – it's Saturday Night – time for lots more Genealogy Fun!!

Your mission, should you decide to accept it, is to:

1)  We all know that Blogger (www.blogspot.com) was down for 20 hours from Thursday afternoon to Friday morning.  What did you do with yourself during that time period?

2)  If we lost our blogging platforms for awhile (but not the Internet as a whole), what would you do with your genealogy time?  What projects would you start, continue working on, or try to finish instead of blogging?

3)  Tell us in a blog post of your own, in a comment on this post, or in a status thread on Facebook.
I don't blog on the Sumner County Historical & Genealogical Society blogsite at http://www.ks-schgs.blogspot.com everyday, so I didn't know that Blogger was 'down' for 20 hours and created lots of problems for Blogger bloggers and giving everyone serious blogging withdrawal!
So, what would I do if my self-hosted WordPress went down for 20 hours? 
Panic.
  Then spend time trying to find out what went wrong and what I needed to do to fix it. 
 Then once I learned that the glitch wasn't up to me and was out of my control, I'd 'play hookey.' 
Which is what I did today!   I played 'hookey'. 
I had 'stuff' that needed doing, but the little 'bug' that landed in our house this week wasn't helping me feel like getting things done around the house, and so for a few hours I played hookey.
I went to the Illinois State Genealogical Society, and began searching for the two surnames that I knew came from Illinois to Kansas, McGinnis and Corson. 
And Voila! 
There they were, my great-great grandparents, Richard S. Corson and Mary Corson, buried in the Bethel Cemetery in Sangamon County, Illinois.  I knew it to be them, because I had some of their information already, but I did not know where they were buried. 
And now, I do.
And that reminded me that I might just be lucky enough that some kind soul had posted their tombstone photo on Find-A-Grave.com.  
Once again, luck was with me and Richard's and Mary's tombstone photo was online and may be found right here.   The contributor was listed as "anonymous," and I just want to say "thank you" to the anonymous contributor who put their tombstone photo on the website. 
I've Done Very Little Research on the Corson's…
I have done very little research on the Corson line as I've been focusing in other areas, but as I said, I was playing 'hookey' today, and simply out searching to see what fun thing I might find, so I headed on over to Ancestry.com  and then to FamilySearch.org  to try to find them on as many census and other records as were possible.
I was able to locate the Corson family on three different census records, and have to admit that I now have a new puzzle.  On three different census records 1870, 1880, and 1900, there is a person with a different name with the same birth year.
In 1870, there is a 13 yr old male, Francis E, born it appears in 1857.
In 1880, there is a 23 yr old female named Emma, born it appears in 1857.
In 1900, there is a 43 year old female daughter named Fannie and a granddaughter named Fannie (they have different initials).  Fannie would have been born in 1857. 
So, was Francis and Fannie twins?  If so, where was she in 1870? 
My guess is, and it is nothing but a guess, that the Francis E listed in 1870 should have been Frances Emma or Emmaline, and listed as a female. Then it would be sensible for her to be there at the age of 23 listed as Emma, and back home at 43 listed as Fannie, and with a daughter named Fannie also, who was born in California.
I'm Done Playing Hookey for Today…
But, without further research I won't know the answer to those questions, and since I'm done playing hookey for today, those questions will have to wait.  But the cool thing is, I now know the names of a few of my Great-grandmother Margaret Corson McGinnis' siblings!
And maybe, just maybe, I will be very, very lucky, and one of my great-grandmother Maggie's siblings will find this blog, and write me a note that explains this mystery!!
Related Links:
Margaret "Maggie" (Corson) McGinnis Dies at Age 101
Margaret "Maggie" (Corson) McGinnis Sang for Abraham Lincoln
Gr-Grandmother Maggie (Corson) McGinnis & Maud McGinnis Stocking Scrapbook page
Book: "Three Hundred Years with the Corson Family" by Orville Corson
by Sherry Stocking Kline
I'm trying to blog along with the "52 Weeks of Personal History and Genealogy."  As you can see, I'm more than a little behind.

Week 12: Movies. Did (or do you still) see many movies? Describe your favorites. Where did you see these films? Is the theater still there, or is there something else in its place?

This challenge runs from Saturday, March 19, 2011 through Friday, March 25, 2011.
I grew up on a wheat and dairy farm, about 10 miles from the nearest theater, and my folks were not rich, so we didn't attend movies a lot.
They used to show movies on the side of buildings…
I learned after I was grown that many of the small towns in our area used to show movies on the side of a building and folks came to town, sat around in cars and chairs, visited, snacked, and made a Saturday night get-together out of it.
In fact, that used to be one of the ways that the merchants 'lured' people to town to shop, and then they stayed open on Saturday nights.
My husband remembered doing that, and him just a year ahead of/older than me, but I sure don't remember it at all.  I wish I did.  It sounds like a wonderful way for small towns to spend some Saturday night fun together.
I Remember When We Saw Old Yeller…
I was eight years old, which means my brother Gary would have been twenty when "Old Yeller" came to our local historic Regent Theater (now newly renovated re-opened)
My brother asked me if I'd like to go to a movie with him on Saturday night.
And I'm all like "Me and you?"
And he was like 'Yes, me and you!"
I thought he was kidding, I mean he usually went out on a date or out with his friends.
So, he got all Saturday-night-dressed-up, and I did, too, and we met up with one of his friends who had also brought along his little sister.
They bought us popcorn and pop, and sat us two rows in front of them. (Close enough they could watch us along with the movie, but maybe not so close that everyone knew we together, you suppose?)
On the way into town, my brother warned me that the movie had a sad ending, and that "Old Yeller" was going to die at the end.
With all the superior wisdom of an eight-year-old that knew that Disney movies did NOT have sad endings, I told him he was wrong, that it wasn't going to end that way.
And of course, he said "yes, it does."
Life Doesn't Always Have a Happy Ending…
Well, come to the end of the movie, and us little girls are sitting there sniffling about that little boy having to kill his dog, "Old Yeller" because he has rabies, and he's all like "I tried to tell you", and I'm sniffling and saying "they didn't have to kill him…."
I think maybe that was my first introduction to the notion that movies, and life, doesn't always have a happy ending, and that sometimes you simply have to do things you don't want to do.
But when I look back on it, it was a good memory, and a really unselfish thing for a twenty-year-old big brother to do.
I wish he were still here so I could say "thank you…."  one more time.
by Sherry Stocking Kline
March 19, 2011
At first no one knew what the little red,  itchy, dots were. They thought it might be allergies and that being the case, my three nephews were exposed right after I came down with "it", whatever "it" was.
And then they thought it might be measles.
But it was not measles.
It was Chicken Pox.   By the time our parents figured out what I had, the boys, my nephews, 2 1/2, 4 1/2 years, and 6 1/2 years younger than I, were coming down with it, too.
So we were  miserable together.  We didn't have air conditioning in our little farm home. It was summer in Kansas. It was Hot.  How in the world did we ever live without air conditioning, anyhow?
We had what was referred to as a squirrel cage cooler that ran air over water from an outdoor hose. It just barely cooled the air down, and it moved it around fast enough to blow your hair, and you had to talk loud to be heard over it.  It also added humidity to the air, so on hot, humid, muggy, days it was like trying to breath under water with that thing running.
No one wanted four miserable whiny kids in the house…
Anyhow, no one wanted four miserable itchy, whiny, hot kids in the house with them, so our parents set up old green Army cots under the shade tree by the water hydrant in the back yard, just a few feet from the back door in the shade and the south wind.  They probably gave us some books and coloring books,  and then they parked us outside in the breeze.
If we had a television then, and I can't remember if we did or not, there were only three channels and few things that kids would be interested in watching.  I don't remember much more about that time, except that we were sick, itchy, and bored beyond distraction.  We were close to a sand pile and a water source and we didn't feel like playing, so we laid on the cots, scratched, and whined.
Fortunately for me, I got it first, so I got over it first, and so I was able to escape our exile sooner than my nephews could!
Sherry Stocking Kline
October 20, 2010
I love this old photograph of my parents, my mom Dorothy Stocking on the left, & dad Harold Stocking on the right, with my mom's Aunt May (Breneman) Jones Willey, and Mom's parents, Carrie (Breneman) and Warner Jones sandwiched between them.
After attending the KCGS Conference with Maureen Taylor, I find myself looking for clues in my photographs.
First, the photograph had to be taken before November 1st, 1947, because Grandpa Jones passed away on that date.  (I could look up the car makes, models and years, too!)
Second, either they had been somewhere, or were getting ready to go, because Dad is wearing his 'good' overalls.  In other words, he and Grandpa had on new and clean overalls.  (As opposed to faded by the sun, 'everyday' overalls that Dad worked the fields and fed and milked the cows in!)
It wouldn't have been church or a funeral, because the men would have worn suits for that, so maybe they went to town shopping for the day, to visit someone in the hospital, or to visit family or friends in another town.
And it's in the colder months, as the women all have on heavy wool coats, and scarves to keep their ears warm, and maybe just to 'tie their hair down' to keep it from blowing in the Kansas wind.
And now I need to ask my mom, to see if she remembers the occasion that prompted the photograph sixty-plus years ago!
by Sherry Stocking Kline
October 19, 2009
Randy Seaver of GeneaMusings issued this challenge on Saturday night!  I'm a bit late, but I don't want to miss out on all the fun, so here goes!
Hey geneaphiles – it's Saturday Night, time for more Genealogy Fun for all Genea-Musing readers.

Your mission, should you decide to accept it (and we need more of you to do this, otherwise it may end…), is to:

1)  Read Brenda Joyce Jerome's post Who or What Do You Blame? on the Western Kentucky Genealogy blog.  She asks these questions:

*  Can you identify person or event that started you on this search for family information?

*  Did you pick up researching where a relative had left off?

*  Did your interest stem from your child's school project on genealogy?

*  If you have been researching many years, it may be hard to pinpoint one reason for this journey.

2)  Write your responses on your own blog, in a comment to this blog post, or in a note or comment on Facebook.
Maybe I was always a little interested in family history, but after Hobart Stocking, a professor from Oklahoma researched, wrote, and published the Stocking Ancestry, I became more interested, and shared the information with my husband's family.  And that's when my father-in-law, Melvin Kline, stated that he wished someone would research their family tree.
And He Kind of Hoped They Wouldn't, Too…
And, he said, he kind of hoped maybe they wouldn't, too.  He said that he was afraid of "what we might find."
The story that he had always heard went like this, "three brothers came west, fought along the way, and never corresponded again."
And because there wasn't any correspondence between Pop's family, and his grandfather's family, at least that he knew of, he believed the story to be true, and he was afraid that we'd find out that his grandfather might have been the the person who caused the problem.
But still, he really wanted to know.
Who could possibly resist a puzzle or a challenge like this?
Not me, for sure, so I took up the quest and along the way became  'hooked' on genealogy and preserving family history.
I was woefully ignorant of how to get started, so it was quite a long time before I learned about at least one 'family feud', learned where the family had migrated to Kansas from, and 'met up' with some distant cousins.
Unfortunately, by that time, my father-in-law had passed on, and I really wish he were here so that I could say "Thank you" to him for starting me on such a fun and addictive hobby/pastime/obsession.
But I'd like to think that somehow, he knows.
by Sherry Stocking Kline
01 August 2010
Off and on for several years, I've tried to get started scrapbooking and journaling my photographs.  But it takes a lot of room to gather it all up, and spread it all out.
And I seem to be one of those people who have to change background papers and photographs over and over (and over) till I finally find the combination that I like.  Takes hours. (And usually two more trips to the scrapbook store!)
Then I found digital scrapbooking with a Twitter friend on-line.
So, instead of cutting up my photographs, and then wishing they were a different shape and size, or worse yet, wishing I had never cut them up at all,  now I can digitize photos, crop, re-size, and re-shape to my heart's content, leaving the originals alone.
I love it!
Below are some of the 12 x 12 scrapbook pages for my family history book that I've created.  First, is the page for my great-grandparents, Roderick Remine and Frances "Fanny" (Hitchcock) Stocking and their four sons.
My grandfather is standing on the far right, Elmer Leverett. He passed away before I was born, and I never got to meet him.  (I sooo wish that I had been able to get to know him.)
The photo below here is my great-grandmother, Maggie (Corson) McGinnis and her daughter and son-in-law, Maud and Elmer Stocking.
It looks to me like they are sitting on the east side of  Maud and Elmer's home near Mayfield, Kansas.  Maud and Elmer's home was on their farm on the NW 1/4 of 18-32-2W, where they had a quarter section of land. (160 acres).  Later, my parents bought this farm from Maud and Elmer and I grew up here as well.  The house burned down several years ago.
The photograph below is of my dad's parents and his siblings.  What a great photograph! (I wish I knew when it was taken!!)  I really like the burnt sienna colored paper below with it's hints of other shades, and I added just a few "starbursts" to it to 'gussy' it up a little.
My grandfather is seated on the left and my grandmother is seated on the right. My father, Harold Stocking, Sr., is standing on the back row, third from the left.
While researching and preserving history is very important to me, my scrapbooking is not all about preserving the past, it's also about preserving and enjoying the present, too, and being able to enjoy it again and again for the future.
Below is the cover from "Giggles", an 8 x 8 scrapbook that I created this summer for my two darling little granddaughters.  There are several of my favorite photos and fun times that we've had in the past few years, and the book is a favorite with the girls as well.  I also think it will help them remember all the fun times that we've had!
Below is a photo of the girls reading their very own Storybook Scrapbook!
Currently I am using a Family Photo Tree template at www.TurnMemoriesIntoBooks.com to create a 12 x 12 scrapbook page of our family tree. I am  also working on a Storybook for my mother, who is nearly 99 years old, so I'm working with some really neat old photographs, and preserving some fun stories!