I re-did my membership with the Rutherford B Hayes library, www.rbhayes.org, recently, as I had found some interesting 'stuff' on their website, and I really like having access to the www.newspaperarchive.com site and also Heritage Quest, and that is included with the membership I have at that level.
Today, I was searching NewspaperArchive.com website for my uncle, Frank Stocking, and found a copy of my Aunt Peggy's from the Hutchinson News digitized on the NewspaperArchive.com website.  And it never would have occurred to me to look at the Hutchinson News microfilms!!  Eureka!  I wasn't doing genealogy when my lovely Aunt Peggy passed away, and so I had not saved it!
It was such a shock when Aunt Peggy died.  We knew she had a heart condition, but still, it was a shock.  My daughter had been born three weeks before, and we were all looking forward to visiting with Peggy's brother and his wife when they came to visit in a few weeks, but that wasn't to be.
I was still off work on maternity leave when we traveled to the funeral, and I took my 2 1/2 year old son and three-week-old daughter with Mom and I to her service.
Aunt Peggy was a 'hoot.'  She also had a beautiful smile, a heart of gold, and an infectious laugh!  She was always cracking jokes, and I miss her.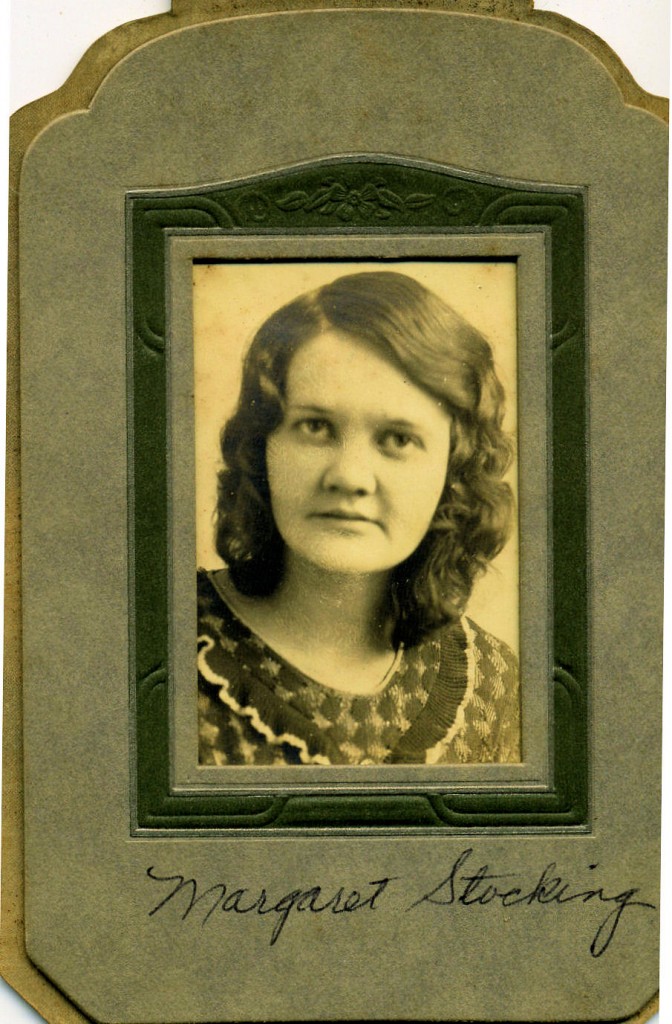 Margaret E. (Peggy) Glaze Obituary
Hutchinson News
July 28, 1977
Column 1; Page 6
MEADE – Margaret E. (Peggy) Glaze, 62, died Tuesday at Meade Hospital.  Born Margaret E. Stocking, May 23, 1915 at Mayfield, she was a retired postal employee and lived here since 1945.
She was a member of United Methodist Church, Rebekah Lodge, OES, all of Meade.
Survivors include brothers: Carl L. Stocking, San Jose, California, Frank A. Stocking, Castro Valley, California, Herbert L. Stocking, Downeyville, California; sisters: Mrs. Frances Hill, Arkansas City, Mrs. Mary E. Metcalf, Colorado Springs.
Funeral will be 10 a.m. Saturday at the church; Reverend Dale Ellenberg.  Graveside services will be 3:30 p.m. Saturday in Mayfield Cemetery.  Friends may call 11 a.m.  Thursday until 9 a.m. Saturday at Fidler-Orme Mortuary, Meade.
Here is Peggy's Find a Grave Memorial.