Archive for the 'Kansas Towns' Category
When you're hunting for information about your family, and especially if you are trying to find glimpses into their lives and create a word picture for your family, you want to look every place you can think of, so checking old atlases can add more information to your family tree.
The 1883 Historical Atlas of Sumner County, Kansas shared information about my Great-grandfather, Roderick Remine Stocking.
Some of it was information that I might not have found otherwise.
According to this Atlas (and not all have this information), my great-grandparents came from Michigan, and settled on their farm in 1878 where they farmed and raised livestock.
They lived near Mayfield, Kansas, in the NE 1/4 Section 13-32-3W.  From other sources, I know that they homesteaded that quarter section and raised their family there.
Their son, Roderick Porter, raised their family there until he was killed in a farm accident, and then the family moved to the small town of Mayfield.
See excerpts from the atlas below:
Historical Atlas of Sumner County, Kansas,
Compiled – Drawn – Published from Personal Examinations and Surveys;
John P Edwards,
No 31 South 6th Street, Philadelphia, and Quincy, Illinois, 1883,
Engraved by A. H. Mueller, 530 Locust St., Philadelphia, PA, Printed by F. Bourquin,
31 S. 6th St.,
Philadelphia, PA
List of Patrons – p. 14
Name: Stocking, R. R.
Post Office: Mayfield, KS
Section: 13-32-3W
Business: Farmer and Stock Raiser
Nativity: Michigan
Settlement in County: 1878
p. 67
R. R. Stocking
Township 32 South Range 3 West
NE 1/4 13-32-3W
R. R.Stocking
Oh, and don't forget to add this information into your family tree program (if you use one) and be sure and cite your sources so you know where you found it!
Elizabeth Shown Mills has written the definitive source for citing your resources, and the following links to her book and "Cheat Sheet" can help you cite your sources correctly :
"Evidence Explained: History Sources from Artifacts to Cyberspace 3rd Edition Revised"  by Elizabeth Shown Mills
"QuickSheet: Citing Ancestry Databases & Images Evidence Style 2nd Edition" by Elizabeth Shown Mills
Disclosure: Some of the links included in this blog post may be affiliate links. This means that I receive a small commission for recommending this product.
This does not increase the price that you pay, and it helps support this genealogy blog.
I do not promote products that I do not use or do not believe in. However, it is always best to do your own research on products to make certain that they are a good fit for you and your family.
This winter was one for the records books for nasty little flu 'bugs' going around!  But whenever I found myself  down and out, I logged onto the digital newspaper site at KSHS.org and began typing in family surnames as keywords!
Below is just one of the many fun little family tidbits that I found:
Wellington Daily News
21 May 1913
Pg 1, Col. 2
Family Reunion
The home of Ralph Stocking, 612 North F, is the scene of a happy party being a family reunion.  The guests are Mr. and Mrs. Roderick Stocking, Mr. and Mrs. Elmer Stocking and children, Mr. and Mrs. Porter Stocking and son, John Stocking all of Mayfield, Mr. and Mrs. Charles Hitchcock, of Chicago.
Grand Army of the Republic
John Goldy Post #90 – Milan, Kansas
Muster Roll of Members of this Post Mustered or Admitted by Transfer During the Six Months ending the ______ day of _____ __ [this was not filled in in the digitized copy]
W. T. Boatright
B. L. Beebe
H. L. Benedict
M. L. Emery        Age: 58      Born: New York  Entry into Service: Aug 1864 Rank: Res           Co: D         3 Col Cavalry      Date: Dec 1864
C Breneman       Age: 59      Born: Ohio        Entered into Service:  Aug 1862    Co.:    105 Ohio      Date: Aug 1865
D. W. Gilbert
J Housworth
G. W. Sease
J. Sharr
C. Marshall
S. S. McClure
A. V. Worthington
M. T. Weller
C. Breneman      Rank: ?      Co. H         Reg't 105 Ohio
M. L. Emery        Rank: ?      Co. D         3′ Col Cavly
My great-grandfather, Constantine "Tom" Breneman, was a blacksmith during the Civil War, and he was also a blacksmith after he settled in Kansas after the Civil War.  It appears that he taught one of his sons, Otto Breneman, this skill also, as Otto had a blacksmith shop in the tiny town of Mayfield, Kansas, and Otto and Constantine worked there together for a time before Otto's death at an early age.  Otto and Constantine are pictured Here.
Other Links:
Constantine Breneman, George and Katie Jones, Carrie Jones & families
Otto Breneman & Constantine Breneman blacksmith shop – Mayfield, Kansas
Constantine Breneman and His Buggy Horse Photograph of Ott's father, Constantine driving a buggy with his beautiful buggy horse.
Constantine Breneman's Buggy Horse – Photograph of Constantine's Buggy Horse
I re-did my membership with the Rutherford B Hayes library, www.rbhayes.org, recently, as I had found some interesting 'stuff' on their website, and I really like having access to the www.newspaperarchive.com site and also Heritage Quest, and that is included with the membership I have at that level.
Today, I was searching NewspaperArchive.com website for my uncle, Frank Stocking, and found a copy of my Aunt Peggy's from the Hutchinson News digitized on the NewspaperArchive.com website.  And it never would have occurred to me to look at the Hutchinson News microfilms!!  Eureka!  I wasn't doing genealogy when my lovely Aunt Peggy passed away, and so I had not saved it!
It was such a shock when Aunt Peggy died.  We knew she had a heart condition, but still, it was a shock.  My daughter had been born three weeks before, and we were all looking forward to visiting with Peggy's brother and his wife when they came to visit in a few weeks, but that wasn't to be.
I was still off work on maternity leave when we traveled to the funeral, and I took my 2 1/2 year old son and three-week-old daughter with Mom and I to her service.
Aunt Peggy was a 'hoot.'  She also had a beautiful smile, a heart of gold, and an infectious laugh!  She was always cracking jokes, and I miss her.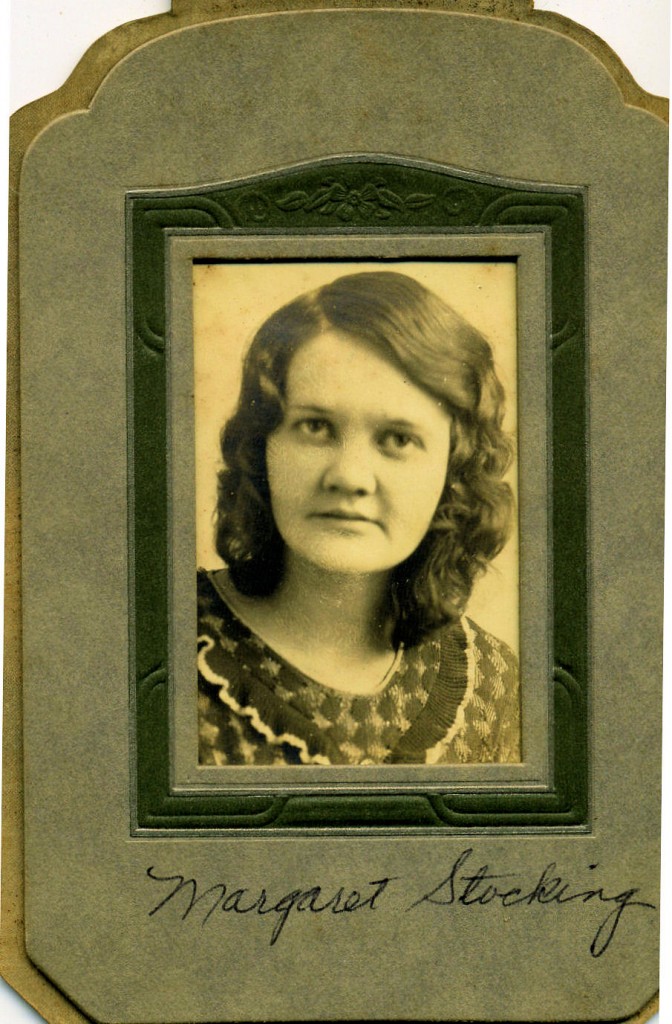 Margaret E. (Peggy) Glaze Obituary
Hutchinson News
July 28, 1977
Column 1; Page 6
MEADE – Margaret E. (Peggy) Glaze, 62, died Tuesday at Meade Hospital.  Born Margaret E. Stocking, May 23, 1915 at Mayfield, she was a retired postal employee and lived here since 1945.
She was a member of United Methodist Church, Rebekah Lodge, OES, all of Meade.
Survivors include brothers: Carl L. Stocking, San Jose, California, Frank A. Stocking, Castro Valley, California, Herbert L. Stocking, Downeyville, California; sisters: Mrs. Frances Hill, Arkansas City, Mrs. Mary E. Metcalf, Colorado Springs.
Funeral will be 10 a.m. Saturday at the church; Reverend Dale Ellenberg.  Graveside services will be 3:30 p.m. Saturday in Mayfield Cemetery.  Friends may call 11 a.m.  Thursday until 9 a.m. Saturday at Fidler-Orme Mortuary, Meade.
Here is Peggy's Find a Grave Memorial.
Obituary – Charlena Faye Isgrigg
Book "Obituaries – Argonia Kansas and Vicinity"
Volume IV
Freda Deen Earles
Charlena Faye Isgrigg, daughter of Frank and Susan Kline Holt was born October 19, 1915 in Bluejacket, Oklahoma.
She moved to Milan, Kansas with her parents at the age of 10 and lived in the Milan and Argonia communities until the time of her passing
On October 29, 1937 she married Earl Isgrigg and to that union was born one daughter, Connie Hodson.
She was preceded in death by both her mother and father, one brother, Olin Holt and one sister, Bessie Edwards.
She leaves to mourn her passing, her husband, Earl; her daughter, Connie Hodson and grandson, Brad Hodson of West Allis, Wisconsin; two sisters, Mrs. Mildred Carrico, Commerce, Oklahoma, and Mrs. Lola Blackett, Wichita, and one brother, Virgil Holt, Milan.
( Sherry's Note:  The obituary did not state the date of death, but according to www.findagrave.com, Find A Grave Memorial# 38953421 Charlena passed away on 26 Jul 1971.)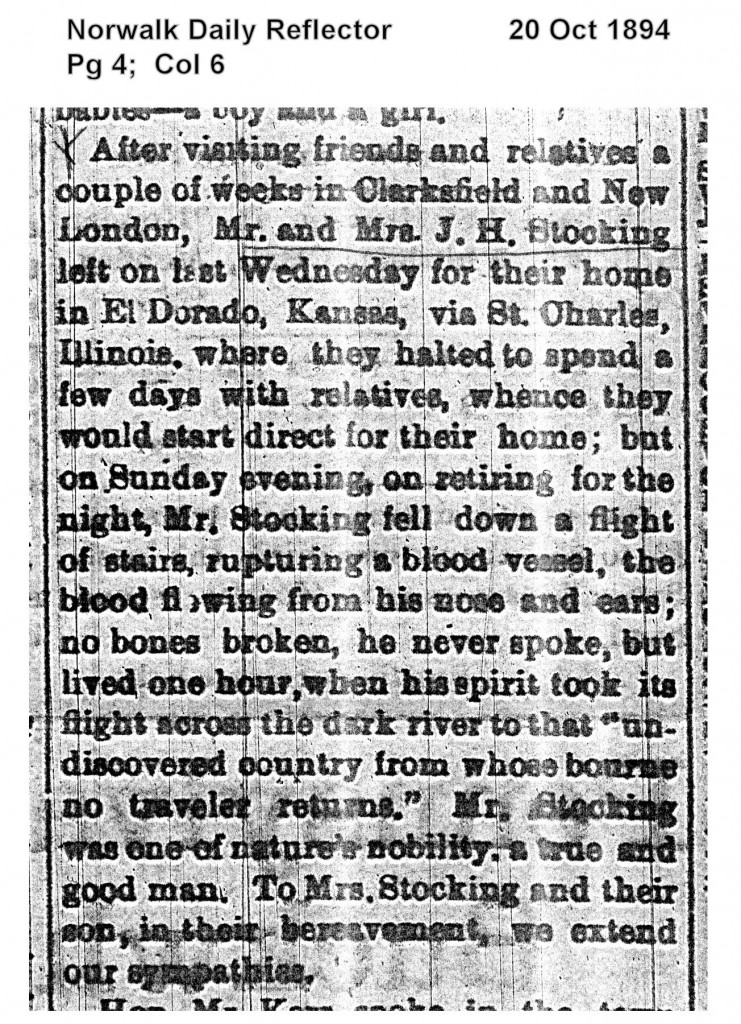 Norwalk Daily Register
Norwalk, Ohio
20 Oct 1894
Pg 4 Col 6
After visiting friends and relatives a couple of weeks in Clarksfield and New London, Mr. and Mrs. J. H. Stocking left on last Wednesday for their home in El Dorado, Kansas, via St. Charles, Illinois, where they halted to spend a few days with relatives, whence they would start direct for their home; but on Sunday evening, on retiring for the night, Mr. Stocking fell down a flight of stairs, rupturing a blood vessel, the blood flowing from his nose and ears; no bones broken, he never spoke, but lived one hour, when his spirit took its flight across the dark river to that "undiscovered country from whose bourne no traveler returns."  Mr. Stocking was one of nature's nobility, a true and good man.  To Mrs. Stocking and their son, in their bereavement, we extend our sympathies.
John Hurlburt Stocking's son, Roderick Remine Stocking, was my great-grandfather, and you can find a photograph of him here, as well as more information about him.
Roderick's mother, Betsey Jane Ames, died in Oct 1856 shortly after Roderick's little brother Bishop was born.  After Betsey's death, John Hurlburt married Caroline Gates in April 1860.
In 1894, my great-grandfather, Roderick was living on the farm that he homesteaded in Sumner County, Kansas with his wife, Frances "Fannie" Hitchcock.
More Links:
Roderick Remine Stocking Photograph 
http://www.familytreewriter.com/2011/05/wordless-wednesday-roderick-remine-stocking-photo/
The J. H. Stocking Bible
Carnival of Genealogy – the J. H. Stocking Bible
My first thought when I read the  Carnival of Genealogy Challenge for August was "we didn't have a family business, we had a farm…"
And then I re-thought, realizing that a farm always was (and still is, no matter the size) a business also, though some might say that  farming is more of a calling than a career, and for those of us who grew up on a farm, it's more a part of our hearts than most brick or mortar businesses could ever be.
One of the sayings that I grew up hearing was "You can take the boy off the farm but you can't take the farm out of the boy." (Same goes for many of us farm girls, too!)
When my oldest brother was just a toddler, our folks bought the farm where dad grew up with his seven (living) brothers and sisters, and dad's parent's, Elmer and Maud (McGinnis) Stocking.  My grandparents moved to the nearby town of Mayfield, Kansas with their youngest children and my grandfather Elmer continued his work as a mail carrier until his untimely early death from a heart attack.
Mom, Dad, and my brother Fred moved back to the Mayfield area from Arkansas City ("Ark City") after they purchased the farm.  All of this happened before I was born, or as my brother Harold, Jr. "Fred" would say "before you were even a twinkle in Dad's eye."
Farmers then, and farmers now, wear many hats.  They must be amateur weathermen/women, watching the weather with an eye to scheduling their work.  Their planning, planting, fertilizing, field work, harvesting, and even praying for rain circles around what the farm land needs and when it needs it.
Farmers also need to be bookkeepers, grain marketers, have the ability to supervise their family as workers, as well hired hands if they have some, and during the summer, they often have to put in 60 to 80 hour weeks as well.  It wasn't just sun up till sun down at our farm, it was before the sun came up till the job got done, especially during harvest.
I have always felt that I was one of the luckiest kids in the world, growing up on my folk's wheat and dairy farm, with 160 acres running room for a back yard!  I grew up collecting tadpoles from the buffalo wallows in the pasture (yes, I said buffalo wallows!), chasing crawdads along the creek, roping calves I wasn't supposed to, and dodging cow pies in the pasture while playing cowboys and Indians, or Yankees and Confederate soldiers with my nephews, who were not much younger than I was.
I also learned to drive a tractor, an old blue Chevy farm truck with a stick shift that my mom nicknamed "WobbleKnees," and milk a cow by hand as well as with a milking machine.
I was responsible for watering the chickens, gathering the eggs, spoiling our purebred collie puppies and making sure the cats and dogs had food and water.
I loved helping feed the baby calves, and always, always fell in love with one or two each year, wishing they could be my very own pet.  I learned to back up straight (after I learned to drive a stick) by backing several hundred feet along a lane, and dumping a half-full milk can of water (about 70 pounds if they were full!) into the calves' water tank to make sure they had enough water.
I helped hoe the garden, and helped preserve its bounty, enjoying the fresh tasting frozen sweet corn and the better than store-bought canned green beans all winter.
And, lucky me, with my work-at-home folks, I usually either had both my parents home with me, or I was in the field where they were working!
I loved growing up on the farm!
I love this photograph of my Grandma and Grandpa Jones.  Although this was taken before I was born (as my grandfather was in it) this is how I remember my grandmother looking.  Round-faced and smiling, and just a bit plump. Comfortable to snuggle up against. (Grandma's are supposed to be plump, right?  I hope so, because I'm working on being a good Gramma.)
I wish that my grandfather had lived long enough for me to meet (and remember him), but this Carnival of Genealogy post is about my Grandma Carrie Breneman Jones, who died when I was eight years old.
When I was just a little bitty girl, my mama told me that her mama was really unhappy that they had named me "Sherry".  She said that Sherry is also the name of an alcoholic beverage, and her mama just wasn't happy with her for giving me that name.
So I guess it's no wonder when I went to grade school and I really didn't know what my Grandma's last name was, that when the teacher began talking about Kansas' Carrie Nation going into bars with an axe to fight for temperance I kind of wondered for a short time if that was my Grandma Carrie that did that.  I don't know why I didn't run home and ask my mom about it, but I didn't, but I did figure out, after awhile, that my Grandma Carrie wasn't the infamous axe wielding Carrie in my history book.  (The above doesn't look like the picture of an axe-wielding Grandma, does it?)
My Grandma Carrie was a very crafty lady.  Her hands were always busy making something.  She loved to crochet, from the very tiny delicate flower shaped earrings to the beautiful heirloom bedspread that she made for my mother, and that my mother later gave to me.
She crocheted doll clothes for my dolls and when my new favorite plastic horse needed a rider and there were none to be bought in the correct size, she created one.  My Grandma Carrie created an Indian, excuse me, a Native American brave complete with tiny leather fringed breeches and shirt, and bendable legs so he could sit a horse.  I still have him, tucked away (somewhere) and when I find him, I'll try to add the picture here.
And as I write this, I just realized that she may have fashioned the brave after the Native Americans that came to their cabin in Nebraska asking for food when she was just a very small girl, and they lived on the Nebraska prairie where my Grandma herded cattle on horseback by herself on the prairie during the day.
When she was older, Grandma Carrie taught herself to paint and she loved the National Geographic magazine for its beautiful photographs that often inspired her painting.  She also painted a picture of my brother's 4-H Dairy Cow "Jenny," too, for him, and "Jenny" hung on our kitchen wall while I was growing up.
I wish my Grandma had lived long enough for me to get to know her as an adult, because I think I inherited many of my interests and talents from her.  Like my Grandma, I'm crafty, though I've not had much time to do it lately, and if I can see something, particularly a fabric something, I can often make a pattern for it or create it from one I find.  Also like my Grandma and my mom, I painted for several years till I learned I was sensitive to the oil and turpentine smells, and like my Grandma and my mother I love a good book!
And, I wish she had lived long enough to ask her all those many genealogy questions that I now wish I had the answers to!
Other Links:
 Wordless Wednesday: Stocking & Jones Family
http://www.familytreewriter.com/2010/10/wordless-wednesday-stocking-jones-family/
Wordless Wednesday: Constantine Breneman & Carrie Breneman Jones & family
http://www.familytreewriter.com/2010/04/wordless-wednesday-constantine-breneman-carrie-breneman-jones-families/
by Sherry Stocking Kline
19 October 2011

Shown below is a copy of a photograph that my cousin, Larry, shared with me from their family's collection.  It shows my great-aunt, Myrtle (Nyberg) Stocking (Larry's grandmother), with her mother, Mary, her father-in-law Roderick Remine Stocking, and her children, Wilmer, and the twins Max and Maxine.
 I can't begin to tell my cousin Larry how grateful I am that he shared these photographs with me, and allowed me to add numerous photos of our shared ancestry into my own family tree!
Roderick Porter and Myrtle Nyberg Wedding Photograph
Roderick Remine Stocking Photograph
by Sherry Stocking Kline
October 12, 2011
I have been blessed this year with so many who have shared family photographs with me, and this past spring, my cousin Larry brought me a huge box of photographs to scan!  I have yet to measure the box, but it is approxinately 1.5 feet by 3.5 feet, and chock full of family photos!
Needless to say, I spent hours scanning and am still trying to make time to organize the results!
The following photograph is my Great-Aunt Myrtle Nyberg Stocking and her husband, Roderick Porter, who was called Porter by his family and friends.  Porter and Myrtle were my cousin Larry's grandparents.
Porter and Myrtle were married on December 30, 1908, and Porter was killed on July 5th, 1924 when he was working on electrical lines.