Archive for the 'Scrapbooking' Category
Just this week I clicked on a Facebook link that took me to Tami Koenig's  "Your Story Coach" blog and the "7 Photo Memories to Capture Now" and I had an "Aha, I should be doing this moment!"
Actually, to be honest, I had an "Aha, I should have already been doing this moment."
Quite some time back, I attended a scrapbooking workshop, and the instructor advised us to take photos of the inside of our home.
Take photos, she suggested, of each part of each room, including the wall hangings, the way the furniture is arranged, and, well, just everything, including one thing I never would have dreamed of doing, the views out each window, because as Tami Koenig reminds us in her blog post above, things change.
And sometimes, things change unexpectedly, such as when an earthquake occurs, a tornado hits, a flood damages, or a fire destroys.
So, the best time, as Tami says, to take those photos, is now, today.
And many years ago, when I first heard that instructor's advice to take a photo of the view out each window, it was already too late.  A house fire had destroyed the home that I grew up in, and that window of opportunity was already gone!
For more ideas on other photos you might want to capture now, tuck a camera in your purse, read Tami's  "7 Photo Memories to Capture Now" blog post, and head out the door.
by Sherry Stocking Kline
Saturday, May 14th, 2011
Recently, bloggers using Blogger found themselves unable to blog, and also found some of their blog posts had disappeared, and this blogging challenge from Randy Seaver comes from that 20 hour stint of not being able to blog!
Hey genea-philes – it's Saturday Night – time for lots more Genealogy Fun!!

Your mission, should you decide to accept it, is to:

1)  We all know that Blogger (www.blogspot.com) was down for 20 hours from Thursday afternoon to Friday morning.  What did you do with yourself during that time period?

2)  If we lost our blogging platforms for awhile (but not the Internet as a whole), what would you do with your genealogy time?  What projects would you start, continue working on, or try to finish instead of blogging?

3)  Tell us in a blog post of your own, in a comment on this post, or in a status thread on Facebook.
I don't blog on the Sumner County Historical & Genealogical Society blogsite at http://www.ks-schgs.blogspot.com everyday, so I didn't know that Blogger was 'down' for 20 hours and created lots of problems for Blogger bloggers and giving everyone serious blogging withdrawal!
So, what would I do if my self-hosted WordPress went down for 20 hours? 
Panic.
  Then spend time trying to find out what went wrong and what I needed to do to fix it. 
 Then once I learned that the glitch wasn't up to me and was out of my control, I'd 'play hookey.' 
Which is what I did today!   I played 'hookey'. 
I had 'stuff' that needed doing, but the little 'bug' that landed in our house this week wasn't helping me feel like getting things done around the house, and so for a few hours I played hookey.
I went to the Illinois State Genealogical Society, and began searching for the two surnames that I knew came from Illinois to Kansas, McGinnis and Corson. 
And Voila! 
There they were, my great-great grandparents, Richard S. Corson and Mary Corson, buried in the Bethel Cemetery in Sangamon County, Illinois.  I knew it to be them, because I had some of their information already, but I did not know where they were buried. 
And now, I do.
And that reminded me that I might just be lucky enough that some kind soul had posted their tombstone photo on Find-A-Grave.com.  
Once again, luck was with me and Richard's and Mary's tombstone photo was online and may be found right here.   The contributor was listed as "anonymous," and I just want to say "thank you" to the anonymous contributor who put their tombstone photo on the website. 
I've Done Very Little Research on the Corson's…
I have done very little research on the Corson line as I've been focusing in other areas, but as I said, I was playing 'hookey' today, and simply out searching to see what fun thing I might find, so I headed on over to Ancestry.com  and then to FamilySearch.org  to try to find them on as many census and other records as were possible.
I was able to locate the Corson family on three different census records, and have to admit that I now have a new puzzle.  On three different census records 1870, 1880, and 1900, there is a person with a different name with the same birth year.
In 1870, there is a 13 yr old male, Francis E, born it appears in 1857.
In 1880, there is a 23 yr old female named Emma, born it appears in 1857.
In 1900, there is a 43 year old female daughter named Fannie and a granddaughter named Fannie (they have different initials).  Fannie would have been born in 1857. 
So, was Francis and Fannie twins?  If so, where was she in 1870? 
My guess is, and it is nothing but a guess, that the Francis E listed in 1870 should have been Frances Emma or Emmaline, and listed as a female. Then it would be sensible for her to be there at the age of 23 listed as Emma, and back home at 43 listed as Fannie, and with a daughter named Fannie also, who was born in California.
I'm Done Playing Hookey for Today…
But, without further research I won't know the answer to those questions, and since I'm done playing hookey for today, those questions will have to wait.  But the cool thing is, I now know the names of a few of my Great-grandmother Margaret Corson McGinnis' siblings!
And maybe, just maybe, I will be very, very lucky, and one of my great-grandmother Maggie's siblings will find this blog, and write me a note that explains this mystery!!
Related Links:
Margaret "Maggie" (Corson) McGinnis Dies at Age 101
Margaret "Maggie" (Corson) McGinnis Sang for Abraham Lincoln
Gr-Grandmother Maggie (Corson) McGinnis & Maud McGinnis Stocking Scrapbook page
Book: "Three Hundred Years with the Corson Family" by Orville Corson
by Sherry Stocking Kline
22 April 2011
Summer is reunion time for many families, and ours is no exception!  
This is our year to get together, and I'm really looking forward to it!  After hunting down a cool place to gather, one with plenty of things for both old and young to do, (my mom insisted the place have a tornado shelter!!) the next thing to do is send out "Save the Date" invitations!
While playing with my Heritage Maker's website (affiliate link at http://www.turnmemoriesintobooks.com/) to personalize our own invitations, I made several to choose from, and I'm posting one of those here.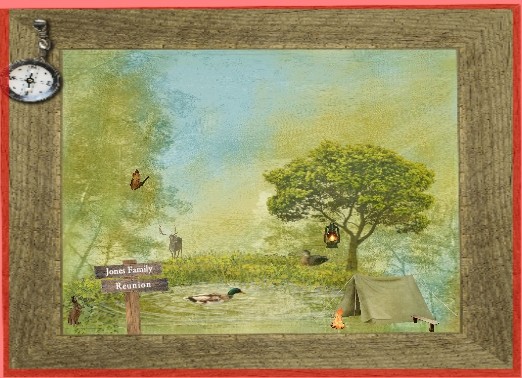 The Camp Horizon campground is a real campground in Kansas, (and is not pictured above) but the contacts, and family and reunion information posted here is fictional, not fact! 
 I substituted made-up names for our own names & info, so if you show up to attend our Jones Family Reunon on July 4th, just be warned — we won't be there!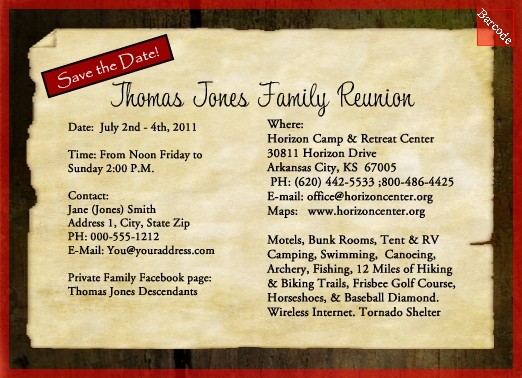 If you would like to use this template to make a "Save the Date" invitation like this one,check out my website at www.TurnMemoriesIntoBooks!  There are numerous templates to choose from in the template gallery, just do a search on Invitations or Save the Date. If you sign up for a Premium or Club HM membership I will gladly share the one shown above with those who sign up! 
I plan to post some invitations using the Basic Membership art work soon!
by Sherry Stocking Kline
March 17, 2011
Scrapbooking for the Family Reunion
We are having a family reunion this summer, so I've spent quite a bit more time lately working on my family trees, building digital scrapbook pages, and creating the album covers for the post-bound albums that the pages will fit into.
It has been so much fun that I just wanted to share one of the 12 x 12 post bound album covers and one  of the pages that I created for our family scrapbook!
I just love this photograph of my Mom and Dad, so I'm using it for the cover of the scrapbook album that I will be ordering this week!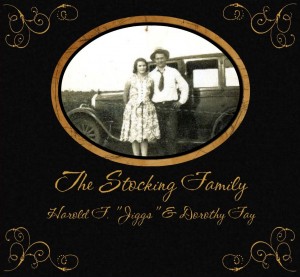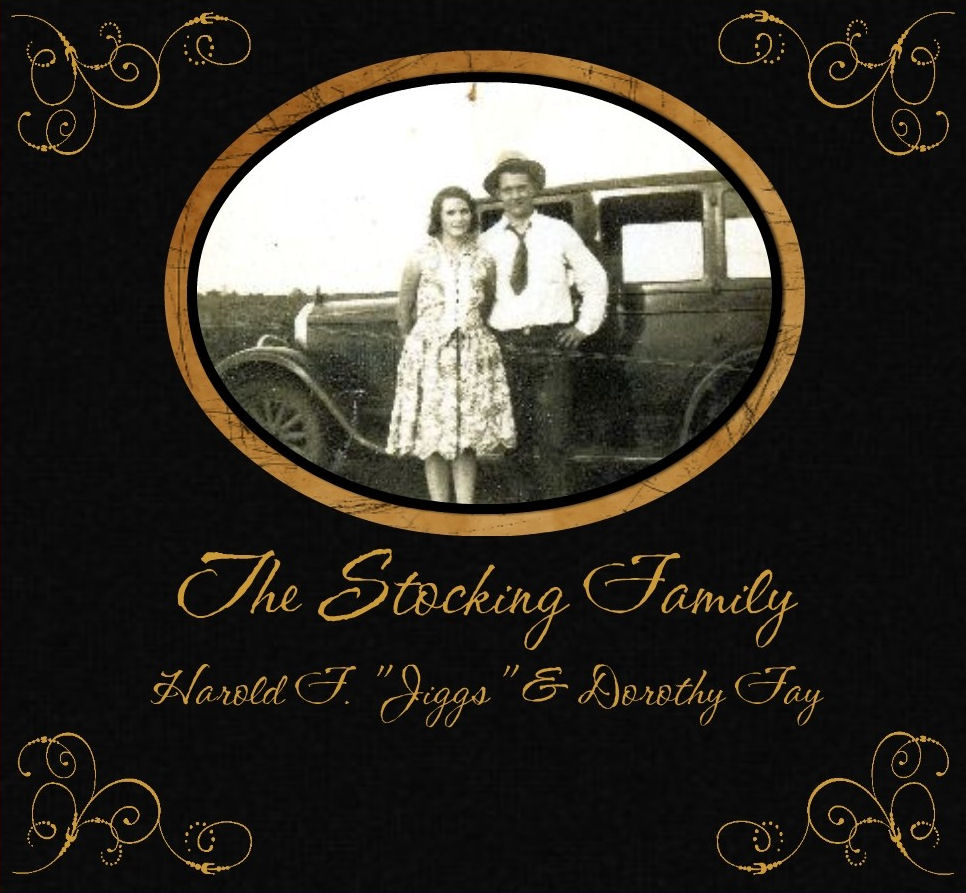 I just love putting digital copies of these treasured old photographs into an album so the whole family can enjoy them.

You Can Personalize the Album Cover…
I also like being able to personalize the covers of my Heritage Maker's scrapbook (affiliate link) to match the photographs inside the album!
I can't wait to show it to this mom!  I think she will really love it!   (It might make an awesome Mother's Day gift, but I don't think I can wait that long to show her!)
Scrapbooking Links:
Make Wanted Posters for Your Scrapbook
Scrapbooking Your Family History
Make Your Own Handwriting Font (no longer free)
The Journal That Began a Lifetime of Journaling
Grandpa – Tell Me 'Bout The Good Old Days…
Make Your Own Heritage Albums with Heritage Makers
by Sherry Stocking Kline
30 August 2010
I thought I would add this note quickly. I just got a notice from Heritage Makers that for the next couple of days, you can save on their beautiful brand-new post-bound scrapbook albums and the deep wrapped canvas prints!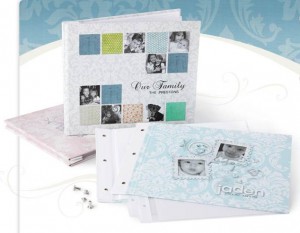 Awesome!
If you've ever wished you could customize your post-bound scrapbooks with your own photographs and designs on the front and back (exactly what I have been wanting to do) now you can!
From now till the end of August, you can pre-purchase and save on the post-bound scrapbooks from Heritage Makers, and also the wrapped canvases.
If you have questions, contact me for details at memories2books@gmail.com, or go to my website at TurnMemoriesIntoBooks.com.
Sherry Stocking Kline
28 Aug 2010
It's Saturday night, and due to sniffly little girl noses, our family plans to get together fell through.  With a couple of hours free, I decided to check on Randy Seaver's Geneamusing's Saturday Night Genealogy Fun Challenge! It was fun!
Your mission, should you decide to accept it (and I hope that you do… this one is really cool!) is to cue up the mission impossible music now, and go have some fun!
1) Go to the www.ImageChef.com website and explore their FREE offerings. Click on the "Create" button, or choose to make a slideshow or posters from their main page (there are more than one screen of poster backgrounds).

2) Make one or more posters or other creation – perhaps they relate to genealogy or your own family history. Save them to your computer (right click, Save as Picture for Windows users).

3) Show your creations to us… in your own blog post, on a Facebook post, etc. If you make a really neat one and want to show it to the world but don't have a way to do it, send it to me (rjseaver@cox.net) and I'll show it off for you in a blog post.
I've always wondered what my face would look like on a Wanted poster, so here goes!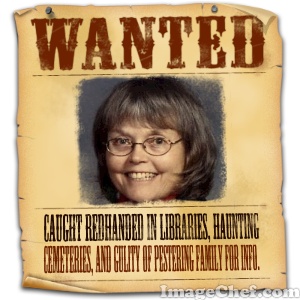 I guess I put too much text on it, 'cuz you can hardly read that it says:
"Caught red-handed in libraries, haunting cemeteries, and guilty of pestering family for info."
Next,  I did this one of my two youngsters, when they were just about two and a half, and 3 months:
Awe, it makes me wish I did have a big locket just like that with their photograph in it/on it.  I'm going to be keeping an eye out for something like that.
So then I used the sidewalk chalk template with a photograph of my oldest granddaughter kissing a baby lamb when she was just a wee little thing herself: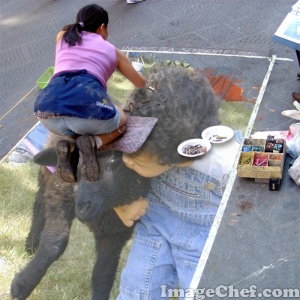 And my brother's flight in a vintage airplane lent itself well to the "Breaking News" template: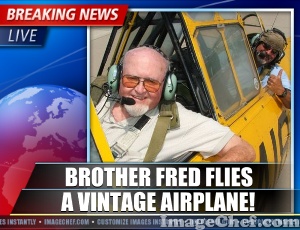 But I'm kind of partial to that Wanted Poster Image, so I did another Wanted poster that I think will look really cool on next year's Family Reunion invitations that I'm getting ready to send out!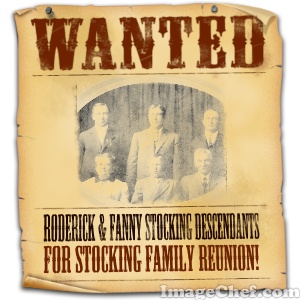 I'm still trying to decide whether to use this family photograph of them all, or just use one that has just Roderick and Fanny in it, but I'm beginning to lean towards using this one. (Wouldn't it just look cool on a t-shirt, too?)
I spent a little more time doing some fun and funny stuff with the granddaughter's photographs, and will probably pay the $10 to be able to size and re-size, and get rid of the watermark and use them in some fun scrapbook collages down the road!
Thanks, Randy!
Now, go have some fun and make your own wanted poster at http://www.imagechef.com!
by Sherry Stocking Kline
01 August 2010
Off and on for several years, I've tried to get started scrapbooking and journaling my photographs.  But it takes a lot of room to gather it all up, and spread it all out.
And I seem to be one of those people who have to change background papers and photographs over and over (and over) till I finally find the combination that I like.  Takes hours. (And usually two more trips to the scrapbook store!)
Then I found digital scrapbooking with a Twitter friend on-line.
So, instead of cutting up my photographs, and then wishing they were a different shape and size, or worse yet, wishing I had never cut them up at all,  now I can digitize photos, crop, re-size, and re-shape to my heart's content, leaving the originals alone.
I love it!
Below are some of the 12 x 12 scrapbook pages for my family history book that I've created.  First, is the page for my great-grandparents, Roderick Remine and Frances "Fanny" (Hitchcock) Stocking and their four sons.
My grandfather is standing on the far right, Elmer Leverett. He passed away before I was born, and I never got to meet him.  (I sooo wish that I had been able to get to know him.)
The photo below here is my great-grandmother, Maggie (Corson) McGinnis and her daughter and son-in-law, Maud and Elmer Stocking.
It looks to me like they are sitting on the east side of  Maud and Elmer's home near Mayfield, Kansas.  Maud and Elmer's home was on their farm on the NW 1/4 of 18-32-2W, where they had a quarter section of land. (160 acres).  Later, my parents bought this farm from Maud and Elmer and I grew up here as well.  The house burned down several years ago.
The photograph below is of my dad's parents and his siblings.  What a great photograph! (I wish I knew when it was taken!!)  I really like the burnt sienna colored paper below with it's hints of other shades, and I added just a few "starbursts" to it to 'gussy' it up a little.
My grandfather is seated on the left and my grandmother is seated on the right. My father, Harold Stocking, Sr., is standing on the back row, third from the left.
While researching and preserving history is very important to me, my scrapbooking is not all about preserving the past, it's also about preserving and enjoying the present, too, and being able to enjoy it again and again for the future.
Below is the cover from "Giggles", an 8 x 8 scrapbook that I created this summer for my two darling little granddaughters.  There are several of my favorite photos and fun times that we've had in the past few years, and the book is a favorite with the girls as well.  I also think it will help them remember all the fun times that we've had!
Below is a photo of the girls reading their very own Storybook Scrapbook!
Currently I am using a Family Photo Tree template at www.TurnMemoriesIntoBooks.com to create a 12 x 12 scrapbook page of our family tree. I am  also working on a Storybook for my mother, who is nearly 99 years old, so I'm working with some really neat old photographs, and preserving some fun stories!
by Sherry Stocking Kline
14 April 2010
I love this wonderful old photograph of the family, and am so glad that someone snapped a photo of their get-together.
And like many photographs, I wonder, was this just an ordinary family gathering?  A funeral?  Someone's wedding?
I may never know, but the question itself reminds me to make an extra note on the back of my photos or in my scrapbooks!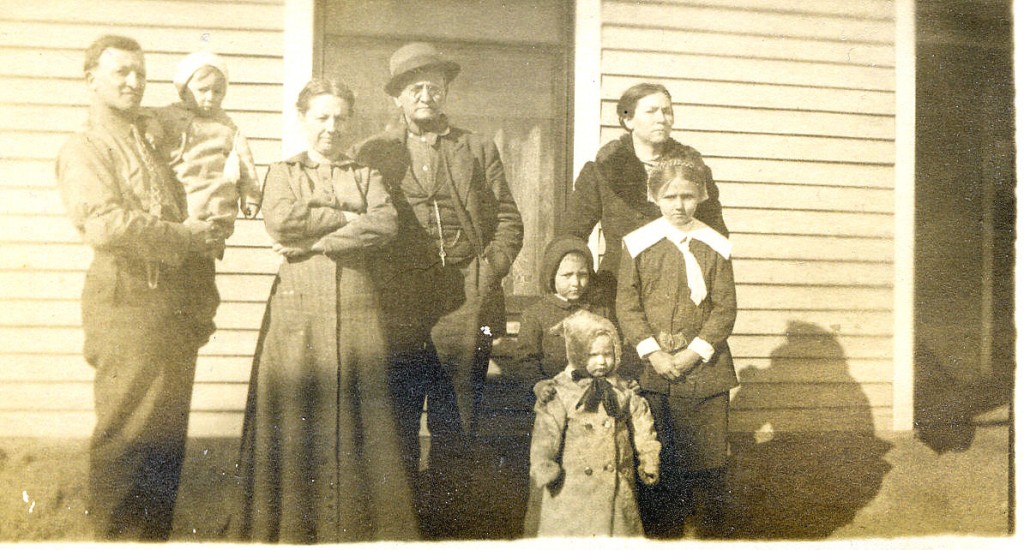 L – R: Ira, baby Paul, & Dee (Hoover) Breneman, Constantine Breneman, Carrie (Breneman) Jones & Children, Rose, Daryl, and toddler Dorothy.
Sherry Stocking Kline
December 17, 2009
Have you ever wanted to have your own hand writing (or printing) turned into a font?  Say for scrapbooking, letters to family, etc., but just hadn't parted with the money, yet?  (I sure have)
When the Legacy News e-mail newsletter came from the Legacy Family Tree Software folks a few days ago there was a link to a website that turns your handwriting into a font for free.
Woo hoo! Now I could type something up and have it look like I'd hand printed it.
Install your new font in under 30 minutes….
If you've always wanted your very own font, all you need is a computer, internet access, printer, and scanner, but given all that, you can pretty much have your new font installed in under 30 minutes.
So,  go read the Legacy Blog post here, where you can see more examples of fonts and read reviews.  And when you get to www.fontcapture.com, print out an extra form or two so you can practice lining up the letters within the graph  before uploading your own handwriting.  This is important.
Don't like what you get?
Don't like what you get?  Print out another form, and try again!   You can have a lot of fun with different and funky styles of printing!
That's my everyday hand printing below, and yes, it's that bad!
Have Fun!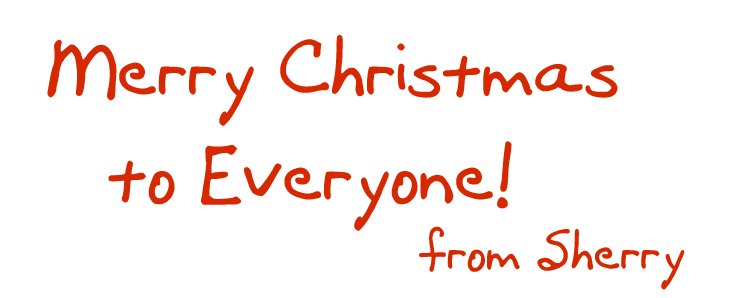 P.S. I had to re-boot my computer after I installed the font for it to work.
by Sherry Stocking Kline
published in the Wichita Eagle – August 2007
For Christmas of 1984, J. P. Buellesfeld 's great-great uncle gave him a black, leather-bound journal.
Buellesfeld was so impressed with the gift and the fact that his great-great uncle, head of the history department at Washburn University, had been keeping a journal for 45 years that a few months later he began keeping his own journal.
Every Single Day…
Twenty-four years later, he's still doing it. Every. Single. Day.
In fact, the journal has become so important to him that he keeps notes throughout the day in a notebook at his investment office, then takes the notebook home, and uses it to write in his journal.
For Buellesfeld, it is a matter of documenting the happenings in his life, his family's lives, and those of his close friends. As someone who has taught and is fascinated by history, it's also his way of documenting world happenings.
Writing in a journal can be fun, informative, and according to Buellesfeld, help settle future arguments.
Journaling Can Promote Good Health …
It can also promote good health. According to research conducted at Southern Methodist University writing in a journal for a few minutes each day about what has happened and how we feel about it can help promote emotional well-being, lower blood pressure and boost the immune system.
There's never been a better time to start your own journal. It's easy to find how-to-do-it books, and when you type "journaling" into Google there are 3 million plus "hits" to help you get started.
Every bookstore has a selection of journals, hard-backed, paper-backed, and beautiful leather-bound versions; some have themes, such as nature or inspirational, and many include questions and inspirational quotes to get you started.
To personalize your journal, Lori Ritchie, www.writersdigest.com, suggests that you add your favorite prayers or verses, the lyrics to your favorite songs, share your family history and family tree information, and record important events. Ritchie also suggested you add a table of contents to your journal and devote a page telling how it was acquired.
What Should You Journal About?
You can journal about everything you do or only one area of your life.
Going on a trip? Take along a traveler's journal.
Are you a New Grandma? (Or Grandpa?) Fill out a journal about your life and your hopes and dreams for the new grandbaby.
Want to grow in your faith? There are journals with daily Bible verses and questions to stimulate thought and spiritual growth.
Grieving a loss? A grief journal can help you through your journey of recovery.
Just Remember That it's Your Journal…
It can be anything that you want it to be, a place to document daily happenings, the story of your family's life, or a secret place to write down your emotions, share your goals and dreams, and unload your daily cares.
Journals don't have to be leather bound, and they don't have to be fancy, a simple spiral notebook or a word document on your computer or laptop will do.
Use whatever works for you, and whatever allows you the freedom to express yourself.
What Goes into Buellesfeld's Journal?
"Everything. I put everything in there," Buellesfeld said, adding that "Once you do it everyday for 24 years it becomes an obsession."
Buellesfeld said that his journal is absolutely more about his personal life than his business. While he hasn't decided what provision he will make for his journals after his death, he said that many make provisions to keep their journals private for a number of years.
"Every night, and I mean every night, no matter how tired I am, I write in that journal."