Archive for the 'Wordless Wednesday' Category
by Sherry Stocking Kline
19 October 2011

Shown below is a copy of a photograph that my cousin, Larry, shared with me from their family's collection.  It shows my great-aunt, Myrtle (Nyberg) Stocking (Larry's grandmother), with her mother, Mary, her father-in-law Roderick Remine Stocking, and her children, Wilmer, and the twins Max and Maxine.
 I can't begin to tell my cousin Larry how grateful I am that he shared these photographs with me, and allowed me to add numerous photos of our shared ancestry into my own family tree!
Roderick Porter and Myrtle Nyberg Wedding Photograph
Roderick Remine Stocking Photograph
by Sherry Stocking Kline
October 12, 2011
I have been blessed this year with so many who have shared family photographs with me, and this past spring, my cousin Larry brought me a huge box of photographs to scan!  I have yet to measure the box, but it is approxinately 1.5 feet by 3.5 feet, and chock full of family photos!
Needless to say, I spent hours scanning and am still trying to make time to organize the results!
The following photograph is my Great-Aunt Myrtle Nyberg Stocking and her husband, Roderick Porter, who was called Porter by his family and friends.  Porter and Myrtle were my cousin Larry's grandparents.
Porter and Myrtle were married on December 30, 1908, and Porter was killed on July 5th, 1924 when he was working on electrical lines.
by Sherry Stocking Kline
18 May 2011
My cousin Maxine and her son Larry loaned me a HUGE box of photographs.  It's so heavy that I can't lift it!  I've spent the past 2 – 3 weeks scanning off and on, and some time this week to re-organize and locate the ones that I have questions about. 
But just one of the treasures that they've loaned me is here below, a photograph of my great-grandfather, (and my cousin Larry's as well) Roderick Remine Stocking. 
I was between 2 and 3 when Great-Grandpa died, and I remember him as a very tall, white-haired gentleman.  My mother, his granddaughter-in-law, dearly loved and respected him.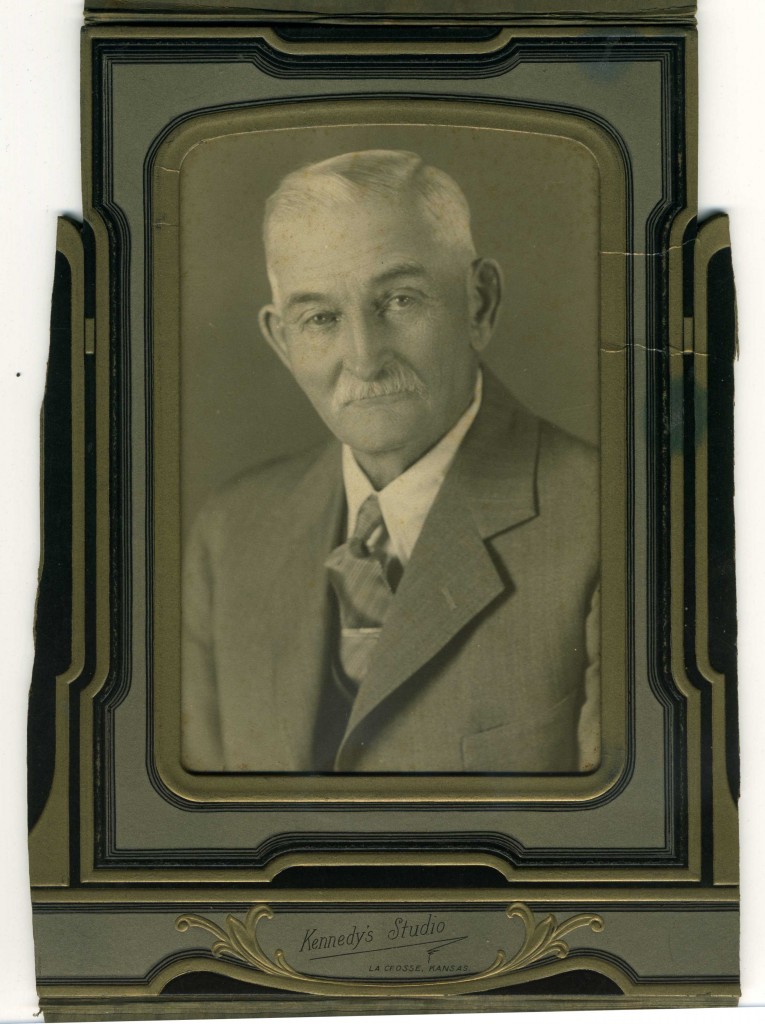 He and his wife, Frances Hitchcock Stocking homesteaded in Sumner County, Kansas, just west of Mayfield and the Chisholm Trail. 
 Their first home was 10 X 12 and they had to put the table out at night to put their bed down, and their oldest child, my Grandfather Elmer Leverett Stocking was born while they still lived in that home.
 I think he is a very handsome and distinguished looking gentleman.  And I sure wish I had had the opportunity to get to know him better.
And to ask him all the questions that I now have about family history!
Related Posts:
Where Were My Ancestors during the 1930 Census!
Carnival of Genealogy – the J. H. Stocking Bible
Carnival of Genealogy – Scrapbooking My Family History – One Page at a Time
How Many Descendants Does Roderick R. Stocking Have? 
Roderick & Frances Stocking's Tombstone – Osborne Cemetery, Mayfield, Sumner County, Kansas
Sherry Stocking Kline
October 20, 2010
I love this old photograph of my parents, my mom Dorothy Stocking on the left, & dad Harold Stocking on the right, with my mom's Aunt May (Breneman) Jones Willey, and Mom's parents, Carrie (Breneman) and Warner Jones sandwiched between them.
After attending the KCGS Conference with Maureen Taylor, I find myself looking for clues in my photographs.
First, the photograph had to be taken before November 1st, 1947, because Grandpa Jones passed away on that date.  (I could look up the car makes, models and years, too!)
Second, either they had been somewhere, or were getting ready to go, because Dad is wearing his 'good' overalls.  In other words, he and Grandpa had on new and clean overalls.  (As opposed to faded by the sun, 'everyday' overalls that Dad worked the fields and fed and milked the cows in!)
It wouldn't have been church or a funeral, because the men would have worn suits for that, so maybe they went to town shopping for the day, to visit someone in the hospital, or to visit family or friends in another town.
And it's in the colder months, as the women all have on heavy wool coats, and scarves to keep their ears warm, and maybe just to 'tie their hair down' to keep it from blowing in the Kansas wind.
And now I need to ask my mom, to see if she remembers the occasion that prompted the photograph sixty-plus years ago!
by Sherry Stocking Kline
7 May 2010
The Mayfield Blacksmith Shop…
This is a photograph of Otto Breneman and his father, Constantine Breneman, standing in front of Otto's blacksmith shop.  The blacksmith shop was located  in Mayfield, Kansas (about 10 miles west of Wellington, Kansas) till at least sometime in the 1930's when Otto passed away.
Otto's mother was Salinda Breneman, and he was married to Nancy Virginia Hoyt, daughter of Joseph and Wilhemina (Dewein) Hoyt, and they had a daughter, Bernice Breneman.
According to information in the book "Mayfield: Then & Now", Otto  served as mayor of Mayfield from 1927 to 1929.
Otto was my great uncle, and he passed away before I was born, (his Tombstone photo can be found here).  If the shop or the home was there when I was small I don't recall it.  I wish I had taken an "after" photograph so you could see what it looks like today, but there is a nice white ranch style home there, with a large grassy area in front of it.
This photograph comes from Otto's daughter, Bernice Breneman Thomas' collection of photographs, now in her son's, Orlan Thomas' collection, and can also be found on Page 71 of the "Mayfield: Then & Now" book.  Orlan and his wife recently came to visit and loaned me his genealogy and photograph collection to scan, and nearly 200 scans later, I have many more photographs that he is allowing me to share digitally with other family members.
Ask a Lot of Different Questions…
Looking at this photograph reminds me that until I began working with a friend on the book "Mayfield: Then & Now" and began asking questions of everyone, including my mom and other family members I had no idea that some of our Breneman family lived in the Mayfield area, let alone owned a blacksmith shop.
According to a cousin that I visited with recently, her father told her that Constantine served as a blacksmith in the Union Army when he was a soldier in the Civil War.  So, if there is a moral to this story, ask your older generation (as many as possible) and even your siblings and your cousins, a lot of different questions a lot of different ways…
Other Related Posts:
Tombstone Tuesday: Otto and Nancy Breneman
Constantine Breneman and His Buggy Horse Photograph of Ott's father, Constantine driving a buggy with his beautiful buggy horse.
Constantine Breneman's Buggy Horse – Photograph of Constantine's Buggy Horse
Salinda E. (Rose) Breneman – Photograph of Ott's mother,  Salinda, and her tombstone. Ott's parent's, Salinda and Constantine, divorced in later life.
Too Young to Die – Photo of  Ott Breneman and his siblings, and a photograph of Albert's tombstone. Albert was killed in a Motorcycle Accident.
Photograph of May Breneman Jones Willey – Sister of Ott Breneman.
by Sherry Stocking Kline
28 Apr 2010
A while back I posted photographs of my Great-Grandpa Constantine Breneman and his beautiful buggy horse.  Being a horse crazy girl growing up, oh how I wanted to know that horse's name.
It was evident that Great-grandpa was proud of her.
Yes, her!  This past weekend we had a small family gathering on the Breneman side complete with stacks of photographs, family trees, and research books.  We had a great time exchanging information and stories and then lo and behold my cousin had the above photograph with the caption, "Constantine Breneman and Dolly.   Isn't she a beauty?!
And as I write this, I think "Oh, dear, do you suppose Dolly is the dog underneath the horse??"
I hope not.  And surely, if the dog was the focus of the photograph, Great-Grandpa Breneman would have been shown seated with it instead!
Related Links:
Constantine Breneman & His Buggy Horse "Dolly"
Constantine Breneman's Horse "Dolly" Pulling a Buggy
Constantine Breneman & Family Members
Constantine Breneman's Son, Albert Breneman's tombstone & a photograph of Constantine's Children