Wellington Daily News
8 July 1921
Pg 1
R. STOCKING INJURED
Roderick Stocking of Mayfield, father of Ralph Stocking of this city, is suffering from an accident which might have proved very serious.  He and his son Porter are threshing at the Fred Stayton farm near Mayfield and their machine is run by an electric motor.
In some unaccountable manner Mr. Stocking took hold of a bunch of live wires with a current of 13,200 Volts.  Ralph says that the situation is similar to that described by one of the Chautauqua lecturers last summer when he said that a great deal of electricity has just the same effect as a small amount; that is the person will be stunned but not seriously injured.
Mr. Stocking was put to bed, and while he is still unable to be up today, it is thought that he will suffer no serious result.  A peculiar circumstance of the affair is that a tack in one of his shoes burnt a hole in his heel.
Quite some time ago, I picked up a box of photographs and other memorabilia at a yard sale, and I started posting a few of the photos and clippings here, hoping to connect with a family member, which did happen, but I never meant to let so much time go by before following up.  I am hoping to connect with that person again, and send her everything that I can.
Until then, here is a scan of Pauline Wimp's April 1936 diploma in Kiowa County, Colorado.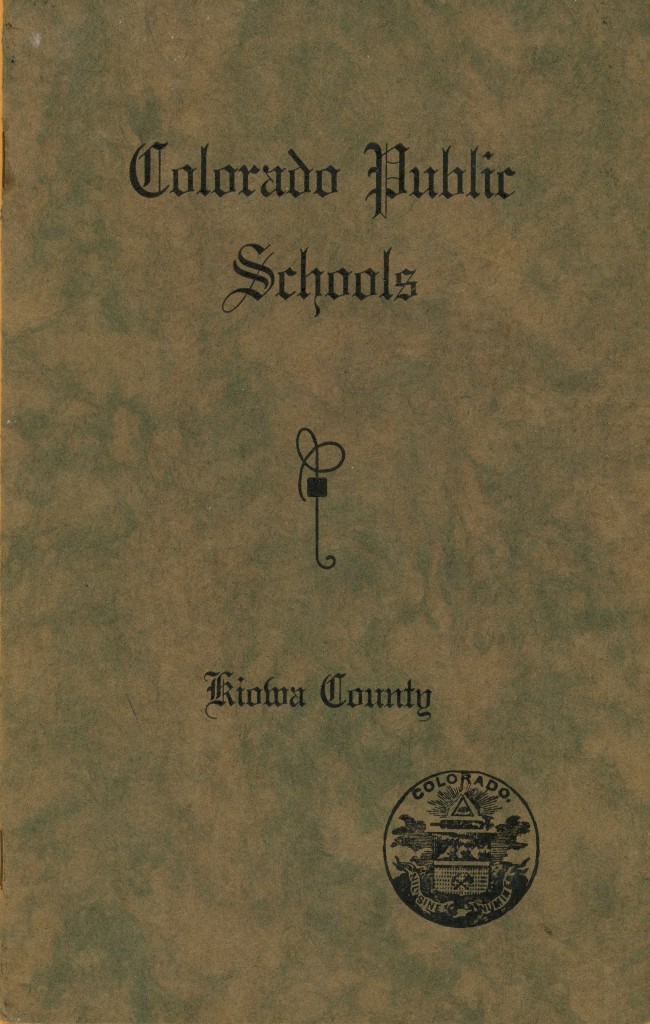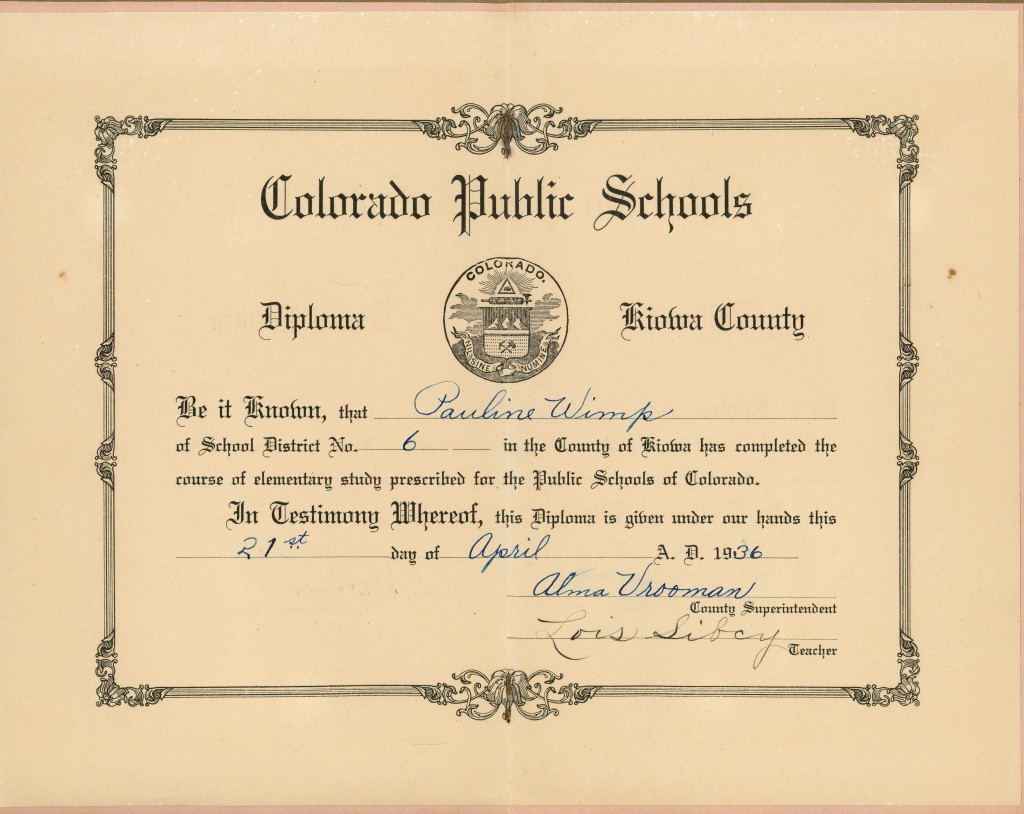 Colorado Public Schools
Diploma – Colorado – Kiowa County
Be it known, that Pauline Wimp
of School District No. 6 in the County of Kiowa has completed the
course of elementary study prescribed for he Public Schools of Colorado.
In Testimony Whereof, this Diploma is given under our hands this
21st day of April A. D. 1936
Alma Vrooman, County Superintendent
Lois Sibey – Teacher **


Here are more links sharing some of the Wimp family information that was included in my garage sale finds:
Death of Sergeant Robert Wimp
http://www.familytreewriter.com/2010/06/amanuensis-monday-death-of-sgt-robert-wimp/
Sergeant Robert Wimp information
www.familytreewriter.com/2010/12/amanuensis-monday-sgt-robert-wimp/
Ford-Newland Wedding Announcement
http://www.familytreewriter.com/2010/04/mystery-monday-ford-newland-wedding-announcement/
** The name here may be Lois Sibcy.
I re-did my membership with the Rutherford B Hayes library, www.rbhayes.org, recently, as I had found some interesting 'stuff' on their website, and I really like having access to the www.newspaperarchive.com site and also Heritage Quest, and that is included with the membership I have at that level.
Today, I was searching NewspaperArchive.com website for my uncle, Frank Stocking, and found a copy of my Aunt Peggy's from the Hutchinson News digitized on the NewspaperArchive.com website.  And it never would have occurred to me to look at the Hutchinson News microfilms!!  Eureka!  I wasn't doing genealogy when my lovely Aunt Peggy passed away, and so I had not saved it!
It was such a shock when Aunt Peggy died.  We knew she had a heart condition, but still, it was a shock.  My daughter had been born three weeks before, and we were all looking forward to visiting with Peggy's brother and his wife when they came to visit in a few weeks, but that wasn't to be.
I was still off work on maternity leave when we traveled to the funeral, and I took my 2 1/2 year old son and three-week-old daughter with Mom and I to her service.
Aunt Peggy was a 'hoot.'  She also had a beautiful smile, a heart of gold, and an infectious laugh!  She was always cracking jokes, and I miss her.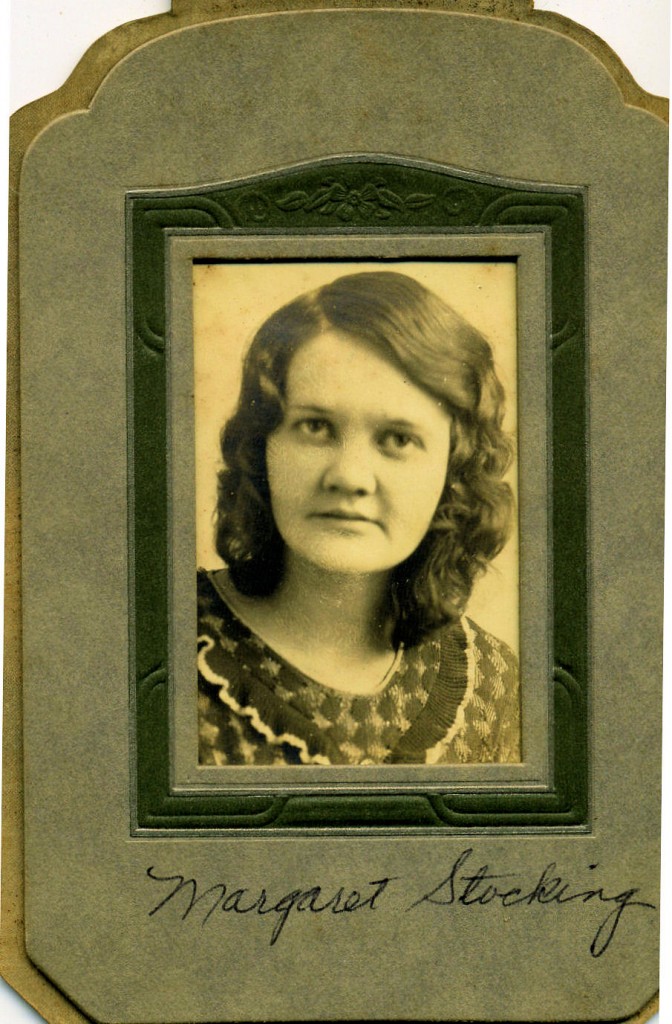 Margaret E. (Peggy) Glaze Obituary
Hutchinson News
July 28, 1977
Column 1; Page 6
MEADE – Margaret E. (Peggy) Glaze, 62, died Tuesday at Meade Hospital.  Born Margaret E. Stocking, May 23, 1915 at Mayfield, she was a retired postal employee and lived here since 1945.
She was a member of United Methodist Church, Rebekah Lodge, OES, all of Meade.
Survivors include brothers: Carl L. Stocking, San Jose, California, Frank A. Stocking, Castro Valley, California, Herbert L. Stocking, Downeyville, California; sisters: Mrs. Frances Hill, Arkansas City, Mrs. Mary E. Metcalf, Colorado Springs.
Funeral will be 10 a.m. Saturday at the church; Reverend Dale Ellenberg.  Graveside services will be 3:30 p.m. Saturday in Mayfield Cemetery.  Friends may call 11 a.m.  Thursday until 9 a.m. Saturday at Fidler-Orme Mortuary, Meade.
Here is Peggy's Find a Grave Memorial.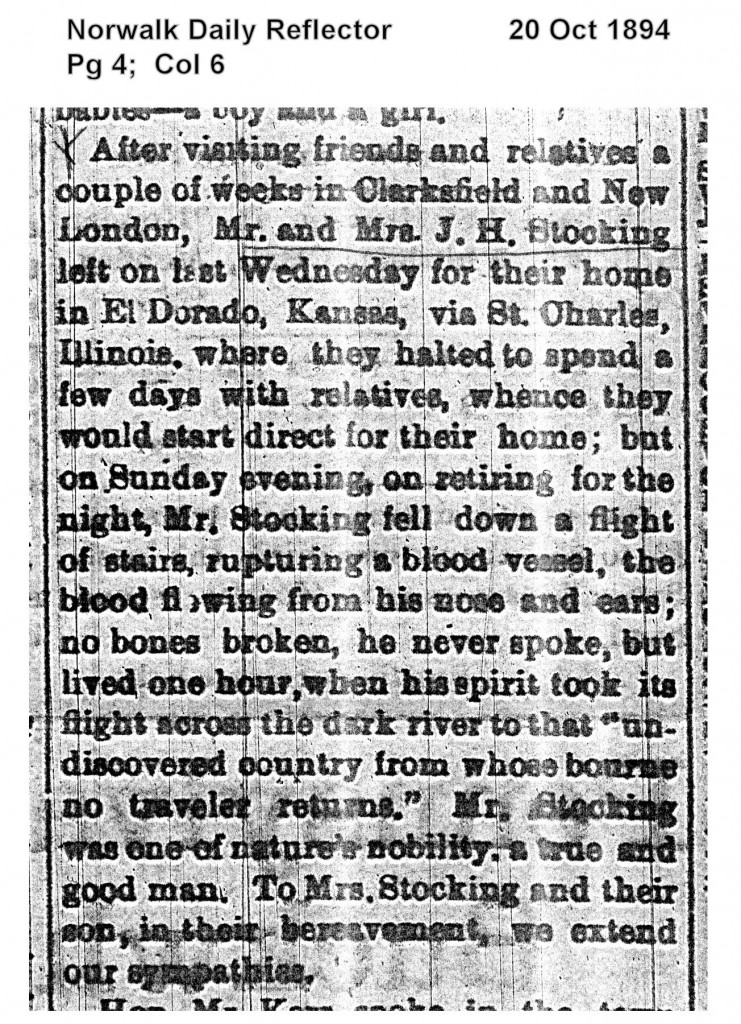 Norwalk Daily Register
Norwalk, Ohio
20 Oct 1894
Pg 4 Col 6
After visiting friends and relatives a couple of weeks in Clarksfield and New London, Mr. and Mrs. J. H. Stocking left on last Wednesday for their home in El Dorado, Kansas, via St. Charles, Illinois, where they halted to spend a few days with relatives, whence they would start direct for their home; but on Sunday evening, on retiring for the night, Mr. Stocking fell down a flight of stairs, rupturing a blood vessel, the blood flowing from his nose and ears; no bones broken, he never spoke, but lived one hour, when his spirit took its flight across the dark river to that "undiscovered country from whose bourne no traveler returns."  Mr. Stocking was one of nature's nobility, a true and good man.  To Mrs. Stocking and their son, in their bereavement, we extend our sympathies.
John Hurlburt Stocking's son, Roderick Remine Stocking, was my great-grandfather, and you can find a photograph of him here, as well as more information about him.
Roderick's mother, Betsey Jane Ames, died in Oct 1856 shortly after Roderick's little brother Bishop was born.  After Betsey's death, John Hurlburt married Caroline Gates in April 1860.
In 1894, my great-grandfather, Roderick was living on the farm that he homesteaded in Sumner County, Kansas with his wife, Frances "Fannie" Hitchcock.
More Links:
Roderick Remine Stocking Photograph 
http://www.familytreewriter.com/2011/05/wordless-wednesday-roderick-remine-stocking-photo/
The J. H. Stocking Bible
Carnival of Genealogy – the J. H. Stocking Bible
I love this photograph of my Grandma and Grandpa Jones.  Although this was taken before I was born (as my grandfather was in it) this is how I remember my grandmother looking.  Round-faced and smiling, and just a bit plump. Comfortable to snuggle up against. (Grandma's are supposed to be plump, right?  I hope so, because I'm working on being a good Gramma.)
I wish that my grandfather had lived long enough for me to meet (and remember him), but this Carnival of Genealogy post is about my Grandma Carrie Breneman Jones, who died when I was eight years old.
When I was just a little bitty girl, my mama told me that her mama was really unhappy that they had named me "Sherry".  She said that Sherry is also the name of an alcoholic beverage, and her mama just wasn't happy with her for giving me that name.
So I guess it's no wonder when I went to grade school and I really didn't know what my Grandma's last name was, that when the teacher began talking about Kansas' Carrie Nation going into bars with an axe to fight for temperance I kind of wondered for a short time if that was my Grandma Carrie that did that.  I don't know why I didn't run home and ask my mom about it, but I didn't, but I did figure out, after awhile, that my Grandma Carrie wasn't the infamous axe wielding Carrie in my history book.  (The above doesn't look like the picture of an axe-wielding Grandma, does it?)
My Grandma Carrie was a very crafty lady.  Her hands were always busy making something.  She loved to crochet, from the very tiny delicate flower shaped earrings to the beautiful heirloom bedspread that she made for my mother, and that my mother later gave to me.
She crocheted doll clothes for my dolls and when my new favorite plastic horse needed a rider and there were none to be bought in the correct size, she created one.  My Grandma Carrie created an Indian, excuse me, a Native American brave complete with tiny leather fringed breeches and shirt, and bendable legs so he could sit a horse.  I still have him, tucked away (somewhere) and when I find him, I'll try to add the picture here.
And as I write this, I just realized that she may have fashioned the brave after the Native Americans that came to their cabin in Nebraska asking for food when she was just a very small girl, and they lived on the Nebraska prairie where my Grandma herded cattle on horseback by herself on the prairie during the day.
When she was older, Grandma Carrie taught herself to paint and she loved the National Geographic magazine for its beautiful photographs that often inspired her painting.  She also painted a picture of my brother's 4-H Dairy Cow "Jenny," too, for him, and "Jenny" hung on our kitchen wall while I was growing up.
I wish my Grandma had lived long enough for me to get to know her as an adult, because I think I inherited many of my interests and talents from her.  Like my Grandma, I'm crafty, though I've not had much time to do it lately, and if I can see something, particularly a fabric something, I can often make a pattern for it or create it from one I find.  Also like my Grandma and my mom, I painted for several years till I learned I was sensitive to the oil and turpentine smells, and like my Grandma and my mother I love a good book!
And, I wish she had lived long enough to ask her all those many genealogy questions that I now wish I had the answers to!
Other Links:
 Wordless Wednesday: Stocking & Jones Family
http://www.familytreewriter.com/2010/10/wordless-wednesday-stocking-jones-family/
Wordless Wednesday: Constantine Breneman & Carrie Breneman Jones & family
http://www.familytreewriter.com/2010/04/wordless-wednesday-constantine-breneman-carrie-breneman-jones-families/
by Sherry Stocking Kline
18 May 2011
My cousin Maxine and her son Larry loaned me a HUGE box of photographs.  It's so heavy that I can't lift it!  I've spent the past 2 – 3 weeks scanning off and on, and some time this week to re-organize and locate the ones that I have questions about. 
But just one of the treasures that they've loaned me is here below, a photograph of my great-grandfather, (and my cousin Larry's as well) Roderick Remine Stocking. 
I was between 2 and 3 when Great-Grandpa died, and I remember him as a very tall, white-haired gentleman.  My mother, his granddaughter-in-law, dearly loved and respected him.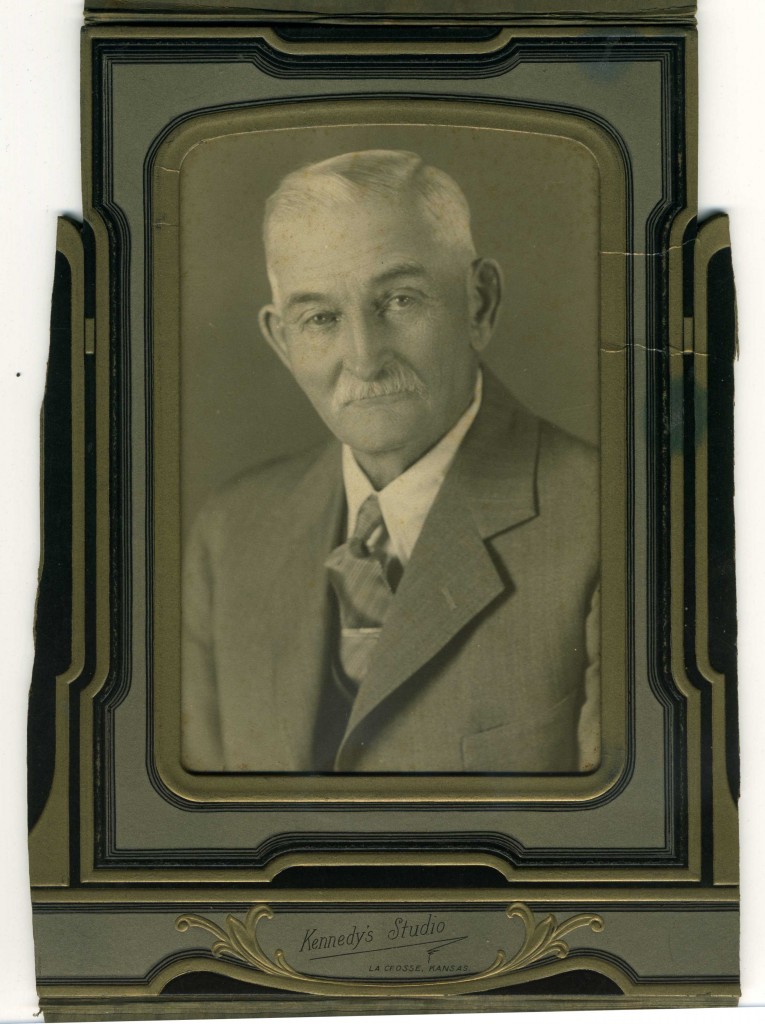 He and his wife, Frances Hitchcock Stocking homesteaded in Sumner County, Kansas, just west of Mayfield and the Chisholm Trail. 
 Their first home was 10 X 12 and they had to put the table out at night to put their bed down, and their oldest child, my Grandfather Elmer Leverett Stocking was born while they still lived in that home.
 I think he is a very handsome and distinguished looking gentleman.  And I sure wish I had had the opportunity to get to know him better.
And to ask him all the questions that I now have about family history!
Related Posts:
Where Were My Ancestors during the 1930 Census!
Carnival of Genealogy – the J. H. Stocking Bible
Carnival of Genealogy – Scrapbooking My Family History – One Page at a Time
How Many Descendants Does Roderick R. Stocking Have? 
Roderick & Frances Stocking's Tombstone – Osborne Cemetery, Mayfield, Sumner County, Kansas
by Sherry Kline
15 Mar 2011
A copy of the following letter was e-mailed to me by cousin Valerie, whose grandfather was Herbert Deffenbaugh, and I have to confess to not knowing a great deal about this, my husband's mother's family.
I very much appreciate Valerie sharing not only this letter, but also several family photographs with me so that I can send them to the branches of the family who would most cherish them! What an awesome, kind, genealogy-friendly thing to do!
Milan, Kansas
May 17, 1908
My Dear Brother,

I will write you a few lines today as it is rainy and not many coming in to bother me, I would of written sooner byt we have been very busy trying to get straightened up. Lou has been staying with us and has helped a great deal. We are just getting things now so we can live. The girls are so tired at night they can hardly sleep. I will be glad when they get things fixed up to suit them so they can rest a little. I wish you could have been out here and seen the way (they) did us when we got home of course Pa can tell you all about it but that isn't like as it you could see it your self.

I was very mutch disappointed that there wasn't more of you folks come I rather expected you to come if none of the rest did. You know you always seemed a little nearer to me than the rest of my brothers did any way and for that reason I was more disappointed than I would have been. We had a very quiet Wedding there was only about 35 there but they made up for it when we got home. The people certainly gave us a warm welcome and we appreciated it very mutch.

I don't remember whether I thanked Mr. and Mrs. Sandy for their Picture or not but I intended to and you tell them if I didn't that we thank them many times for it I think it just fine it looks as tho it had ought to talk it is so natural.

Well Hurbert I suppose you will come out to see us this summer won't you? We want you to be sure and come and bring Ma with you I don't expect she would like to come by her self but there is no use of that you can come and bring her with you.

We were so glad to have Pa come out to the Wedding and I think it did him good to get away from home a little while to. It was so good of Harvey to let Pa have the money to come out here on. I am so glad Harvey is good to the folks and hope he always is.

I tell you we can never do to mutch for our folks the more we do to please them the better we will feel when they are taken from us we know they have worked hard to raise us and it has cost them lots of money and that isn't all it has cost them lots of worry and hard work so we had ought to do all we can to make life a pleasure to them now when they are old and lifes pleasures are most over for them.

About all the satisfaction they get now it to see us children do what is right and get along well. I do hope that none of us ever do anything to disgrace them in their old age. Pa seemed to be so well pleased the way you boys all do. He thinks you and Harvey are sutch good boys and how nice it is that you are it is sutch a pleasure to him to feel that you boys are thought so mutch of and to know that you are always ready to do what is right by everyone.

Now Hurbert I hope you won't think I am saying to mutch but it does me so mutch good to know you are so good to the folks I can't help but tell you about it.

My wheat is looking some better than it was when Pa was out here we have got lots of good rain and that has helped the wheat wonderful we will have to start the binder about the 10th of next month. I will be glad when that time comes then I can tell about how my wheat is going to turn out.

Well I will close for this time as it is just about dinner time come and see us as soon as you can and give my best regards to all of my friends.

Good bye write soon.
Your loving Brother and sister,
T.A. and Lynne Deffenbaugh
Deffenbaugh Link:
by Sherry Stocking Kline
19 May 2010
Some time back I posted a Tombstone Tuesday photograph of Cora Pauline Walter's tombstone.
Always curious, I did a little preliminary research at the Sumner County History and Genealogy Center, and when I didn't find something easily, stopped, because she isn't family.
But recently I was at the Osborne Cemetery, near Mayfield, Kansas in Sumner County, and another Walter's tombstone caught my eye and my imagination.  I wonder if they are related?  Married?  Siblings?
On the Stone:

Donovan L. Walters, Sr.
Oklahoma
S Sgt Army Air Forces
World War II
March 16, 1910   (cross)    Sept 24, 1972
This tombstone is located just a few feet from Cora Pauline's stone.  There is just one stone in between the two, which leads me to believe that research will show that there is some relationship between the two.
by Sherry Stocking Kline – 17 May 2010
It's another Genealogy Happy Dance Monday!  While visiting the nearby town of Kingman, Kansas while my son had some dental work done, I kept busy stopping at several stores to distribute ad fliers for the upcoming Kansas Council of Genealogical Societies Meeting on June 19th, featuring the Photo Detective, Maureen Taylor. (See program info here.)
When I stopped at the Kingman Carnegie Library, the librarian agreed to post our KCGS flyer, and showed me the Kingman County History book where I located some information submitted by my mom's cousin, Victor A. Breneman.  The book was a great source, and I learned some information that I didn't already know.
I already knew the who-begat-who info, but I still find myself guilty of not asking enough questions, and thereby missing a lot of information.  I need to turn over a new leaf!
The following is transcribed from the Kingman County History book,  "Kingman County, Kansas and its People".

Victor A. Breneman Family – submitted by Victor A. Breneman

The Breneman family came to Kingman in 1917.  The family name is Swiss in origin and the first members arrived in this country in 1709.  They were part of a group which later became known as the "Pennsylvania Dutch."  They settled in Conestoga and Lancaster Counties.  The family came west by way of Ohio, Iowa, Nebraska, and later to Wellington, Kansas.

The local family consisted of Ira J. Breneman, Adelia (Allen) Breneman, his wife, two sons, Paul A. and Victor A. Breneman.  Mrs. Adelia Breneman was of Scottish-English extraction.  Her maiden name was Allen and the family settled in New England prior to the Revolutionary War.  They were related to the family of Ethan Allen, the famous general in the War for Independence.

Ira J. Breneman was born in Muscatine County, Iowa, May 18, 1874.  He died January 11, 1963, and is buried in the Belle Plaine Cemetery.  During most of his working life he was a railroader.  He was a locomotive fireman, a maintenance employee, and in railroad bridge construction.

Mrs. Adelia (Allen) Breneman was born June 20, 1885, and died September 14, 1938.  She was a Registered Nurse and spent most of her working life at this profession and in raising her sons.

Paul Breneman was born in Conway Springs, Kansas, July 9, 1907.  He grew up in Kingman.  He was married to Laurilla White. Paul served on the police force in Kingman for several years and later became Chief of Police.  He later was employed by the Boeing Company as a member of its security force.  He is retired and now lives in Derby, Kansas.

Victor Breneman was born in Conway Springs, Kansas, September 16, 1911.  He grew up in Kingman, attended the Kingman Schools, The Infantry School at Fort Benning, Ga, The Command and General Staff School at Fort Leavenworth, Kansas.  He was married to Rachael A. Hoover, March 19, 1933.

Victor served many years in the Army National Guard, the Army Reserve, and on active duty with the Army during World War II.  He served in the 137th Infantry, 35th division during the entire war.  He took part in the Invasion of Normandy, the Battle of the Bulge, and three other campaigns.  He retired from the military as a Colonel.

His military awards included the Purple Heart for wounds received as a result of enemy action.  After his military service he entered the Postal Service, later becoming Postmaster.  He served a number of years in this capacity.
Transcriber's Note: Victor and Rachel Breneman are now deceased, and like a very bad genealogist, I realized that I don't think I have their dates of death in my family tree program, even though we attended their funerals.  Vic and Rachel are buried in the Kingman Cemetery, Kingman County, Kansas.  Both Paul and Laurilla Breneman and Victor and Rachel Breneman have children and grandchildren who are living, and I've taken their names out of this public transcription.