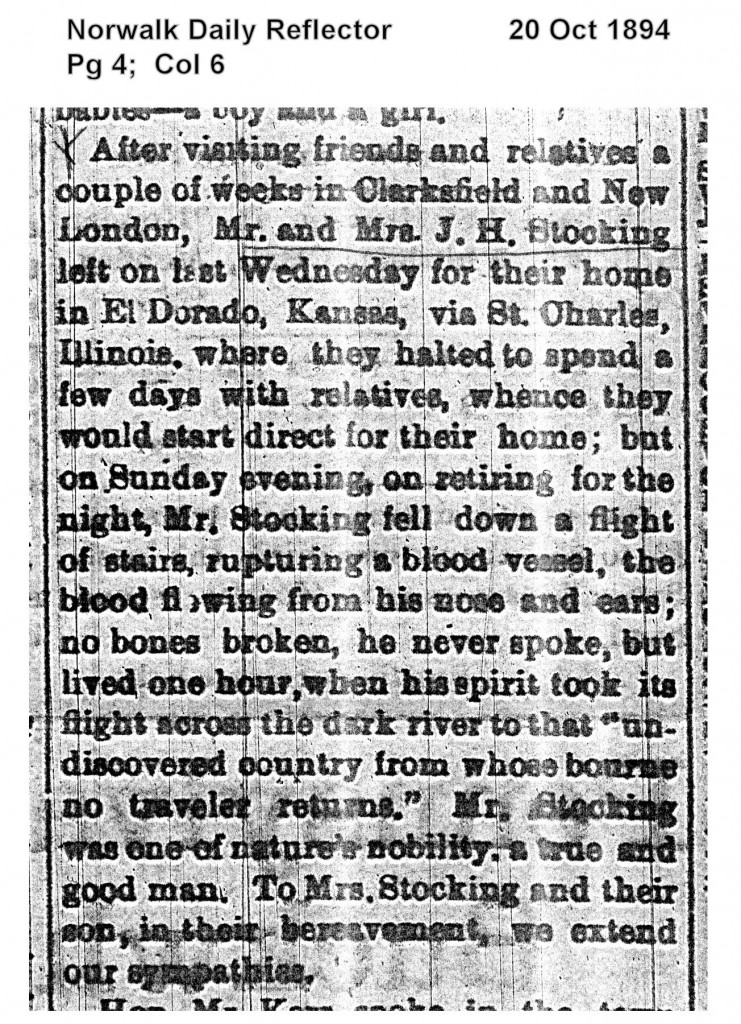 Norwalk Daily Register
Norwalk, Ohio
20 Oct 1894
Pg 4 Col 6
After visiting friends and relatives a couple of weeks in Clarksfield and New London, Mr. and Mrs. J. H. Stocking left on last Wednesday for their home in El Dorado, Kansas, via St. Charles, Illinois, where they halted to spend a few days with relatives, whence they would start direct for their home; but on Sunday evening, on retiring for the night, Mr. Stocking fell down a flight of stairs, rupturing a blood vessel, the blood flowing from his nose and ears; no bones broken, he never spoke, but lived one hour, when his spirit took its flight across the dark river to that "undiscovered country from whose bourne no traveler returns."  Mr. Stocking was one of nature's nobility, a true and good man.  To Mrs. Stocking and their son, in their bereavement, we extend our sympathies.
John Hurlburt Stocking's son, Roderick Remine Stocking, was my great-grandfather, and you can find a photograph of him here, as well as more information about him.
Roderick's mother, Betsey Jane Ames, died in Oct 1856 shortly after Roderick's little brother Bishop was born.  After Betsey's death, John Hurlburt married Caroline Gates in April 1860.
In 1894, my great-grandfather, Roderick was living on the farm that he homesteaded in Sumner County, Kansas with his wife, Frances "Fannie" Hitchcock.
More Links:
Roderick Remine Stocking Photograph 
http://www.familytreewriter.com/2011/05/wordless-wednesday-roderick-remine-stocking-photo/
The J. H. Stocking Bible
Carnival of Genealogy – the J. H. Stocking Bible
by Sherry Stocking Kline
Written for the Wichita Eagle's Active Life Magazine – February 2009
Want Your Family Tree Researched?  Get Famous!
Probably no one knows better by now than Barack Obama and his family that if you want to have your family tree researched for you, just become famous and run for office.
There is a fascination with knowing more about famous people, especially our presidents, and even those who didn't vote for Obama want to know more about him and his family.
There are websites, blogs, and numerous articles devoted to discovering, talking about and arguing about Obama's family history, even going so far as trying to determine what ethnic percentage he has of Caucasian, African, and Arab in his ancestry.
Marsha Stenholm, retired genealogy librarian at the Wichita, Kansas Public Library, said there is a great deal of interest in Obama's Kansas roots from journalists, television anchors, and individuals.
Are You Related to Barack Obama?
Are you related to Obama?  You may be.
Obama's family has ties to several cities and counties in Kansas, including Wichita in Sedgwick County, Argonia in Sumner County, El Dorado and Augusta in Butler County, as well as Chautauqua, Howard, Labette, and Johnson Counties.
"Obama has ties to El Dorado and Wichita," Stenholm said, "and if you go back another generation, his great-grandparents and great-great grandparents have ties to Wichita and Argonia in Sumner County as well."
According to Stenholm, Obama's mother, Stanley Ann Dunham, (who was named for her father), was born in Wichita, possibly in St. Francis Hospital, in 1942. Her father, Stanley Armour Dunham, was born in Kansas in 1918 to Ralph Dunham and Ruth Lucille Armour. Her mother, Madelyn Lee Payne, was born in Wichita in 1922 to parent's Rolla Charles Payne, who was born in Olathe, Kansas and Leona McCurry, born circa 1897 in Kansas. According to Federal Census resources, Stanley Armour Dunham worked in the furniture business.
Obama's Great-Grandfather Born in Argonia, Kansas
"Obama's great-grandfather, Ralph Waldo Emerson Dunham was born in Argonia, Kansas," Stenholm said, to parents' Jacob William and Mary Ann (Kearney) Dunham, and are on the 1900 Federal Census in Dixon Township Stenholm said the census records are available online at www.ancestry.com or at the Wichita Public Library.
By 1909, Stenholm said that Wichita City Directories indicate the family was living in Wichita. They also showed up in the 1910, 1920, and 1930 Federal census, where Jacob was listed in 1910 as a manufacturer of drugs in a drug store, in 1920 he was listed as a pharmacist in a drug store, and in 1930, he was listed as a physician in a medical business.
In 1915, Ralph married Ruth Lucille Armour, whose parents were Harry Ellington Armour and Gabriella Clark, who appeared in the 1910 and 1920 Federal Census of Wichita, Sedgwick County, Kansas, and in the 1930 Federal Census are listed as living in El Dorado, Butler County, Kansas.
Obama's Grandma Toot born in Kansas…
Two different sources have Madelyn Lee Payne, Obama's grandmother "Toot" born either in 1922 in Wichita, Kansas, or in Peru, in Chautauqua County, Kansas, to father Rolla Charles Payne, who was born in Johnson County, Kansas and Leona McCurry Payne, born circa 1897 in Kansas. The 1930 Federal Census lists seven-year-old Madelyn living with her parents in Augusta, and her father's occupation is listed as a bookkeeper for an oil company.
Are you related to Obama?  Whether you are or not, you may find researching Obama's family ties at http://genealogy.about.com/od/aframertrees/p/barack_obama.htm fascinating. And if your name is Dunham, Payne, Armour, Stroup, Kearney, Holloway, Clark, Overall, McCurry, Wright, Black, Wolfley, Abbott, Creekmore, Wright, or Allred, you might just want to take a quick look into your family history and see if you, too, have ancestral ties to our new President.
Sidebar
Wichita Public Library
223 S. Main
Wichita, KS 67202
(316) 261-8500
"Complete Idiot's Guide to Genealogy" by Christine Rose and Kay Germain Ingalls
"Unpuzzling Your Past: The Best Selling Basic Guide to Genealogy" by Croom
"Tracking Your African-American Family History" – David T. Thackery