Archive for the 'STATES' Category
David Hurlbut
David Hurlbut (Ref #20) (his father – John, his grandfather – Thomas (Ref # 1)) was born in Middletown, Ct, 11 August 1688.
He was a Blacksmith…
He also was a blacksmith, having learned the trade of his father, and the first one, it is said, of that occupation at Upper Houses (now town of Cromwell) where he first settled.
There was laid out to him in the North Society, 15 March, 1712, four acres of land. In 1727, with Samuel Tracy, he rented a grist-mill for eight years. In 1730 he sells Daniel Hurlbut in South Lots, Middletown.  In 1734 he sold his house and lands in Upper Houses, for L 210, and moved to Chatham, Middle Haddam Soc'y.  He owned considerable land in the Long Lots near the above named village, portions of which he deeded to his children as they married and settled.
He m. (1) 22 Sept. 1709, Mary Savage, (b. 11 Feb 1691) dau. of John, Jr. and Mary Savage of Upper Houses.
David and wife Mary – Members of the Second Middletown Church…
The names of David Hurlbut and Mary his wife, appears second on the first list of church members on the formation of the "2d church in Middletown," (Upper Houses) 1715. April 28, 1740, Mrs. Mary Hurlbut, wife of David, was recommended to the church in Middle Haddam.
In 1744, he removed to Groton opposite New London, Ct., and purchased property there in 1746; he returned however to Middle Haddam after 1760.
The date of the death of his wife Mary is not learned, but he m. (2) in Middle Haddam, Mercy ____________. He died 29 Oct 1773, on the farm, as I am told, which he deeded in 1761 to his son Gideon, and where (in 1861) resides Jesse Hurlbut, son of Gideon, in what is now Portland, Ct. His will was proven 26 Nov 1773.
Their Children…
(1st m.)
83. Mary, b. in Middletown, Upper Houses, 15 Dec 1709. + App.
84. Mercy, b. in Middletown, 22 Feb. 1713, d. aged about 15 years
85. Abigail, b. in Middletown, 2 June, 1714. + App.
86. David Jr. b. in Middletown, 1 Nov. 1716. +
(p.28)
87. William, b. in Middletown, 28 Nov. 1718. +
88. Honor, b. in Middletown, 25 April 1721. + App
89. Gideon, b. in Middletown, 11 Jan. 1723. d. 16 Jan. 1724
90. Stephen, b. in Middletown, prob 1725. +
91. Thankful, b. in Middletown, 26 April 1727. + App
92. Gideon (2d) b. in Middletown, 9 June 1729. +
93. Mercy (2d) b. in Middletown, 1 April 1731. (m. John Arnold of Haddam, Ct.)
David's grandfather – Thomas Hurlbut
"The Hurlbut Genealogy: Record of the Descendants of Thomas Hurlbut
by Henry H. Hurlbut, Joel, Munsell's Sons, Publishers, 1888, p. 27 & p. 28
Mrs.Fannie I. Breneman Obituary
Oakland Tribune
22 April 1947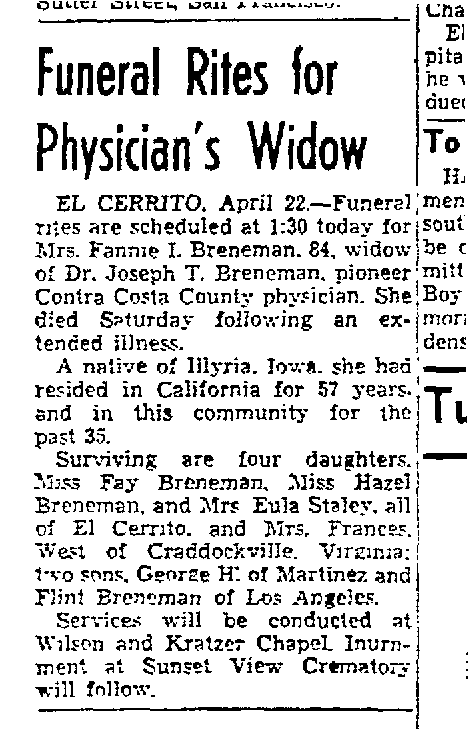 Fannie Breneman Obituary Transcription
Funeral Rites for Physician's Widow

El Cerrito, April 22 – Funeral rtes are scheduled at 1:30 today for Mrs. Fannie I. Breneman, 84, widow of Dr. Joseph T. Breneman, pioneer Contra Costa County physician. She died Saturday following an extended illness.

A native of Illyria, Iowa, she had resided in Califonia for 57 years, and in this community for the past 35.

Surviving are four daughters, Miss Fay Breneman, Miss Hazel Breneman, and Mrs. Eula Staley, all of El Cerrito, and Mrs. Frances West of Craddockville, Virginia, two sons, George H. of Martinez and Flint Breneman of Los Angeles.

Services will be conducted at Wilson and Kratzer Chapel. Inurnment at Sunset View Crematory will follow.
I love it when I can add another piece to the family genealogy puzzle, and finding this obituary was the work of a snowy winter day when I had a flu bug, so finding an obituary that had been evading me made the day a lot better.
Now, if I could just find her husband's obituary, that would be awesome!