Archive for the 'Amanuensis Monday' Category
David Hurlbut
David Hurlbut (Ref #20) (his father – John, his grandfather – Thomas (Ref # 1)) was born in Middletown, Ct, 11 August 1688.
He was a Blacksmith…
He also was a blacksmith, having learned the trade of his father, and the first one, it is said, of that occupation at Upper Houses (now town of Cromwell) where he first settled.
There was laid out to him in the North Society, 15 March, 1712, four acres of land. In 1727, with Samuel Tracy, he rented a grist-mill for eight years. In 1730 he sells Daniel Hurlbut in South Lots, Middletown.  In 1734 he sold his house and lands in Upper Houses, for L 210, and moved to Chatham, Middle Haddam Soc'y.  He owned considerable land in the Long Lots near the above named village, portions of which he deeded to his children as they married and settled.
He m. (1) 22 Sept. 1709, Mary Savage, (b. 11 Feb 1691) dau. of John, Jr. and Mary Savage of Upper Houses.
David and wife Mary – Members of the Second Middletown Church…
The names of David Hurlbut and Mary his wife, appears second on the first list of church members on the formation of the "2d church in Middletown," (Upper Houses) 1715. April 28, 1740, Mrs. Mary Hurlbut, wife of David, was recommended to the church in Middle Haddam.
In 1744, he removed to Groton opposite New London, Ct., and purchased property there in 1746; he returned however to Middle Haddam after 1760.
The date of the death of his wife Mary is not learned, but he m. (2) in Middle Haddam, Mercy ____________. He died 29 Oct 1773, on the farm, as I am told, which he deeded in 1761 to his son Gideon, and where (in 1861) resides Jesse Hurlbut, son of Gideon, in what is now Portland, Ct. His will was proven 26 Nov 1773.
Their Children…
(1st m.)
83. Mary, b. in Middletown, Upper Houses, 15 Dec 1709. + App.
84. Mercy, b. in Middletown, 22 Feb. 1713, d. aged about 15 years
85. Abigail, b. in Middletown, 2 June, 1714. + App.
86. David Jr. b. in Middletown, 1 Nov. 1716. +
(p.28)
87. William, b. in Middletown, 28 Nov. 1718. +
88. Honor, b. in Middletown, 25 April 1721. + App
89. Gideon, b. in Middletown, 11 Jan. 1723. d. 16 Jan. 1724
90. Stephen, b. in Middletown, prob 1725. +
91. Thankful, b. in Middletown, 26 April 1727. + App
92. Gideon (2d) b. in Middletown, 9 June 1729. +
93. Mercy (2d) b. in Middletown, 1 April 1731. (m. John Arnold of Haddam, Ct.)
David's grandfather – Thomas Hurlbut
"The Hurlbut Genealogy: Record of the Descendants of Thomas Hurlbut
by Henry H. Hurlbut, Joel, Munsell's Sons, Publishers, 1888, p. 27 & p. 28
When you're hunting for information about your family, and especially if you are trying to find glimpses into their lives and create a word picture for your family, you want to look every place you can think of, so checking old atlases can add more information to your family tree.
The 1883 Historical Atlas of Sumner County, Kansas shared information about my Great-grandfather, Roderick Remine Stocking.
Some of it was information that I might not have found otherwise.
According to this Atlas (and not all have this information), my great-grandparents came from Michigan, and settled on their farm in 1878 where they farmed and raised livestock.
They lived near Mayfield, Kansas, in the NE 1/4 Section 13-32-3W.  From other sources, I know that they homesteaded that quarter section and raised their family there.
Their son, Roderick Porter, raised their family there until he was killed in a farm accident, and then the family moved to the small town of Mayfield.
See excerpts from the atlas below:
Historical Atlas of Sumner County, Kansas,
Compiled – Drawn – Published from Personal Examinations and Surveys;
John P Edwards,
No 31 South 6th Street, Philadelphia, and Quincy, Illinois, 1883,
Engraved by A. H. Mueller, 530 Locust St., Philadelphia, PA, Printed by F. Bourquin,
31 S. 6th St.,
Philadelphia, PA
List of Patrons – p. 14
Name: Stocking, R. R.
Post Office: Mayfield, KS
Section: 13-32-3W
Business: Farmer and Stock Raiser
Nativity: Michigan
Settlement in County: 1878
p. 67
R. R. Stocking
Township 32 South Range 3 West
NE 1/4 13-32-3W
R. R.Stocking
Oh, and don't forget to add this information into your family tree program (if you use one) and be sure and cite your sources so you know where you found it!
Elizabeth Shown Mills has written the definitive source for citing your resources, and the following links to her book and "Cheat Sheet" can help you cite your sources correctly :
"Evidence Explained: History Sources from Artifacts to Cyberspace 3rd Edition Revised"  by Elizabeth Shown Mills
"QuickSheet: Citing Ancestry Databases & Images Evidence Style 2nd Edition" by Elizabeth Shown Mills
Disclosure: Some of the links included in this blog post may be affiliate links. This means that I receive a small commission for recommending this product.
This does not increase the price that you pay, and it helps support this genealogy blog.
I do not promote products that I do not use or do not believe in. However, it is always best to do your own research on products to make certain that they are a good fit for you and your family.
Wellington Daily News
8 July 1921
Pg 1
R. STOCKING INJURED
Roderick Stocking of Mayfield, father of Ralph Stocking of this city, is suffering from an accident which might have proved very serious.  He and his son Porter are threshing at the Fred Stayton farm near Mayfield and their machine is run by an electric motor.
In some unaccountable manner Mr. Stocking took hold of a bunch of live wires with a current of 13,200 Volts.  Ralph says that the situation is similar to that described by one of the Chautauqua lecturers last summer when he said that a great deal of electricity has just the same effect as a small amount; that is the person will be stunned but not seriously injured.
Mr. Stocking was put to bed, and while he is still unable to be up today, it is thought that he will suffer no serious result.  A peculiar circumstance of the affair is that a tack in one of his shoes burnt a hole in his heel.
Quite some time ago, I picked up a box of photographs and other memorabilia at a yard sale, and I started posting a few of the photos and clippings here, hoping to connect with a family member, which did happen, but I never meant to let so much time go by before following up.  I am hoping to connect with that person again, and send her everything that I can.
Until then, here is a scan of Pauline Wimp's April 1936 diploma in Kiowa County, Colorado.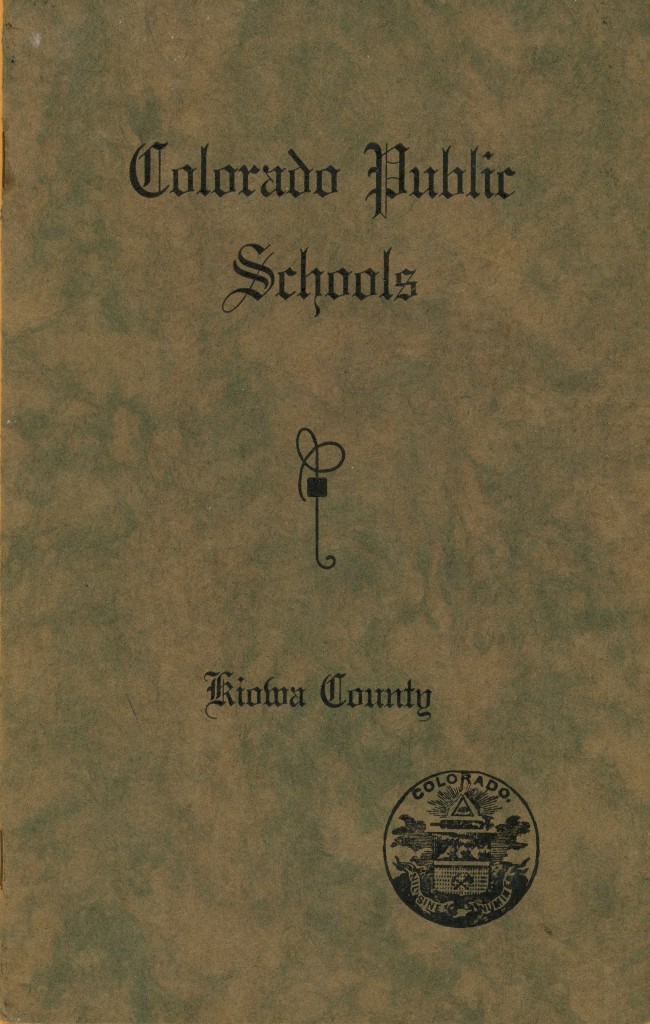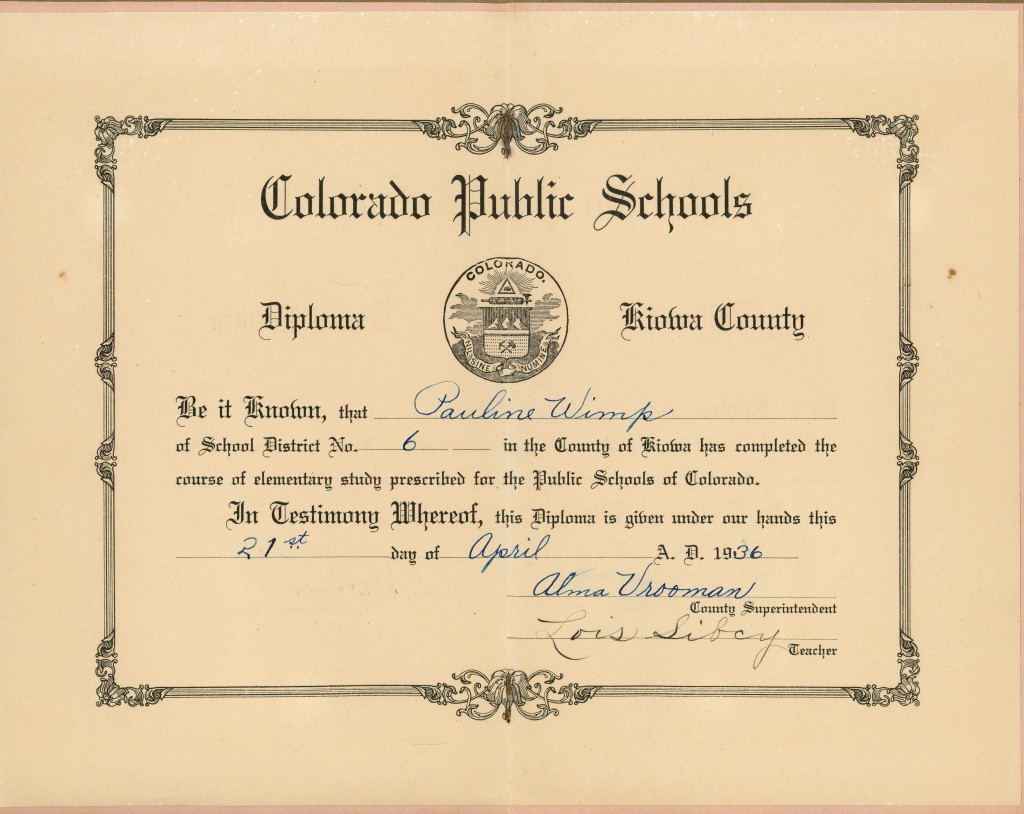 Colorado Public Schools
Diploma – Colorado – Kiowa County
Be it known, that Pauline Wimp
of School District No. 6 in the County of Kiowa has completed the
course of elementary study prescribed for he Public Schools of Colorado.
In Testimony Whereof, this Diploma is given under our hands this
21st day of April A. D. 1936
Alma Vrooman, County Superintendent
Lois Sibey – Teacher **


Here are more links sharing some of the Wimp family information that was included in my garage sale finds:
Death of Sergeant Robert Wimp
http://www.familytreewriter.com/2010/06/amanuensis-monday-death-of-sgt-robert-wimp/
Sergeant Robert Wimp information
www.familytreewriter.com/2010/12/amanuensis-monday-sgt-robert-wimp/
Ford-Newland Wedding Announcement
http://www.familytreewriter.com/2010/04/mystery-monday-ford-newland-wedding-announcement/
** The name here may be Lois Sibcy.
I re-did my membership with the Rutherford B Hayes library, www.rbhayes.org, recently, as I had found some interesting 'stuff' on their website, and I really like having access to the www.newspaperarchive.com site and also Heritage Quest, and that is included with the membership I have at that level.
Today, I was searching NewspaperArchive.com website for my uncle, Frank Stocking, and found a copy of my Aunt Peggy's from the Hutchinson News digitized on the NewspaperArchive.com website.  And it never would have occurred to me to look at the Hutchinson News microfilms!!  Eureka!  I wasn't doing genealogy when my lovely Aunt Peggy passed away, and so I had not saved it!
It was such a shock when Aunt Peggy died.  We knew she had a heart condition, but still, it was a shock.  My daughter had been born three weeks before, and we were all looking forward to visiting with Peggy's brother and his wife when they came to visit in a few weeks, but that wasn't to be.
I was still off work on maternity leave when we traveled to the funeral, and I took my 2 1/2 year old son and three-week-old daughter with Mom and I to her service.
Aunt Peggy was a 'hoot.'  She also had a beautiful smile, a heart of gold, and an infectious laugh!  She was always cracking jokes, and I miss her.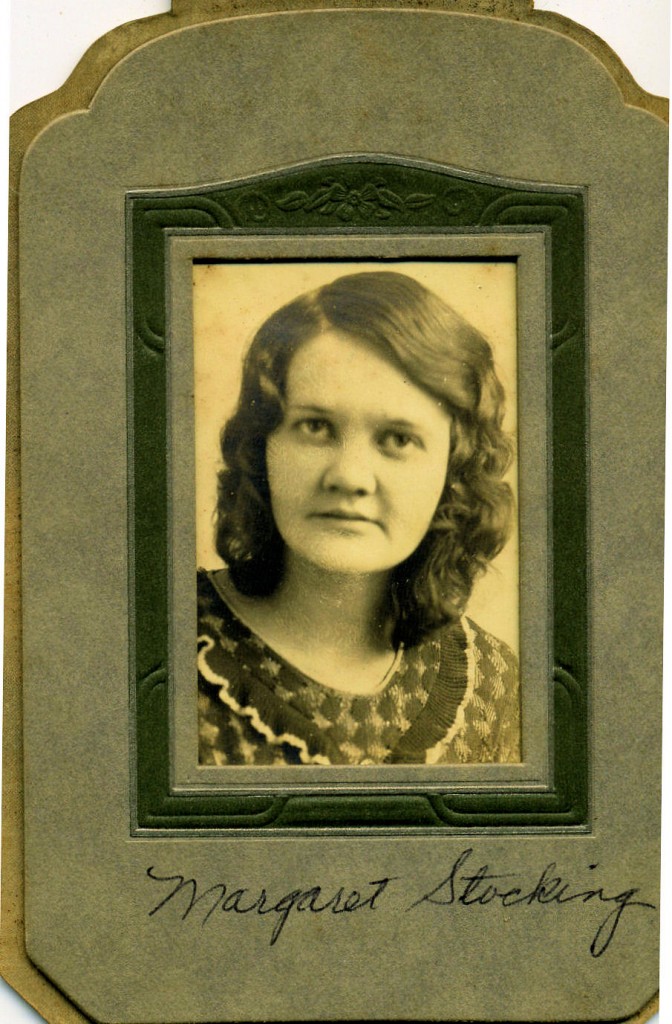 Margaret E. (Peggy) Glaze Obituary
Hutchinson News
July 28, 1977
Column 1; Page 6
MEADE – Margaret E. (Peggy) Glaze, 62, died Tuesday at Meade Hospital.  Born Margaret E. Stocking, May 23, 1915 at Mayfield, she was a retired postal employee and lived here since 1945.
She was a member of United Methodist Church, Rebekah Lodge, OES, all of Meade.
Survivors include brothers: Carl L. Stocking, San Jose, California, Frank A. Stocking, Castro Valley, California, Herbert L. Stocking, Downeyville, California; sisters: Mrs. Frances Hill, Arkansas City, Mrs. Mary E. Metcalf, Colorado Springs.
Funeral will be 10 a.m. Saturday at the church; Reverend Dale Ellenberg.  Graveside services will be 3:30 p.m. Saturday in Mayfield Cemetery.  Friends may call 11 a.m.  Thursday until 9 a.m. Saturday at Fidler-Orme Mortuary, Meade.
Here is Peggy's Find a Grave Memorial.
Three hundred years with the Corson families in America
Richard S. Corson, born Jan. 9, 1815, was the eldest son of Elias and his second wife, Abigail (Steelman) Corson. He married Mary Corson, born May 25, 1821, the daughter of John M. and Eliza (Ingersoll) Corson, on Oct. 15, 1836. They were married at the home of her parents by Rev. Mathias Jerman.
Richard S. and his family lived in Petersburg, Cape May County, N. J., for ten years, the husband and father farming part of the time and going to sea the rest of the time.
In the spring of 1845 he went to Illinois and worked on a farm north of Pleasant Plains, Illinois, to see how he liked the country.  The Illinois prairies appealed to him so well that he rented a farm and sowed fall wheat, then bought a horse and went back to New Jersey on horseback.
In the spring he returned to Illinois with his wife and five children.  The trip from New Jersey was made by water except from Philadelphia to Pittsburgh.  From thence by the Ohio and Mississippi Rivers to St. Louis, then up to Illinois River to Beardstown, and from there to Pleasant Plains.
They lived for five years near Richland, Sangamon County, Illinois, then in the fall of 1850 he bought some land about five miles southeast of Pleasant Plains, Illinois, and built a home on it.  The family moved into the new home on February 26, 1851, and here the parents lived the remainder of their lives.  They lived to celebrate their 65th wedding anniversary on October 16, 1901. (From information from Fannie E. Corson of New Berlin, Illinois, and Nellie R. (Corson) Soderburg of Dwight, Kansas.)
Richard S. and Mary Corson had thirteen children, two of whom died young, one was killed in the Civil War, nine married, eight of these leaving descendants.  At this time the descendants of this remarkable family are scattered over the western part of the United States from Illinois to the Pacific Coast.  The following are the children:
122461    Asail Corson, born Feb 26, 1838
122462    Abigail Corson, born Oct 24, 1839
122463    Sarah Elizabeth Corson, born Aug 7, 1841
122464    Townsend Corson, born Aug 17, 1843
122465    Richard Corson, born Mar 9, 1845
122466    Mary Ann Corson, born Feb 9, 1847
122467    Margaret Corson, born Jan 19, 1849
122468    John Foster Corson, born May 1, 1851
122469    Elias Corson, born Apr. 27, 1855, died Sept 5, 1856
12246:10  Emily Frances (Fannie E.) Corson, born May 20, 1857
12246:11  Elias Corson, born July 30, 1859, died Mar 24, 1862
12246:12  Winfield Scott Corson, born Jan 3, 1862
12246:13  Ida May Corson, born Oct 25, 1866
Richard S. Corson died Dec 7, 1901, and Mary Corson died Aug 23, 1909.  They are buried in Bethel Cemetery, Pleasant Plains, Illinois.
Description
BookPageNO: Vol II. XII. The sixth generation. The descendants of John and Mary Corson
Source Information
Ancestry.com. Three hundred years with the Corson families in America : including the Staten Island-Pennsylvania Corsons, the Sussex County,[database on-line]. Provo, UT: The Generations Network, Inc., 2005.
Original data: Corson, Orville,. Three hundred years with the Corson families in America : including the Staten Island-Pennsylvania Corsons, the Sussex County, New Jersey Corsons, the Cape May or South Jersey Corsons, the Corsons of Dumfriesshire, Scotland, the Corsons of Amwell Township, Hunterdon County, New Jersey, the New England Corson families, the Canadian Corson family. Burlington, Vt.: Printed by Free Press Interstate Print. Corp., 1939.
Related Links:
Margaret "Maggie" (Corson) McGinnis Dies at Age 101
Margaret "Maggie" (Corson) McGinnis Sang for Abraham Lincoln
Gr-Grandmother Maggie (Corson) McGinnis & Maud McGinnis Stocking Scrapbook page
Book: "Three Hundred Years with the Corson Family" by Orville Corson
SAMPSON WHITLEY – DEATH CERTIFICATE
TEXAS DEPARTMENT OF HEALTH
BUREAU OF VITAL STATISTICS
CERTIFICATE OF DEATH
Place of Death – County – Hill
Usual Residence:    State –

Texas

 County –

Hill

 City

– Itasca, Texas

Name of Deceased:    

Sampson Whitley

Date of Death:   

5/8/54

Sex:   

Male

 Color or Race: 

Colored

Marital Status: 

Married

Date of Birth:   

Nov 8, 1890
Age:  64
10a. Occupation: 

Labor
10b. Kind of business:  None
Birthplace: 

Texas

Father's Name: 

John Whitley

        Birthplace: 

Texas

Mother's Maiden Name: 

Unknown

          Birthplace: 

Unknown

Not filled in
Not filled in
Not filled in
Social Security No:  Not filled in
Informant: 

Ida Whitley

Cause of Death: 

Malignancy (Lung) type unknown

       Interval between onset and death: 

1 – 2 years

Not filled in
I hereby certify that I attended the deceased from

Jan 1, 1954 to May 7, 1954

, that I last saw the deceased on

May 7, 1954

, and that death occurred at

11 a.m.

from the causes and on the date stated above.
Signature –

Charles C Allen

          Address: 

Box 67, Itasca, Texas

                 Date signed: 

May 10, 1954

Burial, Cremation, Removal: 

Burial

   23b.  Date: 

5/11/54

    Name of Cemetery or Crematory: 

Itasca Cemetery

Location:

  Itasca, Texas  

Funeral  Directors Signature:

Kentard Funeral Home – Richard Hemphill

Registrar's File No. 

226

Date Rec'd by Local Registrar: 

May 10, 1954

Physician's Signature: 

G. Warnour

(? – this was difficult to read.)
A three-day bout with a virus sent me to Ancestry.com to see what I could find to fill in the blanks in my family's tree, and suddenly I was 'on a roll' finding my son-in-law's and granddaughter's ancestors!
Lucky me!  My oldest granddaughter likes genealogy!
Finding information about my ancestor, John Hurlbut, in fact even finding out that I had an ancestor named John Hurlbut, was all part of a "Snow Day Happy Dance" that I did last week when I stumbled across a Hurlbut family history with my ancestor, Deborah Hurlbut Stocking in it.  Her info will come soon.  (I should have added her info first!)
John Hurlbut
John Hurlbut (Ref #3) (father – Thomas (Ref #1)) was b. (prob. in Wethersfeld, CT), 8 Mar 1642.
He learned the trade of blacksmith of his father, and after becoming of age, he worked at Wethersfield and also at Killingworth.
At the age of 27, he received a proposition from settlers then planting the town of Middletown, to locate among them with his business, "and do the Town's work of smithing for seven years." He joined in such a contract, bearing date 25 Oct. 1669, and which he faithfully kept.
He m. 15 Dec 1670, Mary Deming, daughter of John and Honor (Treat) Deming of Wethersfield. She was b. 1655; joined church in Middletown 5 Sept 1675.
Mr. Hurlbut (p.20) was industrious and successful in his occupation, and he became a large landholder, and one of the prominent men of the place.
He was made freeman in 1671, and held the office and title of Sargent among the citizen soldiers.
Sargent John Hurlbut d. at middle age; according to the Town Records 30 April, 1690, but by the Probte Court Records (prob. more reliable) his death occurred 30 August, of that year, aged 48.
He made no will, but the inventory of his property was presented 9 September 1690. Mary his widow with Capt. Nathaniel White, were appointed to administer; but as one child yet unborn, the court ordered that "There shall be no distribution now made."
The estate appears as follows; L373, s. 15, d 6; his house, shop and home lot L100, other lots L160, cattle & c., L46, smith's tools and iron L10. "June 19, 1696, the Court being desired," the estate was distributed.
The widow Mary was to have half the personal property, and one-third of the real estate during life; eldest son John to have a double portion, the other children a single one.
The time of death of the widow is not learned; but few gravestones had inscriptions as early, and no deaths appear to have been recorded on the church books, until after that period.
12. John, Jr. b. in Middletown, CT, 8 Dec 1671 +
13 Mary, b. in Middletown, bap 7 April, 1673, d. in infancy.
14. Thomas, b. in Middltown, 20 Oct 1674 +
15. Sarah, b. in Middletown, Ct. 5 Nov 1676. (Hinman gives it "Laura, b. Dec. 6, 1676.") + App
16. Mary, 2d, b. in Middletown, 17 Nov., 1678 + App.
17. Mercy, b. in Middletown, 17 Feb., 1680/1681 + App
18. Ebenezer, b. in Middletown, 17 Jan 1682/1683. +
19. Margaret, b. in Middletown, 11 Aug., 1684/1685 +
20. David, b. in Middletown, 11 Aug, 1685
21. Mehitabel, b. in Middletown, 23 Nov 1690
John Hurlbut's father – Thomas Hurlbut
"The Hurlbut Genealogy: Record of the Descendants of Thomas Hurlbut"
by Henry H. Hurlbut; Joel, Munsell's Sons, Publishers, 1888; p. 19 & 20.
On Thursday, February 21st, 2013, South Central Kansas had a blizzard! Wichita, Kansas had in excess of 14″. My little town, just south of Wichita, received somewhere around 6″ plus.
But it was just enough to declare a "snow day" holiday!  The school kids were all out building snowmen, so I dumped the income tax I'd been working on and hit the Internet beginning with FindaGrave.com looking for ancestors.
I hit pay dirt!
I located one Stocking ancestor's Memorial after another, (thank you, Find A Grave  and Find a Grave volunteers!!) and then lo and behold, someone had posted some information on my ancestress Deborah Hurlbut Stocking's Find a Grave memorial, (her info to come on a later post!) along with the source, which led me to a Google search, and a Google book, "The Hurlbut Genealogy," and that book detailed Deborah's ancestry, along with her immigrant ancestor, Thomas, who was wounded with a Pequot arrow (see below!).
Do I know that every name and date is correct in Deborah's ancestry?
No, I don't. But now I have a new road map of names to hunt up/hunt down and verify! And new family stories to enjoy!
Below is Thomas Hurlbut's info, Deborah's ancestor!
"The Hurlbut Genealogy:
Record of the Descendants of Thomas Hurlbut
by Henry H. Hurlbut
Joel, Munsell's Sons, Publishers, 1888
p. 15 – 18
Thomas Hurlbut (ref # 001) came across the Atlantic, it is supposed, in the year 1635, for he was a soldier under Lion Gardiner, who built and had command of the fort at Saybrook, Connecticut.
Lion Gardiner, it is said, was an Englishman, and by profession an engineer, and had been in Holland in the service of the Prince of Orange, but was engaged by the proprietors of the Connecticut Patent, issued by Charles II to Lord Say and Seal, Lord Brooks and others, granting a large tract of territory on the banks of the Connecticut river, to erect a fortification at its mouth.
Gardiner, said Judge Savage, embarked at London in the Bachilor, of only 25 tons, 11 August, 1635, with his wife and female servant, and eleven male passengers, and after a long and tempestuous voyage, arrived at Boston 28 of following November. It is believed, however, that Gov. Winthrop told that Gardiner sailed in a Norsey barque (a fishing vessel of the coast of Norway), 10 July 1635.
It is supposed that Thomas Hurlbut was one of the 11 passengers above referred to; but who his parents were or when or where he was born, we have not been able to learn. We may yet pretty confidently believe that his birth occurred as early as the year 1610, and I am more inclined to believe that he was a native of Scotland than I am able, perhaps, to show satisfactory evidence for such belief.
Mr. Hurlbut while at Saybrook, in an encounter with the Pequot Indians in 1637, was wounded by an arrow. This appears in a letter of Lion Gardiner, written in June, 1660, some 23 years after the skirmish with the Indians, addressed to Robert Chapman and Thomas Hurlbut, detailing incidents regarding the Pequot war, as far as came within his personal knowledge.
Captain Gardiner, as the communication named, says that Mr. Robert Chapman, Thomas Hurlbut and Major Mason urged him to do it, "and (P. 16) having rumaged and found some old papers then written, it was a great help to my memory."
The document laid in manuscript until 1833 (173 years) when it was printed in Volume 3, 3rd Ser. of Mass. Historical Soc colls.
The following is an extract (from the manuscript):
"In the 22nd of February, I went out with ten men and three dogs, half a mile from the house (fort) to burn the Weeds, Leaves and Reeds upon the Neck of Land, because we had felled twenty timber trees which we were to roll to the Waterside to bring home, every Man carrying a length of Match with some Brimstone-matches with him to kindle the Fire withal.

But when we came to the small of the Neck, the Weeds burning, I having before this set two Sentinels on the small of the Neck, I called to the Men that were burning the Reeds to come away, but they would not until they had burnt up the rest of their Matches.

Presently there starts up four Indians out of the fiery Reeds, but they ran away, I calling to the rest of our Men to come away out of the Marsh. Then Robert Chapman and Thomas Hurlbut, being Sentinels, called to me saying there came a Number of Indians out of the other side of the Marsh.

Then I went to stop them, that they should not get the Woodland; but Thomas Hurlbut cried out to me that some of the Men did not follow me, for Thomas Rumble and Arthur Branch threw down their two Guns and ran away; then the Indians shot two of them that were in the Reeds, and sought to get between us and Home, but durst not come before us, but kept us in a Half moon, we retreating and exchanging many a Shot, so that Thomas Hurlbut was shot almost through the Thigh, John Spencer in the back into his Kidneys, myself into the Thigh, two more shot dead.

But in our Retreat, I kept Hurlbut and Spencer still before us, we defending ourselves with our naked Swords, or else they had taken us all alive, so that the two sore wounded Men, by our slow Retreat, (p. 17) got home with their Guns, when our two sound Men ran away and left their Guns behind them."
Gardiner does not mention his estimate of the number of the assailants, but Underwood, in his History, says there were "a hundred or more."
Mr. Hurlbut was by Trade a Blacksmith…
Mr. Hurlbut was by trade a blacksmith, and after the war with the Pequots, he located and established himself in business at Wethersfield, Ct., and was one of the early settlers of that place, as well as first blacksmith. A single extract from the Colonial Records would seem to indicate that he was a good workman and charged a good price for his work: "March 2, 1642. Thomas Hallibut was fined 40 shillings for encouraging others in taking excessive rates for work and ware."
But this fine appears to have been "respited" Feb 5, 1643, upon Peter Bassaker's tryal to make "nayles" with less loss and cheaper rates.He seems to have been a man of good standing in the place; he was Clerk of the "Train Band" in 1640, Deputy to the General court, Grand Juror and also constable in 1644.
It appears on the records that he received various tracts of land in the several divisions of the town, which were recorded together in 1647. In 1660 the Town of Wethersfield granted Thomas Hurlbut Lot 39, one of the "four score acre lots" (in Naubec, east side of the river), which he afterward sold to Thomas Hollister. For his services in the Indian wars, the Assembly voted him a grant of 120 acres of land Oct. 12, 1671.
It is supposed that Mr. Hurlbut died soon after the last named date, as no evidence appears that the land was set off to him during his life. In that early day of the Colony, land was plenty and cheap, and no attempt appears to have been made to avail himself of the bounty, nor even by his sons; it was not until 1694, on the petition of John Hurlbut, Jr. of Middletown, a grandson of the settler and soldier, that it was set off.(p. 18) It is told, and the tradition is not an unreasonable one to credit, that the house in Wethersfield, CT, where Miss Harriet Mitchell resides in 1888, stands upon the site of the dwelling of the first Hurlbut who lived in the settlement. (Miss M. is said to be of the 6th generation from her ancestor Thomas Hurlbut.)
That house of the early settler, as tradition gives, had peculiar attractions for the Indians, whether with the purpose to inspect the architecture of the edifice, or else to get a view of the proprietor of the mansion, for he had been an Indian fighter formerly, I cannot say; but often, when in the village, they were to be seen looking curiously in at the windows.
The Christian name of the wife of Mr. Hurlbut was Sarah, but nothing further is known; no date of birth, marriage, nor death. The dates of birth of five of their six sons are missing; whether there were any daughters or not, is not known.
During the contention that existed in the Church of Wethersfield, the early records of both the Town and Church, it is understood, disappeared.
Thomas and Sarah's Children:
2. Thomas, Jr. +
3. John, b. 8 Mar 1642
4. Samuel. +
5. Joseph +
6. Stephen +
7. Cornelius
Thomas' son, John Hurlbut:  http://www.familytreewriter.com/2013/03/amanuensis-monday-john-hurlbut/
Obituary – Charlena Faye Isgrigg
Book "Obituaries – Argonia Kansas and Vicinity"
Volume IV
Freda Deen Earles
Charlena Faye Isgrigg, daughter of Frank and Susan Kline Holt was born October 19, 1915 in Bluejacket, Oklahoma.
She moved to Milan, Kansas with her parents at the age of 10 and lived in the Milan and Argonia communities until the time of her passing
On October 29, 1937 she married Earl Isgrigg and to that union was born one daughter, Connie Hodson.
She was preceded in death by both her mother and father, one brother, Olin Holt and one sister, Bessie Edwards.
She leaves to mourn her passing, her husband, Earl; her daughter, Connie Hodson and grandson, Brad Hodson of West Allis, Wisconsin; two sisters, Mrs. Mildred Carrico, Commerce, Oklahoma, and Mrs. Lola Blackett, Wichita, and one brother, Virgil Holt, Milan.
( Sherry's Note:  The obituary did not state the date of death, but according to www.findagrave.com, Find A Grave Memorial# 38953421 Charlena passed away on 26 Jul 1971.)