Archive for December, 2009
It's never too late to celebrate a little more Christmas, so here's Bing Crosby singing "I'm Dreaming of a White Christmas!"
This one is especially cool as it shows Bing himself in an old home movie taken on a movie set! Enjoy!
I had such fun learning how to embed video's and hunting up pretty Christmas ones, so I don't know how I missed posting this one after beginning it, but on the off-chance everyone isn't completely sick of Christmas music, I'm going to go ahead and post it!
We went looking at Christmas lights several times over the holidays and the last time we went this song came on the car stereo, and my oldest granddaughter began to do the sign language to go along with the music that she learned in first grade last year! I didn't know she knew how, and it was So pretty!
Have a Great New Year!
Nathaniel and Mary McMulin Wood are buried in the Milan Cemetery, Ryan Township, Sumner County, Kansas.  This cemetery is located one mile west of Milan, Kansas (and about 15 miles west of Wellington) on Highway 160.
Nathaniel and his wife Mary were homesteaders in Sumner County, owning a quarter section of ground just about two miles west of Milan on what is now known to locals as "old 160 highway".   My apologies to anyone who is researching, I don't know the new 9-1-1 name for this country road without driving out to look.
Nathaniel and Mary were my husband's great grandparents on his father's side, and though I do have a little more information on them, I don't have much and I don't have it with me right now.
My mother-in-law, C. Maxine Deffenbaugh Kline, always told me that Nathaniel's nickname was "Than" and I thought that was interesting, as most would be nicknamed Nat or Nate.
Someday soon I need to do more research on that line!
P.S. If Nathaniel and Mary are in your family tree, please leave a note so we can 'connect the dots.'  Thanks and 'happy hunting!'
Sherry Stocking Kline
December 28th, 2009
This morning the phone rang twice…
This morning the phone rang twice.  Because I write press releases for and am vice-president of our county historical and genealogical society, the Sumner County (Kansas) Historical and Genealogical Society, my name is in the paper quite a bit. So I get a lot of phone calls asking for historical and genealogical help.
It's fun, actually, because I get to hear such interesting stories, and today was no exception.
I love it when someone  preserves a piece of history…
The first was Nate, reporter for the local newspaper, asking for information about the Belleview School, a  historic country school near Caldwell, Kansas that has been purchased by a couple who plan to move it near to a (busier) highway (Highway 160 going west of Wellington) and restore it to its 1870's look inside so that individuals and groups of schoolchildren can take tours. According to the reporter, they've already added a tin roof to protect it from the elements!
Awesome! I love it when someone takes the time and the money to preserve a piece of history so that others can enjoy it!
Though I've done research on a few of the country schools, this wasn't one of them, so when Nate and I hung up, I quickly got back on the phone, called several other researchers, and found some folks who could help Nate after he finished his research at the Sumner County Historical and Genealogical Center.
My second phone call, coming on the heels of the first one was Chris Fimple, California, who is trying to find the descendants of a box of photographs and memorabilia that his dad took home to California many years ago after visiting in Kansas.
So far,  my research, and I confess to not being as internet savvy as would be good (census, tombstone, obituary, google searches, local sources and word of mouth, ) has located obituaries and no living descendants.  (Which doesn't mean there aren't any.)  I apologized to Chris for not working right before and during the Christmas holidays, and told him I'd try to get back to it after the holidays.
If anyone knows of any living descendants of Joseph T. Raley…
So, if anyone knows of any living descendants of Joseph T. Raley, formerly of Enid, Ok and Sumner County, Kansas, leave me a message,  Chris is looking for you…
P.S. When I get more info, website addresses, photographs, I'll add another post!
Merry Christmas to All!
Stille Nacht (The original Silent Night – in German)
Click here to see both English and German lyrics side by side. German was the language of most of my husband's ancestor's.  Unfortunately,  the language and perhaps many of the food and customs have been lost.
Oiche Chiuin (Silent Night) by Enya
This was cool.  I know, if I go back far enough, my ancestors spoke Gaelic.  I just hope that soon I can find their exact origins.  Must get back to working on this branch!
Silent Night in English sung by Bing Crosby
It doesn't get much better than listening to Bing Crosby sing "Silent Night", unless you're singing "Silent Night" while doing the annual Christmas Light car tour and you find out that your seven-year-old granddaughter learned the sign language for the song in school.  Now, that's really cool.

Have a Very Merry Christmas! Blessings, Sherry
Sherry Stocking Kline
December 21, 2009
Thanks to Thomas MacEntee of Geneabloggers for today's Advent Calendar Challenge:
Christmas Music

What songs did your family listen to during Christmas? Did you ever go caroling? Did you have a favorite song?
My family always loved music and I grew up listening to carols on the radio first, then 45 rpm records, then a stereo, then a tiny (by then standards) battery operated transistor radio.
Today, there's music on the stereo, computer, smart phone, and  iPod!   It's so easy to listen wherever you are.
Growing up near the tiny town of Mayfield, Kansas, our church youth group at the Mayfield Federated Church (a Methodist and Presbyterian combined church) always went caroling.
Our group would set out on foot (remember, it's a tiny town) in the cool, crisp air, and it was always a fun and joyous evening of laughter, singing, and wishing the townspeople, mostly seniors, but often others who had been ill and shut-in, a very Merry Christmas.
Our pastor and his wife usually led the singing and 'herded' us from house to house.  There were many of 'Grandma age' in our town, and  many of them had grandchildren in the group, so they knew each and every one of us,  were often called Grandma by many who were not their grandchildren, and they were always delighted to see us!
A side benefit we often enjoyed was that several of them were extremely good cookie bakers, and we might be given cookies to enjoy while walking around the town.
After the caroling was done for the evening we'd gather back at the church for cookies and cocoa, and then sometime walk down to the school's gymnasium for indoor games.
I know the seniors enjoyed the carols, but the fun and fellowship for all of us was priceless.
Sherry Stocking Kline
December 21st, 2009
I love Christmas songs!  There are so many wonderful ones, and there are so many great memories to go with each one!
This lovely version by Nat King Cole has been enhanced by great Christmas photographs!
I've never roasted chestnuts by a fire, but it sounds relaxing and fun. I Hope that you and yours have a wonderful Christmas!

Sherry Stocking Kline December 19, 2009
It may be be Sunday (and almost Monday) but I'm behind on my "Saturday Night time for some Genealogy Fun!! " from Randy Seaver of Genea-Musings… Rev up the olde thynking cap and cue up the Mission Impossible music – your mission should you decide to accept it – keeping with the Christmas theme – is: 1) Pick out a genealogy-oriented gift for someone you know, admire, appreciate or love. It could be for a family member, someone in the genealogy community, or a friend or colleague. What would be your genealogy gift to them? [Note: you don't have to actually gift them, although it would be a nice thing to do!] 2) Tell us about it in a blog post on your own blog, in a comment to this blog post, or in a comment on Facebook to this post or a tweet.
I didn't mean to be a last minute shopper (again this year) and I had so many plans for Genealogy related gifts that I haven't (quite) completed them all!
When I can give gifts that people will enjoy receiving that have family history themes, then it's so very rewarding to me, and that's the way the family calendar is, it's fun, and everyone's birthday is on it.  So enjoyable!
But, I'm scrambling to finish the (see post) 2010 calendar that I'm using my Broderbund Calendar program to make for my mom.  I plan to share this with nephews and nieces, as well as my brother, but so far, I'm still waiting on some photographs from some of them.
I started this about six years ago, I'm guessing, used my Family Tree program to tell me when everyone's birthday was, then played with my Paint Shop Pro program to make collages out of smaller photos. (After seeing some of the Photoshop creations on some of the blogs, though, I realize I need Photoshop and some remedial training!)
For my great-niece, who is photographing and  journaling the family vacations each year, I'm tempted to get her  a book to help her chronicle each trip
And one gift that I'd planned to give this Christmas I won't get done because I didn't plan far enough ahead.  I wanted to make each of my two granddaughter's a small 8 X 8 (or thereabouts) picture book, and call it "Jordyn Savannah and the People Who Love Her" and "Chloy Celyse and the People Who Love Her". 
I've spent several hours on the computer already sorting photographs, and should have already gone through my 35 mm ones, so it has become a bigger project than I originally planned, but the girls both have birthdays in July, so I'll make them birthday gifts instead!
There are several option to publish, Heritage Makers or Missy Corley's Creative Memories site at http://baysideresearch.wordpress.com/, or get Photoshop,  print it myself or have them bound at Kinko's.
I've written up several of my mother's memories, too, and need to get back to editing and consolidating them into one story, and also asking more questions in some areas.
Mom and I have also been going through old photographs that we missed at other times and are trying to put names on them.  There are quite a few that were given to her some time back that I don't believe she ever knew who they were.  (note to self – finish putting names and dates on all my own photos!)
My number one genealogy gift for her and I both, though, would be to know who her great-grandfather is, and that would break down my brick wall as well!
Merry Christmas!
Sherry
Sherry Stocking Kline
December 17, 2009
Have you ever wanted to have your own hand writing (or printing) turned into a font?  Say for scrapbooking, letters to family, etc., but just hadn't parted with the money, yet?  (I sure have)
When the Legacy News e-mail newsletter came from the Legacy Family Tree Software folks a few days ago there was a link to a website that turns your handwriting into a font for free.
Woo hoo! Now I could type something up and have it look like I'd hand printed it.
Install your new font in under 30 minutes….
If you've always wanted your very own font, all you need is a computer, internet access, printer, and scanner, but given all that, you can pretty much have your new font installed in under 30 minutes.
So,  go read the Legacy Blog post here, where you can see more examples of fonts and read reviews.  And when you get to www.fontcapture.com, print out an extra form or two so you can practice lining up the letters within the graph  before uploading your own handwriting.  This is important.
Don't like what you get?
Don't like what you get?  Print out another form, and try again!   You can have a lot of fun with different and funky styles of printing!
That's my everyday hand printing below, and yes, it's that bad!
Have Fun!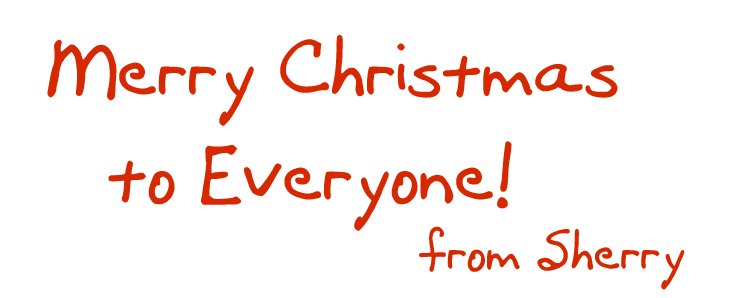 P.S. I had to re-boot my computer after I installed the font for it to work.
Sherry Stocking Kline
December 17, 2009
Geneabloggers' Advent Christmas Challenge – Grab Bag
Author's choice. Please post from a topic that helps you remember Christmases past!
Reading Geneabloggers post from a few days ago (and I'm sorry I didn't keep the link to just which post) Thomas was talking about the "Batman" version of "Jingle Bells".  Until we went caroling this past week, I'd never heard of the Batman version of Jingle Bells.
Here are the words we used to sing when I was growing up!
Jingle Bells, Shotgun Shells, rabbits run away,
Oh what fun it is to ride in Grandma's Model Aaaay,
Jingle Bells, Shotgun Shells, rabbits run away,
Oh what fun it is to ride in Grandma's Model Aaaaaayyy!
You get the idea!
While caroling the nursing homes and shut-ins this past Monday, December 14th, our minister had a Texas version which went like this:
Jingle Bells, Shotgun Shells, rabbits all the way,
Oh what fun it is to ride in Grandpa's Chevrolet,
Jingle Bells, Shotgun Shells, rabbits all the way,
Oh what fun it is to ride in Grandpa's Chevrolet,
Caroling with our church's youth group when I was growing up (and with older church members today!) is one of my favorite things to do!  No one will ever accuse me of having a good voice but it just doesn't seem like Christmas till we've bundled up and braved the cold to go caroling!
And no good caroling party is complete without hot chocolate and sugar cookies!
Here are a couple of photos from this year's caroling party:
And here is one of our little group:
The daughter of the woman we were visiting took the photographs of us, and was kind enough to e-mail me copies.
Normally, our group is much larger, but this year, the temperature was 18 degrees, and we had a much smaller group!
Sherry Stocking Kline
December 16th, 2009
Thanks to Thomas MacEntee of Geneabloggers for his daily blogging (and memory) challenges…
Christmas At School

What did you do to celebrate Christmas at school? Were you ever in a Christmas Pageant?
Oh, my gosh, the Christmas pageant. How could I forget?  (Maybe because I've tried hard to?)
I attended a fairly tiny little school in a small town in Kansas. Eighty kids in the whole school, grades one through eight. That's right, no kindergarten, and no middle school.
We had roughly 12 to 14 in our class at any given time, four classrooms, and two classes in each school room.
My very first experience in the program was when the folding wall dividers of the school were folded up, and parents poured into the school to watch us on the stage.  A couple of years later, there was a stage in the gymnasium, and we held our programs there.
Everyone was in the Christmas program…
Everyone was in the Christmas program.  Everyone.  Even people who couldn't sing, people who couldn't act, painfully shy people, and people like me who couldn't sing, act, and were painfully shy.
Do I have horrible memories of the Christmas pageant?  No, but it was a long time ago, now, or seems like it, and the memories are all jumbled together.
Memories of waiting on the steps up to the stage, every kid full of Christmas excitement and too much Christmas candy, teachers threatening everyone within an inch of their lives if they didn't quiet down, didn't behave, or didn't remember their lines.
He ran to the bathroom to 'toss his cookies…'
Of course, the older kids got the more responsible, leading roles, and so the older we got the more responsibility we held.  One year the excitement got to one boy, and he ran to the bathroom to 'toss his cookies.'   I felt his pain.
My one (and only)  shining moment as a lead in a play came when they needed someone to play the part of the daughter who honors Santa Lucia, the Swedish saint. (Read about that tradition here.)  Celebrated on December 13, the oldest daughter dresses in a long white dress with a red sash, and a wreath of leaves and candles (or battery powered tiny flashlights in my case) white socks and no shoes.
Because I had long, nearly waist length blond braids, I was a shoe-in for this part. It was my job to serve bread cubes to the others in the part of the skit.  Whether I was good or was lousy I can't say, but it was my last leading role…