Archive for April 9th, 2011
by Sherry Stocking Kline
08 April 2011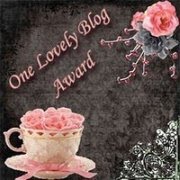 My thanks to Susan Peterson at LongLostRelatives.net for the Lovely Blog Award recognition.  Susan said, "I have recognized you with the Lovely Blog Award because of the graphic design AND content of your blog. If you want to accept the award, you may get the information here: http://longlostrelatives-smp.blogspot.com/2011/03/lovely-blog-award.html
Thank you, Susan!  This award is an honor, and it is very much appreciated!  Once again, Thank you for recognizing my blog!
 The rules of acceptance for this award are:
1. Accept the award, post it on your blog together with the name of the person who granted the award and their blog link. 
2. Pass the award on to 15 other blogs that you've newly discovered or just love so much.
3. Remember to contact the bloggers to let them know they have been chosen for this award.
And now, it is my turn to pick other deserving blogs to be awarded!  This is a daunting task, as so many are deserving that it will be difficult to pick from them all!

And now, the envelope please:

1.  "

Shades of the Departed"

– a fantastic website designed, maintained, and written by none other than the Footnote Maven herself. 

2. "

Footnote Maven"

– a fantastic sister site to the Shades of the Departed, also designed, written, and maintained by the talented but secretive, elusive Footnote Maven herself.

3.  

Genea-Musings

is a great place to go learn how-to, and get blog hints, and you don't want to miss his Saturday Night Genealogy Fun!!

4.  

"GeneaBloggers" 

is Thomas MacEntee's website, and it is

"the"

place to go to find more blogging prompts than you have time to write about, technical info, GeneaBlogger's Radio (is that cool or what?), plus the new stuff coming down the pike genealogically speaking!  Thanks, Thomas!

5.  "

Roots N' Leaves

," Joan's lovely, fun, informative blog was  awarded a Top 100 blog from My Heritage.  You've got to read her conversation with her ancestor at the tea party!  Oh, if only!

7. "

Georgia Black Crackers

," a Family Tree Magazine 40 Best Blog, sharing African American history and how-to-do research and lovingly tended by Mavis Jones!

8.

"Herstoryan

" – a lovely and lovingly tended genealogy blog by another great story teller and stories' keeper, Herstoryan.

11.  And

 "Apple's Tree"

 a lovely blog written by none other than Apple herself. 

12.  "

Creative Gene"

– Thanks to Jasia, the Carnival of Genealogy gets a great kick-off with an interesting topic each month! 
Whew!  Hard to choose! 
There are so many beautiful and interesting blogs!  Once again, thank you Susan Peterson at
Long Lost Relatives 
 for choosing me!