Elmer Leverett Stocking – Death Certificate Transcription
State of Kansas
State Board of Health – Division of Vital Statistics
Standard Certificate of Death – No. 96  5415
 Place of Death

:  Sumner   –   city


Township                                                            Registered No.  10
or City  

Mayfield

Full Name:    

Elmer L. Stocking


(a) Residence. No. 

Mayfield, KS


Length of residence in city or town where death occurred   

58

 yrs
PERSONAL AND STATISTICAL PARTICULARS
Sex:  

Male

Color or Race: 

White

Single, Married, Widowed or Divorced:   

Married
5a. Spouse:  Maud Stocking
 Date of Birth:

Nov. 29, 1879

Age:  

58 years  1 month  24 Days

Trade, Profession or particular kind of work done: 

Farmer

Industry or business in which work was done: 

And Stockman

Date deceased last worked at this occupation

:  Not filled in

Total time (years) spent   inn this occupation: 

Not filled in

Birthplace: 

Mayfield, KS

Father's Name:  

Roderick R. Stocking

Father's Birthplace: 

Michigan

Mother's Maiden Name:

Francis Hitchcock

Mother's Birthplace: 

Crescent City, Illinois

Informant:  

Maud Stocking

     Address:  

Mayfield, KS

Burial:    

Mayfield, KS

        Burial Date: 

January 25, 1938

Undertaker: 

A. J. Frank, Wellington, KS

Filed:    

January 24, 1938

      Registrar:

Bernice S. Lindberg
MEDICAL CERTIFICATE OF DEATH
Date of Death:   

January 22, 1938

I attended deceased from

April 21, 1937 to January 22, 1938

. I last saw him alive on January 15th, 1938.  Death is said to have occurred on the date stated above at

11:30 a.m

.
The principal cause of death and related causes of importance in order of onset were as follows:
Cancer of Rt Adrenal gland    Date of onset:    1935
Artherosclerosis
No Accident or injury

Was disease or injury in any way related to occupation of the deceased:    

No
Signed:  A. L. Ashmore  M. D.     Address:  601 Orpheum (?)
Day 6 – 365 Days of Memories – My Earliest Childhood Memory
Today's Question is;  What is Your Earliest Childhood Memory?
It was my intent to post a new question to write about every day for 2018.
Now, I'm writing the Memory for Day 6, and today is already January 13th.  I'm 7 days short already! So Sorry!  Maybe I should have tried for 52 weeks of memories!
One of my earliest memories was one between my oldest brother and I.  We were in the pasture, in the back of the old Chevy grain truck that Mom would later nickname "Wobble Knees." It was cold.  We both had our heavy coats on, and we could see our breath, and the breath of the cattle that we were (well, he) was feeding, as he pitched ensilage over the side of the truck to our dairy cattle.
For some reason, he must have agreed to let me tag along. (Or maybe Mom begged him to take me.)  I had to be somewhere between two and three years old, so it was really nice that he let me go.
Dad usually fed the cattle. But that evening, my brother was the one pitching the silage down to them.  Maybe Dad was ill, but my brother was always good to help Dad, especially after Dad's heart attack.
The reason that this sticks in my mind is because the question that I kept asking my brother was one that he didn't answer, and couldn't answer, to my toddler satisfaction.
I must have just been to Sunday School, and we must have studied how God made the world and everything in it, because the question that I continued to ask him was: "Who made God?"
His reply was that God was, and always had been, and always would be, and that no one made God.
My next question, and the next many questions, was: "But. Who. Made. God?"
I know that I asked him that question many times, and I remember that he was patient, if a little exasperated, by the time the cattle were fed.
I don't remember how he got me sidetracked, nor if he ever convinced me that God was, and always had been, and always would be, and was the Creator, not the created.
In fact, it's just that that little scene that has replayed in my memory throughout my life, and I've wondered if that exchange has played a part in my faith today.  And I've also wondered if my question might have helped trigger my brother's desire to become a minister.
That last is a question that I can no longer ask him, as he went home to be with the Lord in December of 2012.
Bartlett Arboretum and Best Friends Forever
Sometimes, when you take a memory out and look at it again, and again, it gets better and better.  This time we four girls had together again after not being together for nearly twenty years, was just such a memory.
The day before we met up at our 50th Wellington High School Class of 66 Reunion. We shared hugs, and memories, photos of our kids and grandkids and got caught up.
We made plans the next day to meet and take in the beautiful Bartlett Arboretum and enjoy the lovely together before BFF Nancy and her hubby headed back home.
The day was one of those lovely Kansas Indian summer days in October that make you glad to live in Kansas. The sunlight was golden, the grasses still green and the leaves just beginning to turn gold.
It was a beautiful day, and a beautiful memory.
Great Software for Transcribing Documents!
Yakking with your Friends on Facebook about how they get stuff done can pay off in lots of new ideas!
Thanks to Carol A Bowen Stevens, author of the Reflections From the Fence blog, I downloaded a very helpful software application, appropriately named "Transcript."
Transcript allows  you to place an image in the top half of the screen, type the transcription on the lower half, and save it in .rtf format, recognized by most word processing programs, including Microsoft Word.
Here is an example, below:
The software is very easy to use.
Click on the image icon on the middle row above, choose an image to load from your hard drive, and then began typing in the lower part of the screen.
Oh my goodness, be still my heart!  Where has this software been for the several years I've been transcribing documents!?
After getting this far, my next question was, can I make it work with the indexing that I'm currently doing for the Sumner County (Kansas) Historical & Genealogical Society's Pioneer Settler files?
For me, the answer is a resounding "yes!"
It will work, not only for 'plain' documents, but it will also work for transcribing 'stuff' that I want to drop (copy and paste) into an Excel or Google Docs sheet.
To use it for transcribing stuff to put into a spreadsheet, type what you want into the first cell, then hit tab, then type the next word for the next cell and hit tab.  In other words, type for the first cell, hit tab, type for the second cell, hit tab, and so on.
Then copy and paste into the spreadsheet!
The only thing that would make it really, really awesome, would be if you could type directly into the bottom part that was a spreadsheet!
Now, rather than have TWO different programs open, looking from one to another and moving from one to another, it's all right there, in one program!
The program is free for personal use, but is inexpensive to register!  Click here to try this awesome program: http://www.jacobboerema.nl/en/RegFeatures.htm
I love this program!
Day Four – Memory Four – Wading in a Buffalo Wallow
The challenge:
What is one of your favorite childhood memories involving water.  Preferably not in a swimming pool?  What was fun about it? What was special about it? Why do you remember it? Where were you?
I'm going to try to write up 365 memories this year.
So far I've been 2 hours late and a day behind.
It will probably get worse before January is over!
So lately I've been thinking about buffalo wallows.
The backyard I played in while growing up was a cow pasture.
Before it was a cow pasture, it was prairie. There were coyotes, antelope, prairie chickens, pheasant, quail – and buffalo.,
Our pasture had quite a few large depressions on a hillside between two creeks. Water gathered in the wallows and it would stay there for several days after a rain.
We loved to splash and wade in those buffalo wallows, squishing grass and mud between our toes with the water almost up to our knees. (we were pretty short then…)
Every spring, those buffalo wallows were full of little pollywogs or tadpoles.
We'd gather them up in canning jars, and cart them back to the house, where over several days' time, we'd watch them turn into little baby frogs.
Once they turned into frogs we'd take them outside where they were thoroughly admired, their jumping skills assessed, and turn them loose.
And when the next spring rain came along, we'd start all over again with more pollywogs.
Caution:  I don't know if any children will read this, or parents who might try to find pollywogs for their kids to watch grow, but when I googled Pollywogs to try to learn exactly how long it would take on average for a pollywog to turn into a frog, I found that frogs and tadpoles can transmit diseases to humans.
Two scary diseases, such as salmonella and tuberculosis.  (Check out the article here: http://frogsource.com/article/from-frogs-humans-disease-transmission
The article indicates that the salmonella can be a lot riskier for younger children, so I feel pretty lucky that we didn't end up with any bad side effects from all the fun we had with pollywogs!
Day Three – 365 Days of Memories – What's in a Name – Part Three
This will be my last post (for awhile) on names!
I promise!
It just seems only right to add the meaning and/or origin of my husband's family, and the last name that I've shared with his family since we said our "I do's" in 1968.
The KLINE name…
According to Ancestry.com, Kline is an American spelling of the name Klein, Kleine, Kleyn or Klehn, and can have German, Dutch, and even Jewish origins.
It is probably a nickname or topographic name, and could be derived from 'wedge' or 'wooden peg.'
My husband's family came from Germany.  Their name was Klein when they arrived in America, and was spelled "Klein" for a few generations in Pennsylvania.
Just why it changed to the "Kline" spelling, nor who decided that it should change, I am not certain.
I'm also not certain if all branches of the family, or siblings in the family, changed their name at the same time.
According to www.surnamedb.com/Surname/Kline, the word Klein meant "small" and was a descriptive nickname originally given to someone who was small or short.  It could also have been used to describe someone in the family who was younger.
Interesting, because my husband was about 5'6" tall, and his father was about the same height.   Makes me wonder, as I write this, how many generations of my husband's Kline family were short in stature.
Day Two – Memory/Memoir Number Two  – What's in a Name, Part Two
OK, so my Day Two is at least an hour, maybe even two hours, late getting posted, but what do you do when the bathroom sink overflows and goes everywhere?
You mop first and write second!
When I started my memory writing journey, I decided to write about the name my parents gave me, and how it almost caused a rift between my mom and her mom.
Today, I decided to continue with the name game, and tell you that as a family historian and genealogist, I looked up the meaning of my maiden name – Stocking.
Not that I would have had to, the Stocking Family Historians who came before me had already done that and told us what it meant.  But I wanted to double check it for myself.
So, what is the origin of the Stocking name?
It isn't what you might think.
It has nothing to do with "sox" or hosiery, although Sox was my brother's nickname all through his life, and a few called me that in high school.
When my family hunted up the name, they found that it originally was "Stoccin" and was a "place name" referring to a topographic feature.
It meant someone who lived in a clearing in the woods.
According to Ancestry.com, it is Middle English and means "ground cleared of stumps."
Interesting thought, that my early ancestors in England must have lived in a clearing in a forest. See more about the Stocking name at Ancestry here
At Surname Database, the spellings were:  Stocken, Stockin, Stocking, and Stockings. The Surname Database stated that it referred to a place or people that might have lived near stocks or punishment stocks.
According to Surname Database, the Stocking name might also refer to a monastery cell, a tree trunk used as a bridge, a boundary marker, or the place where a local council met.
Interesting, and surprising, as I'd never in all my searches found a meaning besides "a clearing in the woods".
Want to know more about your own surname?
Google your surname origins and check it out at Ancestry.com, Surname Database, and the Coat of Arms and Family Crests store.
This is Day one – Memory 1 – of what I hope will be 365 Days of Memories!
If you decide to follow along, but you don't have time to write up the "What's In a Name?" memory for yourself, then do what I'm going to do with some of the memories that I don't have time to write up right now.
I can't take credit for this idea, but I've heard of others who do it.  They write up the question on a piece of paper and stick in a jar, Mason or Kerr, any kind with a lid, put the lid back on and pull a memory out when they do have time and write about it.  And frankly, if you're not in the mood to write about the memory you pull out later, put it back, and pull out one that you are in the mood to write about!
So here goes…
What's in a Name?
Questions to ask yourself:
Did your mother ever tell you the story of your name?
How they came to choose your name?
Why they named you that?
Were you named for someone else, a friend or a family member?
If so, why did they name you after this person?
What's in a Name?
My mother must have told me the story of my name when I was pretty young or I heard her telling someone else this story, many, many times.
My parents named me Sherry Lynn.
If my mom every told me why they did, that hasn't stuck with me, but what I do remember, is that it really annoyed her mother!
My mom's mother, Carrie, was very opposed to the consumption of alcohol, and I shared my name with an alcoholic drink.
This fact upset my Grandma Carrie.
So much so that I heard my mom telling people, a lot of people, how upset my grandmother was many times before I began 1st grade, so when our teacher stood in front of the classroom, and told us the story of Carrie Nation, and how she carried an axe into saloons to break bottles and chop up bars I actually thought maybe, just maybe, that Carrie was my very own Grandma.
Because at the age of six, I really didn't know what my grandmother's last name was, so I thought anyone who hated my name, might be the very same Carrie who hated liquor enough to take an axe to it..
I don't remember if I asked my parents if my Grandma Carrie was "the" Carrie, or if I just waited and found out later that she wasn't.
But it's interesting to know that my grandmother, who I'm sure loved me, actually hated my name.
Eliza Clark Jones – Arkansas Death Certificate – Transcription
The following is the Transcription of my Step-Great-Grandmother, Eliza Clark Jones, second wife of Willis Washington Jones.
They were living in rural Arkansas when Eliza died. We were told by some of our family that Willis had a strawberry farm in Arkansas. Willis is buried in Oklahoma. (see below for a link.)
STATE OF ARKANSAS
State Board of Health
Bureau of Vital Statistics
Certificate of Death for Eliza Clark Jones
1.         Place of Death: Sevier
Township:  Red Colony
Registration District No.  597
Primary Registration District No.  6841
File No.  705
1916
2.         Full Name:  Eliza Clark Jones
3.         Sex: Female
4.         Color or Race: White
5.         Married
6.         Date of Birth: 1869
7.         Age:  47 years
8.         Occupation:  House-wife
9.         Birthplace: Kentucky
10.       Name of Father: Jim Jones
11.       Birthplace:  Kentucky
12.       Maiden Name of Mother: Maria Peden
13.       Birthplace of Mother: Kentucky
14.       Informant: W. W. Jones
Address: Lockesburg, Arkansas
15.       Filed:  Oct 5, 1916; J. P. Norwood, Registrar
16.       Date of Death: Oct 2, 1916
17.       I hereby certify that I attended the deceased from Feb 5, 1916 to August 14, 1916, that I last saw her alive on Aug 14, 1916, and that death occurred on the date stated above, at 2 a.m.
The Cause of Death was as follows: Cancer of Uterus;  Duration:  7 months  28 days
Signed: M. L. Navarro, M. D.,   Address: Lockesburg, Arkansas
18.       Length of Residence: not filled out
19.       Place of Burial or Removal: Union
Date of Removal: Oct. 2, 1916
20.       Undertaker: L? H?      Address: Lockesburg
Eliza is buried in Old Union Cemetery in Lockesburg, Sevier County, Arkansas, USA.  Her Find A Grave Memorial Number is:  66128657
Her husband, Willis, is buried in South Heights Cemetery, Sapulpa, Creek County, Oklahoma, USA.  His Find A Grave Memorial Number is: 16726547
Their children's names were:
Richard Jones
Veachel Jones
William Jones
Eliza had a daughter, Bessie Jones, before she married Willis.
Here is a digital copy of her death certificate: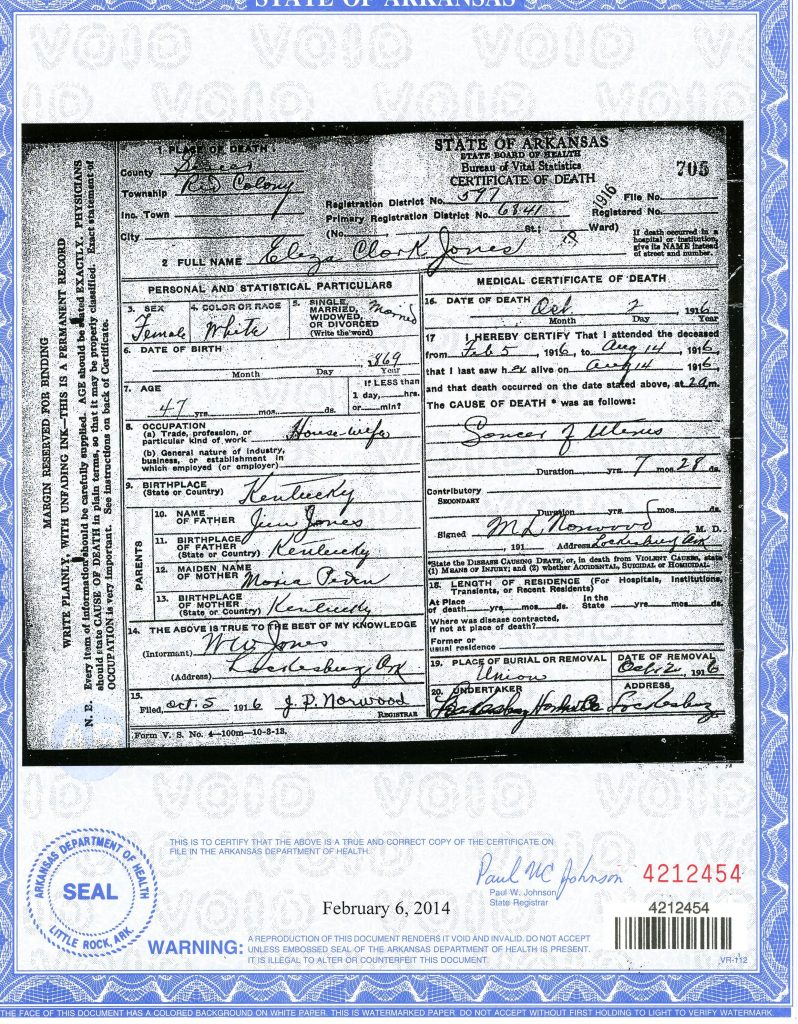 Conway Springs Star & Argonia Argosy
19 August 2010
FROM ARGOSY FILES – TWENTY YEARS AGO, August 1990
LEON AMMANN
Machine shop equipment, tools, vehicles, steel, salvage iron and miscellaneous attracted buyers from a wide area during the Ammann Machine auction here Friday and Saturday. The equipment was owned by Leon ammann who was in business here more than 50 years. He died February 3 of this year.
The Amman collection began many years ago when Leon was just a small boy. During an interview by the Argosy in 1968 Ammann said he practicaally grew up in the farm shop helping his dad, Jim, with various mechanical repair jobs. A native of this community, amman was born and raised southeast of Milan and attended country schools there. He graduated from the Milan High School in 1930. The elder Ammann [Leon's dad, Jim] is a resident of Spring View Manor, Conway Springs and will be celebrating his 102 birthday the last of October.
In 1937 Leon decided to go into business for himself. He purchased a machine shop at Elkhart and moved it to the Milan farm. In the spring of 1939 he moved the shop to Argonia in the building just south of what is not the Four Seasons restaurant. More room was needed and Ammann constructed and moved to the building just east of what is now the Argonia Clinic. During World War 2 he sub-contracted on aircraft parts.
In 1951 the firm was moved to the location one block west of the bank where he did designing, engineering, sub-contracting, built combine attachments, fertilizer applicators, and was never too busy to do repair work for various persons. He held patents on some of his designs. Leon was Civil Defense director for many years and fire chief of the Argonia Fire Department for over 20 years.
August 7, a fast spreading fire of undetermined origin destroyed the machine shop housed in the east metal building. Althougoh Ammann was in declining health at the time he was determined to rebuild and salvage as much equipment as possible. He said he was ovewhelmed by the large number of persons who came to offer assistance during and after the fire.